Theo Walcott always did write his own scripts, but previously he only committed them to print. Yesterday the children's author turned imagination into reality as he seized a rare opportunity to lead the line with the killer goal as Arsenal retained the FA Cup.
Arsenal, dazzling Aston Villa with a superb display of ball manipulation and player movement, scored three goals after Walcott's strike through Alexis Sanchez, Per Mertesacker and Olivier Giroud, but it was Walcott's 37th-minute volley that broke the dam. After that it was just a matter of how many Arsenal would score so outclassed were Villa.
It was a record 12th FA Cup win for Arsenal, and a landmark-equalling sixth under the management of Arsene Wenger. As a by-product it means Southampton will be in next season's Europa League rather than Villa, which is probably just as well for Tim Sherwood who looks to have enough on his plate dealing with improving Villa's league form.
Arsenal 4 Aston Villa 0 - FA Cup final player ratings
Arsenal 4 Aston Villa 0 - FA Cup final player ratings
1/24 Wojciech Szczesny

During Villa's early aerial assault, Szczesny was confident and comfortable, punching astutely. Not a bad way to say goodbye. 7/10

Getty Images

2/24 Hector Bellerin

The 20-year-old looked assured in the biggest game of his career, sprinting up and down the right wing and testing Richardson. 7

Getty Images

3/24 Laurent Koscielny

Barely tested at the back after the first 20 minutes, he made no mistakes and was always confident in possession. 6

AFP/Getty Images

4/24 Per Mertesacker

Ended the contest when he scored with his shoulder, and deservedly so after another season of professionalism and leadership. 8

AFP/Getty Images

5/24 Nacho Monreal

His clever run to the by-line and cross set up Walcott's first goal, after which he defended cleverly and calmly. 7

Getty Images

6/24 Francis Coquelin

Relished the physical scrap in midfield, where he shut down everything Villa tried, and let his more talented team-mates shine. 7

AFP/Getty Images

7/24 Santi Cazorla

The brains of this Aresnal team, he covered the whole pitch, always keeping the ball, starting attacks and beating opponents. 8

Getty Images

8/24 Aaron Ramsey

Darting inside from the wing, Ramsey was consistently dangerous, making runs which Villa's defence never came to terms with. 8

Getty Images

9/24 Mesut Ozil

This was a £42million performance, as Ozil glided around the pitch, always in space, spotting and playing perfect passes. 9

AFP/Getty Images

10/24 Alexis Sanchez

Will always be remembered for the spectacular second, but his perfect header back across the box set up the first. 9

Getty Images

11/24 Theo Walcott

Utterly vindicated Wenger's big decision to pick him, putting Arsenal ahead with an emphatic strike with his weaker left foot. 8

AFP/Getty Images

12/24 Off the bench: Olivier Giroud

Wrapped things up by slotting home a simple fourth goal in injury time. 7

AFP/Getty Images

13/24 Shay Given

Beaten by two great strikes, and while the second left him floundering, there is little he could really have done. 5/10

Getty Images

14/24 Alan Hutton

Wanted to provide width but was well pinned back by Arsenal, and after a yellow card was toothless as well. 4

Getty Images

15/24 Ron Vlaar

Would surely have rather faced Olivier Giroud, Vlaar never looked comfortable with the spritely Walcott darting in behind him. 4

Getty Images

16/24 Jores Okore

Villa's only defender who could keep up with Walcott, he made one brave block but otherwise looked rather lost. 5

Getty Images

17/24 Kieran Richardson

One desperate block stands out, but Richardson spent most of the game trying to cover two opponents, and naturally struggling. 4

Getty Images

18/24 Ashley Westwood

Tried to anchor Villa's midfield but was outmanoeuvred by Cazorla and Ozil who were able to pass the ball around him. 4

AFP/Getty Images

19/24 Fabian Delph

Did all the running in Villa's midfield but was up against superior players and had no legal means of stopping them. 4

Getty Images

20/24 Tom Cleverley

One of the Villa midfielders who could not live with quality of Arsenal, chasing the ball around, never getting close. 3

Getty Images

21/24 Jack Grealish

He was brilliant here in the semi-final, but today he simply could not influence the game, barely seeing the ball. 4

AFP/Getty Images

22/24 Charles N'Zogbia

Asked to run off Christian Benteke's flick-ons, N'Zogbia barely got in the game at all and did not last an hour. 3

Getty Images

23/24 Christian Benteke

Won his share of headers but never looked like causing Arsenal real problems. Lost Mertesacker for the fatal third goal. 5

AP

24/24 Off the bench: Gabby Agbonlahor

More dangerous than N'Zogbia, was unlucky not to win a penalty when he was tripped in the box by Coquelin. 5

Getty Images
Villa are a grand old club with both the heir to the throne and the Prime Minister claiming to be among their supporters but this match showed the watching Randy Lerner the scale of investment required to live with teams like Arsenal. Lerner has scaled back on his early largesse so Villa now await a new owner with deeper pockets.
For Arsenal the future is glittering bright. Players like Jack Wilshere and Olivier Giroud were on the bench and others, like Tomas Rosicky and the injured Danny Welbeck not even in the squad. The ambition and expectation must now be for a sustained title challenge next season.
Such is Arsenal's depth only five members of the XI that started last season's final also began this. The most unexpected change was the inclusion of Walcott ahead of Giroud, the Englishman's hat-trick against West Brom last week having apparently persuaded Wenger to choose him ahead of a player who had thrice as many goals, 18, this season. Yet while Walcott's form was a factor Wenger must have considered Villa's physically powerful central defence would rather face the muscular Giroud than the quicksilver Walcott. It also sent a powerful message to a player who is entering the last year of his contract. Wenger is forever saying he 'believes in Walcott', now that faith was being shown in his actions as well as his words.
Walcott largely repaid his faith causing Villa a litany of problems. The only caveat is that he did not take enough of his chances, but the one he did convert was clinically done. It came just as Villa were beginning to think they could reach the sanctuary of half-time and regroup. Walcott took a long pass on the left and fed Nacho Monreal on the overlap. The full-back's deep cross was met by Alexis Sanchez, rising above Kieran Richardson, and Walcott, who had continued his run, did not even break stride as he squeezed a fierce left-foot volley inside the near post.
Life is imitating art for Walcott. Among his books are T.J. and the hat-trick, TJ and the Winning Goal and T.J. and the Cup Run. Maybe, with Euro '16 beckoning, he should now start on 'TJ and the European glory'. His performance was certainly thought-provoking for Roy Hodgson who had come to assess Jack Grealish and Tom Cleverley but barely saw them get a kick. They were not alone. Quick-footed and skilful from right-back to left-wing Arsenal came at Villa in tight-knit yellow-shirted formations of intent. Villa were penned back and made to look lumbering.
Villa, their attack isolated and midfield overrun, seemed impotent but Wenger did not allow complacency. Fourteen years ago his Arsenal dominated the final against Liverpool in Cardiff but lost 2-1 after Michael Owen scored twice in the final seven minutes. So Wenger sent his team out to finish the job. Within five minutes they had doubled their lead, within 17 they had sealed the tie beyond doubt.
If one goal was exceptional the other betrayed the defensive inadequacies that have left Villa fighting relegation all season. The first was a swerving, dipping drive from 30 yards by Sanchez, who became the first Chilean to score in the final since George Robledo, back in the days when Newcastle United won trophies (1952). Having typically chased a loose ball he dummied Cleverley before leaving Given bamboozled.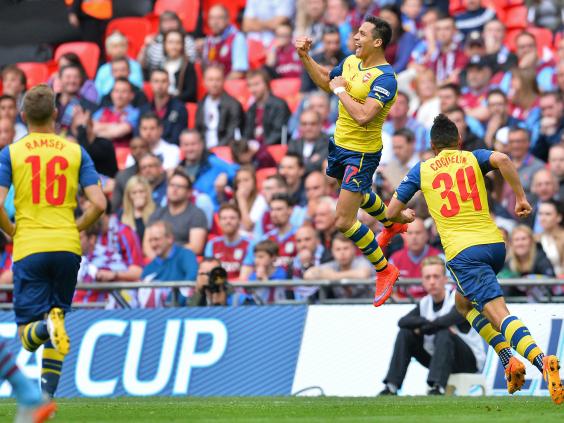 The next goal was a bread-and-butter parks goal. Cazorla swung in a corner and Mertesacker, with a basic forwards-backwards movement, lost Benteke before heading in unchallenged. It was Arsenal's 11th goal without reply against Villa this season.
Villa should have had the chance of a consolation when Francis Coquelin brought down Gabriel Agbonlahor as he broke into the box but to their fury Moss waved on. Not that it would have affected the result, Arsenal were so comfortable they were able to bring on Alex Oxlade-Chamberlain, deemed by Arsenal unfit to play for England next week, but fit enough for an FA Cup final. He promptly made the final goal for Giroud. But there's been enough football politics this week, yesterday should be remembered for the beauty of Arsenal's football.
Arsenal: (4-2-3-1) Szczesny; Bellerin, Mertesacker, Koscielny, Monreal; Coquelin, Cazorla; Ramsey, Özil (Wilshere, 77), Sanchez (Oxlade-Chamberlain, 90); Walcott (Giroud, 77).
Aston Villa: (4-3-3) Given; Hutton, Okore, Vlaar, Richardson (Bacuna, 68); Cleverley, Westwood (Sanchez, 71), Delph; N'Zogbia (Agbonlahor, 53). Benteke, Grealish.
Referee: J Moss
Reuse content