A dressing room revolt, a dismal Premier League away performance, fan protests and a Champions League last-16 exit.
Even by their own standards it really has been the most Arsenal of weeks for Arsene Wenger and Co.
Cue the fallout, the root-and-branch review, the now daily questions on Sanchez, Ozil, Oxlade-Chamberlain and, as has become so routine, the manager's own future.
"Is he damaging his legacy? Will he stay? Will he go? Has he even decided yet?"
Arsene Wenger's worst Arsenal defeats
Arsene Wenger's worst Arsenal defeats
1/8 AC Milan 4 Arsenal 0, Champions League last 16 first leg, 2012

Another last-16 elimination, and another example of the tie being over before the second leg. A Robinho brace and goals from Kevin Prince-Boating and Zlatan Ibrahimovic meant Milan took a hefty lead back to the Emirates. The Gunners won that 3-0 but it was too little, too late.

Getty Images

2/8 Manchester City 6 Arsenal 3, Premier League, 2013

Arsenal were top of the league at the time but were blown away by City to close the gap to three points. Slack defending cost them and even when Per Mertesacker headed in a late consolation goal to make it 5-3, Yaya Toure still had time to score a sixth.

Getty Images

3/8 Bayern Munich 5 Arsenal 1, Champions League Group Stage, 2015

Yes, remarkably, Tuesday night was is not even the second time Arsenal have lost 5-1 to Bayern. In last season's Group Stage, Robert Lewandowski, David Alaba, Arjen Robben and two Thomas Muller goals saw to an embarrassing night for Wenger.

Bongarts/Getty Images

4/8 Liverpool 5 Arsenal 1, Premier League, 2014

Liverpool were rampant three years ago and stormed into a four goal lead inside the opening 20 minutes at Anfield, including two goals from centre-back Martin Skrtel. Raheem Sterling made it five with Mikel Arteta's penalty a mere consolation.

Getty Images

5/8 Tottenham 5 Arsenal 1, League Cup semi-final second leg, 2008

A humiliating scoreline – made all the worse by it being against the Gunners' most bitter rivals. The defeat cost them a place in the League Cup final as Nicklas Bendtner and Emmanuel Adebayor nearly violently clashed on the pitch.

Getty Images

6/8 Manchester United 6 Arsenal 1, Premier League, 2001

Dwight Yorke bagged a first-half hat-trick at Old Trafford as United raced into a 5-1 lead by the break. Teddy Sheringham added a late sixth as the Red Devils went 16 points clear at the top of the Premier League.

Getty Images

7/8 Chelsea 6 Arsenal 0, Premier League, 2014

Not the best way for Wenger to celebrate his 1000th game in charge of Arsenal. Chelsea were 3-0 up inside 17 minutes in a game which also saw Kieran Gibbs sent off in a case of mistaken identity with Alex Oxlade-Chamberlain.

Getty Images

8/8 Manchester United 8 Arsenal 2, Premier League, 2011

Wayne Rooney grabbed a hat-trick to help inflict Wenger's biggest defeat as Arsenal boss. It was made all the worst as it was by a Manchester United team with a midfield of Tom Cleverley, Anderson, Nani and Ashley Young.

Getty Images
As battle hardened as he may be after two decades at the game's sharp end, Wenger must be growing somewhat weary of such a well-trodden line of questioning by now.
An FA Cup win may or may not stem the tide of such queries come season's end, but with the Champions League now just a bitter memory and the chase for the top four slipping out of reach, the world's oldest cup competition could well now become the Gunners' priority as we approach the finish line.
So are Lincoln worried about an Arsenal backlash at the Emirates on Saturday? It's actually quite the opposite.
"He's under pressure," says defender Luke Waterfall. "Some Arsenal fans might be going there wanting us to win.
"If we start well, we might have 60,000 people behind us, not just 9,000."
The Imps have come far enough that a Premier League big boy, and one so woefully out of shape, won't be keeping them up at night.
The National League leaders are this year's story having become the first non-league team since 1914 to reach the last eight.
Now it's the 12-time winners who stand between them and a dream day out at Wembley.
They've already seen off top tier Burnley in the last round and deservedly so over 90 rough, ready and ruthless minutes and see no reason to change their tactics now.
"We'll go there believing in ourselves. We won't park the bus, we'll play our usual game," he added.
"We want their big players to play. Their manager is under pressure so I would expect their big names to play."
Arsenal candidates to replace Arsene Wenger
Arsenal candidates to replace Arsene Wenger
1/6 Diego Simeone

Age: 46
Current club: Atletico Madrid
Honours: Argentine Primera Division x2 (Estudiantes de La Plata and River Plate)
La Liga
Copa del Rey
Spanish Supercup
Europa League
Uefa Super Cup

Getty

2/6 Eddie Howe

Age: 39
Current club: Bournemouth
Honours: Championship

Getty

3/6 Massimiliano Allegri

Age: 49
Current club: Juventus
Honours: Serie C1 (Sassuolo)
Serie A x3 (AC Milan, 2x Juventus)
Italian Super Cup x 2 (AC Milan, Juventus)
Coppa Italia x 2 (Juventus)

Getty

4/6 Thomas Tuchel

Age: 43
Current club: Borussia Dortmund
Honours: Bundesliga II (Mainz)

Getty

5/6 Roger Schmidt

Age: 49
Current club: Bayer Leverkusen
Honours: Austrian League (Red Bull Salzburg)
Austrian Cup (Red Bull Salzburg)

Getty

6/6 Ralph Hasenhuttl

Age: 49
Current club: RB Leipzig
Honours: N/A

Getty
The man behind the Imps' fairytale run is in lockstep with his centre-back – despite admitting to being a huge fan of his opposite number – and believes the Gunners' nightmare seven days only serve to work in his team's favour.
"He's forgotten more than I know. He's a pioneer," boss Danny Cowley said of Wenger. "We've got huge respect for him as a man and as a manager.
"I think all the pressure is on Arsenal, but we try to put energy and focus into our own team.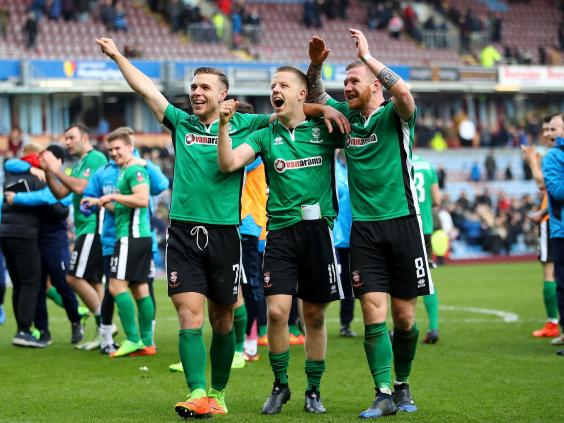 "We're not going to fear it. We're going to embrace it and enjoy it, but we'll go there with a game plan.
"We want to be us. We've got here because of our method and the way we play. It would be easy to park the bus, but that's not us."
If Wenger is tired of answering questions now, lose on Saturday and he'll never hear the end of it.
Reuse content