Ronald Koeman picked a strong team and Arsene Wenger did not, and that is why the Southampton manager is still in the Capital One Cup.
Saints were superior to Arsenal in every facet of the game here, and even though they were behind for six first-half minutes, they certainly deserved their win and their place in the fourth round draw.
Arsenal's back four included three teenagers. Francis Coquelin and Abou Diaby both made their first Arsenal starts for 18 months. David Ospina made his debut in goal. Tomas Rosicky and Lukas Podolski were both brought in and neither looked fit. Arsenal struggled to create going forward, beyond Alexis Sanchez's brilliant early free-kick.
At the back, though, Arsenal were desperately vulnerable to Southampton's three-pronged attack of Sadio Mane, Graziano Pelle and the brilliant Dusan Tadic. They could have scored more in the second half but they did not need to. Jose Fonte and Florin Gardos were so strong at centre-back, with Victor Wanyama and Morgan Schneiderlin patrolling just in front of them.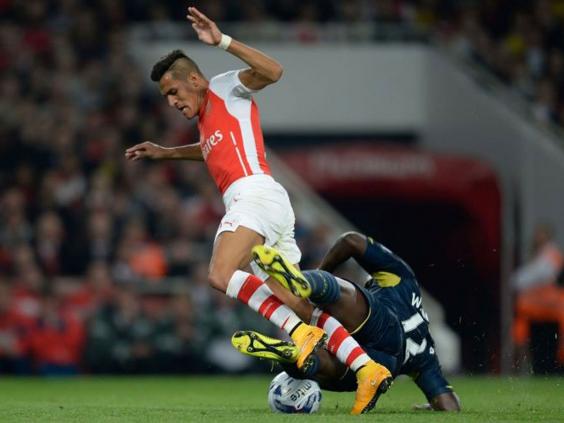 Southampton, then, were able to play their natural aggressive pressing game with very little disruption. Their two full debutants - Mane and Gardos - both looked very comfortable.
Arsenal's threat was only occasional, and many of their starters looked like they had never played together before. Neither Tomas Rosicky nor Lukas Podolski did much to prove that they deserve more playing time.
This did not stop Arsenal from scoring - they look the lead through a brilliant Alexis Sanchez free-kick after 14 minutes, but it did stop them from doing too much else. With the ball in a central position 30 yards from goal, Sanchez curled it  up over the wall and back down, swinging into the near top corner of the goal. Fraser Forster could only tamely step towards the post and see it fly past him.
After that free-kick, though, Arsenal offered very little. Wenger complained afterwards about how little they created. "If you play at home with that much possession," he said, "you have to score."
The problem was that while Sanchez is an established world-class performers, none of the defenders Wenger are quite on that level. Southampton attacked with pace Mane won the penalty that drew them level, ghosting past Hector Bellerin before being tripped by Tomas Rosicky. Tadic stroked the ball down the middle.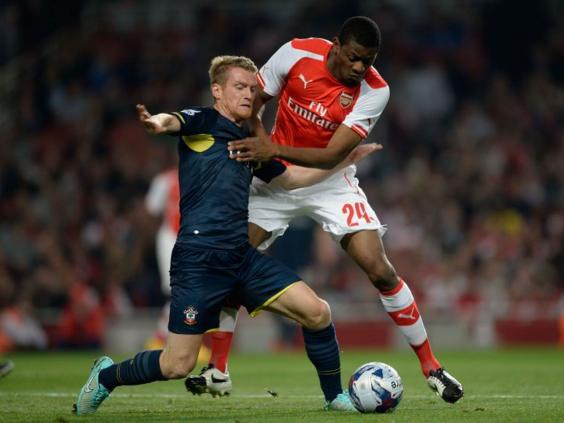 Saints sensed Arsenal's weakness. Mane and Pelle went close before Nathaniel Clyne rifled the ball through David Ospina and in from 35 yards. Arsenal had cleared a Tadic corner but no-one had put any pressure on Clyne whatsoever.
Arsenal showed brisk enthusiasm in the second half but could not create anything, even when they threw on Santi Cazorla and Alex Oxlade-Chamberlain. Southampton were more incisive, twice forcing Ospina into sharp low saves early in the second half. Tadic, Southampton's best player, darted down the right early in the first half and pulled the ball back for Davis, who could not get enough power on his shot. Then, after a spell of Arsenal pressure, Tadic dipped a free-kick over the wall, and Ospina dived low to turn it away. Pelle should have hit the target with a free-header in the final minutes, but he did not need to.
Man of the match Tadic.
Match rating 7/10.
Referee K Stroud (Dorset).
Attendance 59,621.
Kroenke's payday: £3m from Arsenal
Stan Kroenke has taken  £3m out of Arsenal in advisory fees. The club's latest accounts state that one of Kroenke's companies – KSE LLC – was paid for "strategic and advisory services" related to Arsenal's broadband division.
Since Kroenke became club majority shareholder there has not been a dividend payout, although he has never promised there would not be, despite pressure from the club's fans.
Reuse content