Having secured the replay that installed Reading as favourites to make their first FA Cup semi-final for nearly 90 years, Steve Clarke accused the FA of "devaluing their own competition" by staging it on a Monday night.
The Reading manager argued it was grossly unfair for the two clubs to have just one full day to prepare for their biggest game of the season. Reading have not made an FA Cup semi-final since 1927 while Bradford's co-chairman, Julian Rhodes, has calculated that an appearance at Wembley will enable the League One club to make a seasonal profit of £1.8m.
Uefa insists that top-flight games and domestic cup ties cannot be staged at the same time as Champions or Europa League fixtures. In April 2013 it fined the FA £42,000 and withheld £1.1m in "solidarity payments" for allowing its fixtures to clash with the Champions League.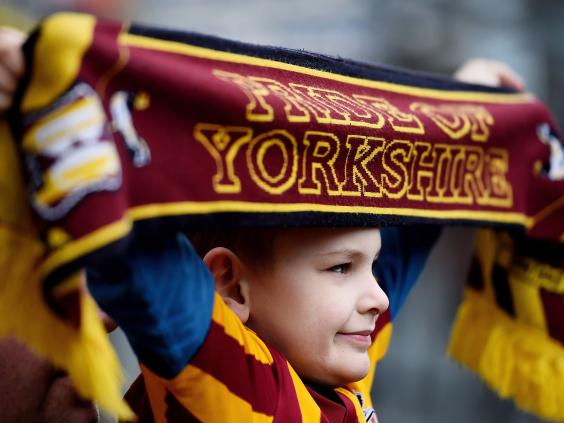 The week beginning March 15 has a full European programme on Tuesday, Wednesday and Thursday, making Monday, March 16, the only logical date. However, since the semi-finals are not due to be played until mid-April, Reading feel there is nothing to stop the FA putting back the replay for another week.
"It may be a Uefa rule but my question is what is the FA going to do?" said Clarke, the Reading manager. "The FA has devalued its own competition by making us play on a Monday, two days after we play a league game on the Saturday. I love the cup and what it stands for. To have a Championship side and a League One side in the cup at this stage is great for the romance of the competition but by doing this the FA is devaluing it."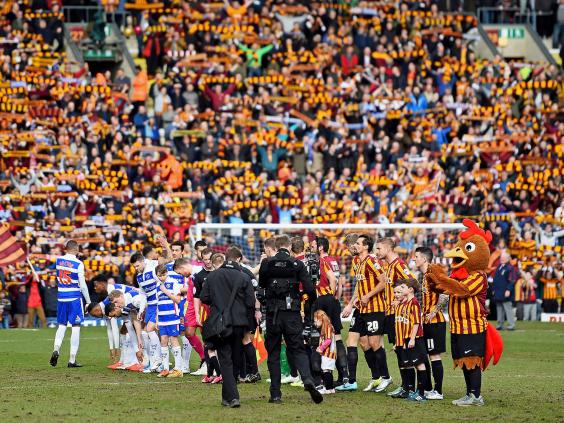 For the Bradford manager, Phil Parkinson, who had spent most of his playing career in Reading's midfield, this was an afternoon when pride mingled with frustration. For the first time since they faced Dartford in the second round, this was a tie that Bradford might have been expected to win. However, if they were to reach the semi-finals, you sensed they would have to do it on their own patch.
Compared to Chelsea and Sunderland, their improbable victims in earlier rounds, Reading appeared relatively straightforward opponents at Valley Parade, where the crowd is intimidating and the pitch unpredictable.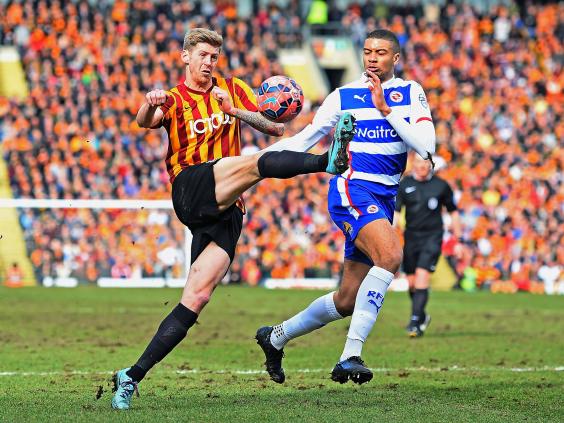 Reading coped a sight better than Sunderland had done. With Waitrose emblazoned across their shirts, they might have appeared the epitome of an effete southern team but they did not play like they were bothered whether their tomatoes were sun-blushed or sundried. They slugged it out.
Clarke reflected afterwards: "Sunderland thought they could come here and play football; we decided we would roll our sleeves up and fight. We hit the post twice and there wasn't a moment when I thought we were going to lose. I wouldn't say the game plan went perfectly because there was supposed to be a winner."
Bradford last made an FA Cup quarter-final in 1976 and from the first minute, when Gary Liddle was flattened by a Nathaniel Chalobah challenge, to the last, when the Reading captain, Alex Pearce, was treated for a bloodied, broken nose, this match was played in the spirit of the Seventies.
The pitch looked as rutted and pitted as anything seen on The Big Match on Sunday afternoon and, for all the ferocity of the challenges, nobody was shown a yellow card. You half-expected Chopper Harris or Jack Charlton to come on with his little black book. It was probably because the match mattered so much to both sides that it was so bitterly contested.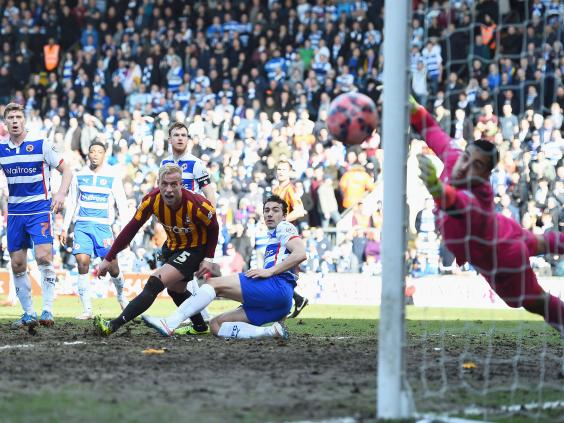 All the other quarter-final clubs, even Blackburn, could imagine themselves at Wembley, but this was a once-in-a-generation opportunity for Bradford and Reading.
It attracted the biggest crowd the modern Valley Parade had seen – over 24,000 – and every Bradford corner, every throw-in, dragged a huge guttural roar from three sides of the stadium. There was, however, not much else.
The match had its moments that the occasion demanded. Liddle's cross missed everyone and struck the post, but Bradford dominated after the interval and James Hanson sent one effort dribbling past a post.
Reading might have shunted the ball home in a last desperate scramble that saw it strike the post and a visiting player's hand. In one of the few displays of skill in the first half, Pavel Pogrebnyak turned in the area and shot full against the Bradford post before sinking to his knees in despair.
The ball may have gone out before Jamie Mackie could cross it for the Russian striker but Pogrebnyak had controlled it well. Having played in Siberia for Tomsk, he was perhaps used to bad pitches.
Clarke pointed out that the one at the Madejski Stadium would not be much better for the replay.
Line-ups:
Bradford: (4-3-1-2) Williams; Darby, McArdle, Davies, Meredith; Morais (Halliday, 76), Liddle, Knott (Yeates, 83); Clarke (Zoko, 83); Stead, Hanson.
Reading: (4-5-1) Federici; Kelly, Hector, Pearce, Obita; Chalobah (Akpan, 82), Mackie (Yakubu, 79), Williams, Norwood, Robson-Kanu (McCleary, 66); Pogrebnyak.
Referee: Neil Swarbrick
Man of the match: Liddle (Bradford)
Match rating: 5/10
Reuse content