For Jay Emmanuel-Thomas, Sunday afternoon's game at Ashton Gate will mean more than most. It is not just about reaching the fifth round of the FA Cup, although that would certainly be a triumph for Bristol City. Nor is it about the young man from Forest Gate beating West Ham United, the team that his father and uncle still support. It is about showing, against a Premier League side, the talent and the promise he always displayed as a teenager at Arsenal.
There are many players like Emmanuel-Thomas at Bristol City, players in their early twenties who found opportunities limited at the top sides, forcing them to drop down. Greg Cunningham was at Manchester City, Kieran Agard at Arsenal and Everton, George Saville at Chelsea and Luke Ayling, with Emmanuel-Thomas, at Arsenal.
But Emmanuel-Thomas was the biggest star. In 2009 he was captain of the Arsenal side that won the FA Youth Cup, alongside current first-teamers Francis Coquelin and Jack Wilshere. But he left in 2011 for Ipswich Town, pursuing first-team football, and left there two years later to come to Bristol City.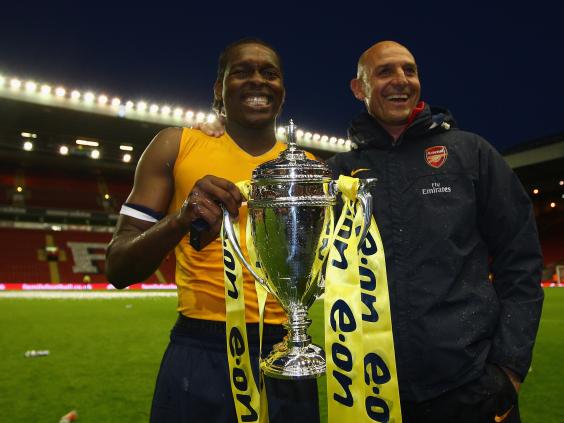 He now finds himself in League One, eager to show that he can still compete with the best.
"This is a chance to prove that you are capable of playing against Premier League players," he said. "The game is on television, so a lot of people will be watching who probably won't have seen you play all season."
The story of Emmanuel-Thomas is not a rare one in the modern English game. He was a hugely talented teenager who impressed with the youth teams of his first club.
He started one first- team game, five years ago yesterday, a fourth-round FA Cup defeat by Stoke City. Aside from that there four substitute appearances and three loan spells before he decided it was time to leave.
"I enjoyed every minute of my time at Arsenal," he said, "but it comes to a point where you want to move on if you want to play more. It was a big decision, but I wasn't enjoying playing football. I had a few games for the first team, on the bench a lot, but when players came back from injury I was shipped out, because I was the youngest.
"You might think you're as close as anything but then someone comes back from injury, someone new walks through the door and you're back down the pecking order. I didn't really want to be the guy to keep going in and out. So I had to make the decision to move on."
Emmanuel-Thomas signed for Paul Jewell's Ipswich Town, and in his first season he made 43 appearances and scored seven goals. But when Jewell was replaced by Mick McCarthy, Emmanuel-Thomas found opportunities limited again.
"It hit a brick wall for me," he said. "We got along, but on the pitch I wasn't his favourite type of player."
Sean O'Driscoll, though, was Bristol City's manager and had worked with Emmanuel-Thomas at Doncaster Rovers, so the young forward came to Ashton Gate in 2013. Steve Cotterill took over from O'Driscoll last season and, after a difficult spell, Emmanuel-Thomas is now doing well, with four goals in his past three games. The old confidence is back, as shown by his strutting penalty run-up, with which he has scored twice recently.
"I'm not one to get put off by people around me, it doesn't faze me. It is just me and the goalkeeper, one on one."
Cotterill trusts Emmanuel-Thomas, and he is being repaid on the pitch. "When something comes into my head, I don't think, 'I'd better not try that in case I lose the ball'," the forward said.
"I think, 'If I try that, it's going to work'. It's a different mindset. If you think negative, there's more chance a negative thing is going to happen. If it doesn't work, unlucky, try again."
--
Where are they now? Arsenal's Youth Cup-winning side of 2008-09
Arsenal beat Liverpool 4-1 over two legs to win the 2008-09 FA Youth Cup final. Jack Wilshere went on to great things, but what happened to Jay Emmanuel-Thomas's other team-mates?
James Shea First-choice keeper at AFC Wimbledon, released by Arsenal in June 2013.
Craig Eastmond At League One Colchester United since 2013 after 10 appearances for Arsenal.
Thomas Cruise Played at Greek club Olympiakos in Champions League, now at Conference side Torquay.
Kyle Bartley Loaned to Sheffield Wednesday and Rangers before  signing for Swansea City in 2012.
Emmanuel Frimpong Loaned three times before joining Barnsley, now plays for Ufa in Russia.
Luke Ayling With Emmanuel-Thomas at Bristol City after playing at Yeovil for four seasons.
Henri Lansbury Loaned to several clubs before Nottingham Forest signed him.
Francis Coquelin Loan spells in France (Lorient), Germany (Freiburg) and at Charlton, now covering for injuries in Arsenal's first team.
Gilles Sunu On a loan spell at Ligue 1 side Lorient after a season at Derby County.
Jack Wilshere Easily the most successful of the class of '09; loaned to then Premier League Bolton in 2010.
Sanchez Watt Like Eastmond, signed for Colchester United in 2013 after six different loan spells.
Hugo Driscoll and Alistair Hunter
Reuse content