A night of fluffed lines from a Manchester United side blunted by their own failings and the honest endeavour of a stout opponent means we must do it all again.
While that will please Cambridge, and United, too, since it keeps alive Louis van Gaal's only chance of a trophy this season, the neutrals might find they have better things to do when the teams reconvene in 10 days' time.
Cambridge cannot be blamed for sitting back and allowing the visitors 80 per cent possession. United,  however, deserve all the lumps that come their way after another vapid display devoid of personality.
Only in the last 10 minutes did the hairs stand on end and only then as a result of the rising panic induced in the United defence when Cambridge sensed a tightening in visiting limbs. Apart from two opportunities in the second half and a late thrust at the Cambridge goal, United had little to show for their balance sheet superiority.
Cambridge 0 Manchester United 0 player ratings
Cambridge 0 Manchester United 0 player ratings
1/13 David De Gea

Retained place ahead of Valdes and was targeted in early exchanges. Let off when Coulson stopped own sides' shot before heading over from close range. 7/10

GETTY IMAGES

2/13 Phil Jones

On corner duty again. Shot wide from outside area and alarmingly careless in possession at times. Strong in the tackle and made one key clearing header. 5

AP

3/13 Daley Blind

Another match, another position for the versatile Dutchman. Eager to overlap with Januzaj and tested Dunn. Found Donaldson a handful. 6

Getty Images

4/13 Marcos Rojo

Argentina was troubled by physical approach play of League Two side but found his feet and put in a few meaty challenges of his own. 7

Getty Images

5/13 Antonio Valencia

Stationed at the back and enjoyed battle with Elliot. Struggled to beat first man with his crosses and control let him down. 5

Getty Images

6/13 Michael Carrick

His return has led to an upturn in United's fortunes and the England man's passing was always a danger. Fine ball through to Falcao came to nothing. 6

Getty Images

7/13 Marouane Fellaini

Consistent in his inconsistency. Too easily beaten in the air at times and did not utilise his frame to best of his ability. Taken off for Herrera for final quarter. 5

Getty Images

8/13 Angel Di Maria

Poor start and sent free-kick swerving past Dunn's left post. Denied in injury-time by home keeper again through a crowded penalty area. 6

Getty Images

9/13 Adnan Januzaj

Cute and canny in possession and linked up well with Di Maria at times, bgut to little overall impact. Weak effort failed to trouble Dunn in first half. 7

Getty Images

10/13 Radamel Falcao

Another chance wasted by the Colombian misfit. Collided with Blind on one chance, had another superbly stopped by the keeper before seeing him tip over. 6

Getty Images

11/13 James Wilson

Always willing and put more effort him than some of his more glamorous colleagues. Booked after leaving leg in on Elliot. 6

Getty Images

12/13 Robin van Persie

Replaced Wilson after the hour. Blazed wildly over the bar from a matter of yards. 5

Getty Images

13/13 Ander Herrera

Took place of Fellaini to add more impetus but unable to make breakthrough he did in previous round at Yeovil. 6

GETTY IMAGES
The final whistle brought scenes of rapture on the  terraces and the pitch, the dream of a trip to Old Trafford realised. On this evidence the dreaming might not stop there.
The roads leading to the Abbey Stadium were rammed before the sun went down. Cambridge had been in fiesta mode all day it seemed and as the clock ticked down towards kick-off even the ivory towers reverberated to the sound of football chatter.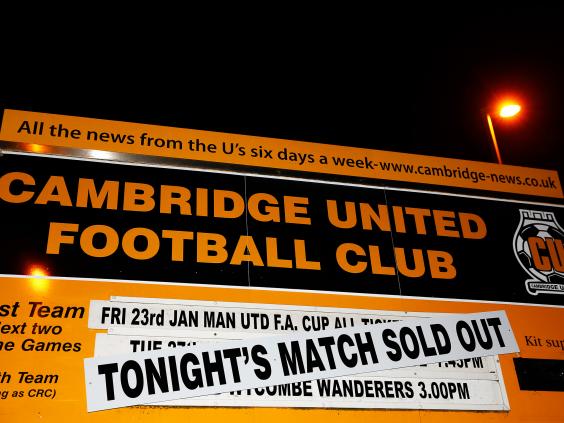 In environments such as these the visit of the world's second richest clubs is impossibly exotic. Though the players of United are regularly appropriated on television the idea of sharing a Friday night at the Abbey with the likes of Falcao, Di Maria et al made children of grown men.
The value to Cambridge has been huge, the build-up to this fixture filling newspapers and broadcasts with folky tales of derring do. In the case of Cambridge the romance is justified, the near death experience with the club almost going to the wall three years ago, all too authentic.
United had playing stock worth more than a £100m sat on the bench. Cambridge, for whom Steve Claridge is still the record buy at £190k, were rubbing their hands after banking £144k in broadcast fees. The Rooneys might spend that on a birthday party for Kai, but for Cambridge sums of this nature make a big difference to the working week.
Van Gaal gave his skipper the night off in favour of a first start since November for Adnan Januzaj. The absence of Luke Chadwick from the Cambridge starting line-up must have been a shock for those reading extracts from his autobiography in the morning papers.
Chadwick's United connectivity made him an obvious point of interest beforehand but Richard Money's selection was a reminder that for him this was strictly business. Van Gaal remarked on the number of players in the opposition line-up measuring 1.90 metres or more, suggesting the ball would be taking the aerial route towards United's goal.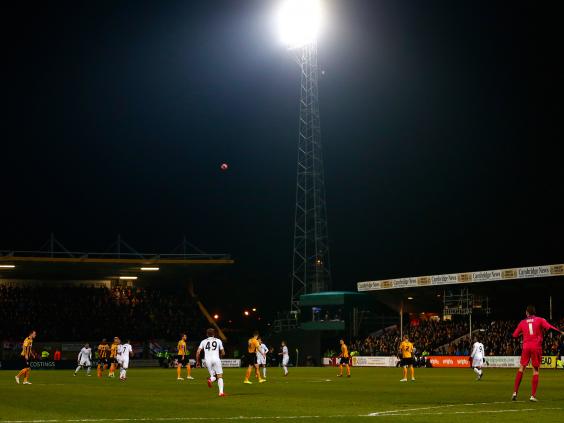 He was not wrong. At their first corner Cambridge stationed in height order a cluster of players in a pack at the near post. When the ball came they then peeled off in all directions like a firework going off. David de Gea then flapped at the cross. A strategy was born.
Van Gaal invited a night of twitching rumps by opting for a standard, four-man defence. There was a more conventional role for Angel Di Maria, too, deployed in a deeper berth as opposed to the advanced position with which Van Gaal had been flirting.
It was the Argentine's fleet-footed break through the middle that sent Radamel Falcao away early in the piece. His shot was blocked but in that rapier cameo United demonstrated the fluency promised when this group of players settles into an established pattern.
With a bitter wind making a cold night even harder to endure both teams deserved credit for the enthusiasm with which they set about each other. Marcos Rojo was like a Pampas bull in the tackle. Cambridge striker Tom Elliott, a lively presence at the point of the attack, gave him no choice.
The surprise was that it took almost 30 minutes for a villain to enter the book. The more so that it should be Marouane Fellaini, a largely peripheral figure hitherto. 
The first moment of genuine goalmouth excitement was engineered by Cambridge, predictably enough from a corner. With seven Cambridge players linking arms in the six-yard box defending any half-decent delivery involved an element of caprice. Rojo had to be alert to clear close to the line and out of the ensuing melee Josh Coulson headed just over De Gea's bar.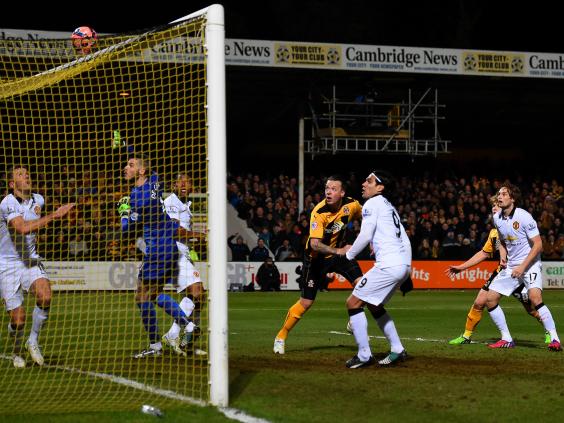 United bossed the ball for long periods but aside from a couple of speculative first-half efforts from Di Maria did not trouble Chris Dunn unduly in goal. The ball spent too long spinning sideways and when United did encroach on the Cambridge area there was a reluctance to breach the box.
There was a tad more urgency from United after the restart with Januzaj bringing Dunn into the game with a left-footed shot, and minutes later earning a corner after another raid down the left.
Thereafter the rhythm of the first half settled on the second with United in control of the ball if not necessarily the match. Money made an early change introducing Harrison Dunk for Sullay Kaikai after just 52nd minutes, presumably to inject greater forward thrust.
In the event it was United who went closest, Falcao finding space in the box at last only to be denied by Dunn's outstretched boot. As the ball looped toward goal Van Gaal slipped prematurely into celebration mode, only to see the ball sail over the bar.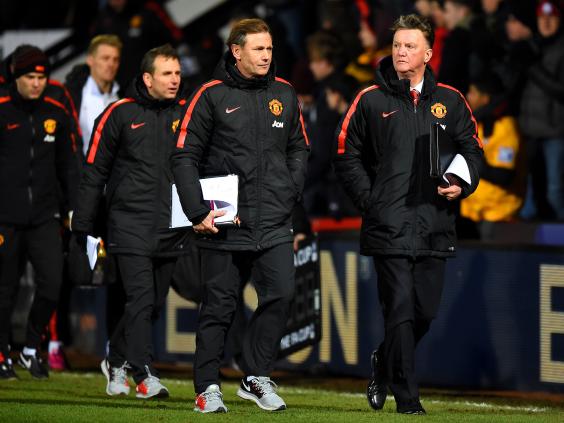 His next move was to hook the ineffective James Wilson and Fellaini for Robin van Persie and Ander Herrera, the man who opened the door in the third round at Yeovil. Van Persie should have had United in front almost immediately but fired wastefully over with arguably the best chance of the match.
Cambridge United: Dunn, Tait, Taylor, Coulson, Donaldson, Champion, Elliott, Hughes (Chadwick, 76), Nelson, Raikai, McGeehan, Kaikai (Dunk, 53).
Manchester United: De Gea, Jones, Rojo, Blind (Shaw, 86), Valencia, Carrick, Fellaini (Herrera, 67), Januzaj, Di Maria, Wilson (Van Persie, 67), Falcao.
Match rating 7/10.
Referee C Foy (St Helens).
Attendance 7,987.
Reuse content