It was all going so well for Jose Mourinho on his 51st birthday today until the moment that Troy Townsend, father of Andros, fished out ball No 12 in the draw for the FA Cup fifth round and Chelsea were off to Manchester City on 15 February.
Mourinho's current conspiracy obsession is the Premier League fixture list and what he considers to be the better deal that Arsenal get in terms of rest days between their big matches. Goodness knows what he would have made of the draw had Arsene Wenger's team landed one of the League One survivors in the competition but they are up against Liverpool, on the weekend before they play Bayern Munich.
As it turned out, Mourinho brushed aside the inconvenience of having to play City twice in two weeks, starting with the Premier League fixture a week on Tuesday and tried to turn it into a psychological advantage for his own team. The pressure, he said, would all be on City who would naturally be favourites to win at the Etihad and were coming to terms with the kind of expectation that he, Mourinho, has long had to live with.
 "We are ready to go there [to the Etihad] and enjoy it," Mourinho said. "We are going to go there with a good attitude, and nothing to lose. They have everything to lose. They are the team that was made to win. They have to feel now the same thing I was feeling here in 2004, 2005, 2006, 2007. [A case of] 'We are the best team by far. We have to win. If we don't, it's because we did something wrong'. They must feel the same. We have nothing to lose.
"Our priority for the season is to improve. The best way to improve is with [accomplishing] difficult things. Play against the best teams, twice in two weeks, in their stadium, the stadium where they win every game and smash every team. Score four or five goals every game even against the big teams like Arsenal and Tottenham and United. It's a good thing for us. We are playing very well in my opinion. We played a very good game."
Chelsea 1 Stoke City 0: in pictures
Chelsea 1 Stoke City 0: in pictures
1/8 Chelsea 1 Stoke City 0

Chelsea's Frank Lampard evades the attentions of Stoke's Steven N'Zonzi.

2/8 Chelsea 1 Stoke City 0

Chelsea's new signing Nemanja Matic challenges Stephen Ireland for the ball.

3/8 Chelsea 1 Stoke City 0

Stephen Ireland lets fly with a driven effort during the FA Cup match at Stamford Bridge.

4/8 Chelsea 1 Stoke City 0

Oscar steps up to give Chelsea the lead with a glorious free kick.

5/8 Chelsea 1 Stoke City 0

Stoke keeper Asmir Begovic can only watch helplessly as Oscar's superb effort sails past him into the corner.

6/8 Chelsea 1 Stoke City 0

Chelsea's Eden Hazard goes to ground as Stoke defender Ryan Shawcross shields the ball.

7/8 Chelsea 1 Stoke City 0

Stoke's Erik Pieters battles for possession with Chelsea's Andre Schurrle.

8/8 Chelsea 1 Stoke City 0

Peter Crouch towers over Chelsea's Gary Cahill to win a header for Stoke.
It was a game ultimately decided by a beauty of a free-kick from Oscar, the perfect hit from the Brazilian's right boot with exactly the requisite amount of pace, dip and draw to take it past a goalkeeper as good as Asmir Begovic. The ball was struck from outside the area in the right channel and it landed in the area of the side-netting just inside the Stoke goalkeeper's right post.
That is what the best players can give to a team, and it did Mourinho no harm that the goal was scored by the player around whom he has made his biggest decision since returning to the club. Oscar has seen off Juan Mata and now he and Eden Hazard, the outstanding player in this FA Cup tie, must shoulder the burden of Chelsea's attacking threat until at least the summer when a new striker can be recruited. 
Hazard carried Chelsea's threat down the left wing, with Geoff Cameron heading inexorably for a booking from the moment he chopped down the Belgian for the first time. Oscar hit the post before half-time with a right-footed shot and Andre Schurrle did the same in the second half. Nemanja Matic made his debut in midfield with the brief of trying to make life difficult for Peter Crouch.
It should have been a victory by a greater margin for Chelsea, especially given the miss by Samuel Eto'o in the 77th minute when he conspired to back heel the ball away from the goal. Ramires, on as a substitute, is not a natural six-yard area finisher and he managed to put the loose ball wide. Begovic saved a David Luiz free-kick brilliantly towards the end.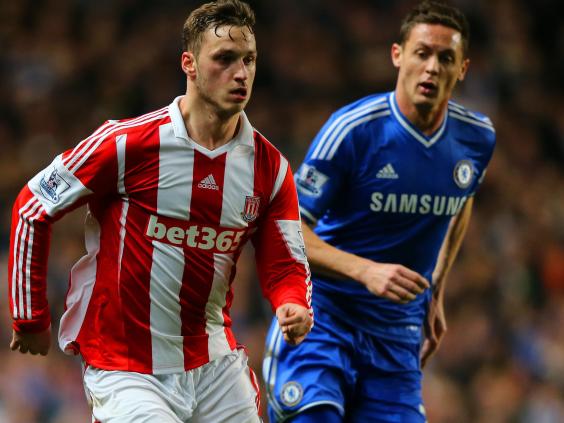 As a result Chelsea were still protecting a one-goal lead in the closing stages of the game, although Stoke scarcely threatened them. Stephen Ireland put their best chance into the side-netting of Mark Schwarzer's goal on 40 minutes when the ball was deflected into his path. Crouch barely had a cross which he could attack all afternoon.
Mark Hughes said after the game that he expected Peter Odemwingie to join this week with Kenwyne Jones going in the opposite direction, to Cardiff City. "You hold your hands up when the player produces the quality Oscar did for the goal," Hughes said. "At 1-0 down it's a difficult game for us because they break on the counter-attack.
 "We stuck at it to the end, but you have to get a bit of luck at places like Stamford Bridge. Things have to go for you, and maybe we didn't force the issue enough to change things in our direction. I'm reasonably pleased. You're never happy to go out of a cup competition, but we have a huge game on Wednesday night [away to Sunderland]."
The reality was that Stoke never fully convinced that they were completely committed to winning this FA Cup tie and that they got exactly what they deserved. Ryan Shawcross was arguably their best player, his commitment exemplified by the way he blocked a shot from Willian in a very tender place in the closing stages.
Mourinho said that he was off to celebrate his birthday with dinner with his family – "at which I can be happy rather than have to pretend that I am happy". This was the club's seventh win in a row and with West Ham at home on Wednesday there is every chance it will be eight by the time they face City in the league on Monday. That match is shaping up to be one of the season's great games.
Chelsea (4-2-3-1): Schwarzer 6; Ivanovic 6, Cahill 6, Luiz 6, Cole 6; Lampard 6, Matic 6; Schurrle 5 (Ramires 5, 70), Oscar 7 (Willian, 81), Hazard 7; Eto'o 6 (Ba, 85).
Substitutes not used: Cech (gk), Mikel, Terry, Azpilicueta.
Stoke City (4-2-3-1): Begovic 7; Cameron 4, Shawcross 6, Wilson 6, Pieters 5 (Muniesa, 85); Palacios (Assaidi, 72) 6, Nzonzi 6; Arnautovic 5 (Adam, 83), Ireland 6, Walters 6; Crouch 6.
Substitutes not used: Sorensen (gk), Whelan, Adam, Guidetti, Shotton.
Referee: C Foy
Man of the match: Hazard
Rating: 5
Booked: Stoke Cameron, Wilson, Pieters
Attendance: 40,845
Reuse content