It was not until after the final whistle that Petr Cech was drawn into making a meaningful contribution at Wembley on Sunday, so effectively did his Chelsea team-mates defend. Put on the spot by the media, the goalkeeper summed up the final in four succinct words: "More experience paid off."
Experience. That was the difference. On the pitch, in the dug-out, even in the stands Chelsea knew too much for their game but callow challengers. Discipline, desire and talent also counted. This is a team that does not get tired of winning, treats even lesser competitions (like this one) as valuable, and is more interested in results than style. The Premier League trophy is likely to follow and, by the end of the season, it may be the quadruple was only prevented by a home defeat by Bradford City.
While Chelsea are the team of the present, Tottenham – even more than Arsenal – are always building towards a better future. However, just as with the long-delayed new stadium, team construction seems forever stymied by setbacks. This is primarily due to the dizzying turnover of managers, and steady departure of key players. The two are related, being a product of their frustrating inability to turn promise into silverware.
Spurs went into the match with only two trophy successes in the last two decades, both in this competition, in 1999 and 2008. Which means Gareth Bale, Jürgen Klinsmann and Luka Modric, arguably the three best footballers to play for Spurs since Glenn Hoddle left in 1987, did not win a medal while at the club. Nor did Michael Carrick and Teddy Sheringham. Like Modric and Bale, they moved on to clubs where they felt, correctly, more honours would be forthcoming. So did Sol Campbell and Dimitar Berbatov, who wanted more than the solitary League Cup medal won at White Hart Lane.
Chelsea 2 Tottenham 0 - Capital One Cup final player ratings
Chelsea 2 Tottenham 0 - Capital One Cup final player ratings
1/24 Petr Cech

Trusted ahead of Thibaut Courtois, Cech played precisely as expected: with calm assurance, making a few comfortable saves during Spurs' spell on top. 6

GETTY IMAGES

2/24 Branislav Ivanovic

Did all the dirty work required of him, throwing himself in front of shots and opponents as Chelsea saw off Spurs' early pressure. 7

GETTY IMAGES

3/24 Kurt Zouma

Drafted into midfield by Jose Mourinho, he did not influence the game much with the ball but stuck attentively to Christian Eriksen, restricting Spurs' attacking options. 6

GETTY IMAGES

4/24 John Terry

Had to defend well in the first half but it was his power at the opposite end which set up the 13th trophy of his time at Chelsea. 7

GETTY IMAGES

5/24 Cesar Azpiliqueta

Occasionally left isolated by Eden Hazard's attacking, especially in the first half, but he coped with Andros Townsend and Kyle Walker with all his characteristic solidity. 6

GETTY IMAGES

6/24 Ramires

His energy and effort in midfield helped to restrict Eriksen and Chadli's opportunities, ensuring Chelsea did not get overrun as they did back on New Year's Day. 6

GETTY IMAGES

7/24 Gary Cahill

Back alongside Terry at centre-back, he coped impressively with the threat of Harry Kane and then saw out the win in the second half. 6

GETTY IMAGES

8/24 Cesc Fabregas

Only produced a few decisive moments in possession – but did nearly beat Hugo Lloris with an overhead kick early in the second half – but it was enough. 6

GETTY IMAGES

9/24 Willian

He ran hard up and down the right flank, pinning back Danny Rose even if he did not delvier a decisive moment in attack. 6

GETTY IMAGES

10/24 Diego Costa

Spent almost an hour running and scrapping before he settled the game, winning space and beating Hugo Lloris – via a deflection - from a tight angle. 7

GETTY IMAGES

11/24 Eden Hazard

Chelsea's only player to produce any real quality in a poor first half but kept teasing Spurs at 2-0 and nearly scored a brilliant third. 7

GETTY IMAGES

12/24 Best of the Bench: Juan Cuadrado

Ensured that Chelsea's energy levels did not drop in the final minutes, shuttling up and down the wing after replacing Willian. 6

GETTY IMAGES

13/24 Hugo Lloris

His selection ahead of Michel Vorm was ultimately irrelevant, as he was powerless to keep out either goal, deflected away from him at close range. 6

GETTY IMAGES

14/24 Kyle Walker

Looked nervous every time Eden Hazard ran at him, and lacked the confidence to produce any quality in attack. Deflected the second goal past Hugo Lloris. 4

GETTY IMAGES

15/24 Eric Dier

This was a difficult afternoon up against Diego Costa and while he deflected the first goal past Hugo Lloris, he coped better than some centre-backs have this season. 5

GETTY IMAGES

16/24 Jan Vertonghen

Rarely uncomfortable despite the stage and the opposition. Will be disappointed not to have influenced the game more in either penalty area. 6

GETTY IMAGES

17/24 Danny Rose

Defended solidly enough against Willian and Ivanovic but he could not deliver the quality with his crosses that Spurs needed. 5

GETTY IMAGES

18/24 Nabil Bentaleb

Hard to believe that he is a 20-year-old rookie, after another midfield performance of impressive maturity and authority. Probably Tottenham's best player. 7

GETTY IMAGES

19/24 Ryan Mason

Provided important impetus to Spurs' play, running from box to box, but his clumsy passing and shooting was symptomatic of their lack of quality in the final third. 6

GETTY IMAGES

20/24 Nacer Chadli

He was crucial to the 5-3 win two months ago but today he did not have the same sharpness or the burst of pace, rarely threatening Chelsea. 5

GETTY IMAGES

21/24 Christian Eriksen

After hitting the bar with an early free-kick, Eriksen slightly faded in this game, struggling to find much space or to pick the right passes. 5

GETTY IMAGES

22/24 Andros Townsend

Preferred to Erik Lamela and while he delivered a few bursts of pace down the line, he could not provide the crucial moments of quality that Spurs needed. 5

GETTY IMAGES

23/24 Harry Kane

This was not another edition of Kane's comic-book story. He was largely frustrated by Chelsea's first-half defending and could not drag Spurs back into the game. 5

GETTY IMAGES

24/24 Best of the Bench: Mousa Dembele

Added some presence to midfield but could not create the chances that Spurs needed to turn the game. 5

GETTY IMAGES
Winning medals is not just important for the confidence-engendering experience of success it gives a team, which John Terry referred to before this match (not that winning the FA Cup in May seems to have helped Arsenal kick on). It is probably more important in that it persuades key players to stay with a club. The three most successful clubs of recent times are Chelsea and the Manchester duo. First- team players rarely leave these clubs of their own accord – Cristiano Ronaldo did, as did, arguably, Carlos Tevez, but they are exceptions.
But those clubs always on the cusp of success – Arsenal, Tottenham, Liverpool – do lose players. The gap between the recent achievements of these teams was illustrated by an exchange at Finchley Road tube station en route to Wembley as Tottenham fans debated whether to go via the Metropolitan or (slower) Jubilee line. A helpful Chelsea fan explained which was the faster train. "We'd better listen, you've been here more often than we have," said one of the Spurs supporters.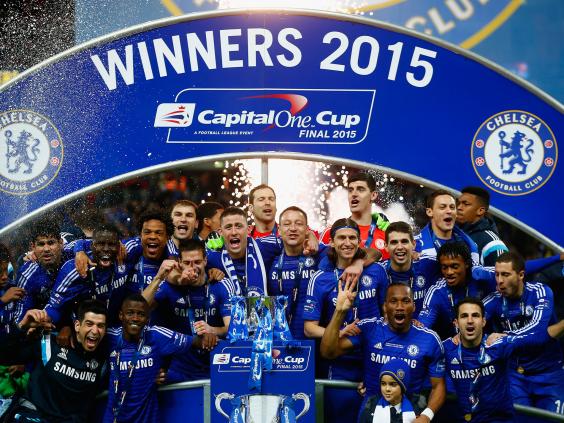 So they have, though the last meeting here between the teams was not the much-mentioned 2008 final of this competition, when then-teenage academy players Harry Kane and Ryan Mason were in the victorious Spurs end, but the 2012 FA Cup semi-final which Chelsea won 5-1.
Such is the pace of change in football that only six of the combatants that day also played on Sunday. Reflecting their lesser experience, and a scattergun transfer policy, only one was in Tottenham's colours: Kyle Walker.
This, at least, meant Spurs did not have a team which had been scarred from the experience, but a slow start suggested some of their young men were wide-eyed at playing a Wembley final. They soon settled, and held their own until Terry scored, but then Chelsea's superior experience told.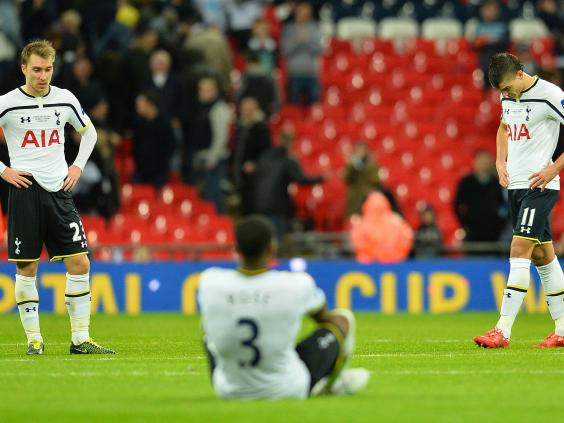 Maybe Tottenham were drained by the trip to Florence, and defeat there, but Liverpool showed on Sunday that such travails can be overcome. Besides, Tottenham's fitness has been a feature of their season. 
The lack of Spurs survivors from 2008 was unsurprising. Since selling Bale 18 months ago they have bought 14 players at a cost of £140m. Mauricio Pochettino picked three of them on Sunday, Christian Eriksen, Nacer Chadli and Eric Dier. By contrast, five of the team were home-grown, most of them recent first team graduates.
In the modern game there is much to admire in Tottenham's faith in young players, especially as it is primarily in young English ones, but Chelsea's battle-scarred old lags, Terry and Costa, Branislav Ivanovic and Cesc Fabregas, had too much nous and talent. It did not matter that Eden Hazard had a rare off-day, nor that Nemanja Matic was unavailable. Their rookie, Kurt Zouma, benefited hugely from having experienced players around him. He was able to concentrate on his task – sitting in front of the back four, denying passes into Kane and shadowing Eriksen – without worrying about other areas. Zouma barely broke into a trot, but he did not need to, Ramires, Willian, even Fabregas, were doing the running for him.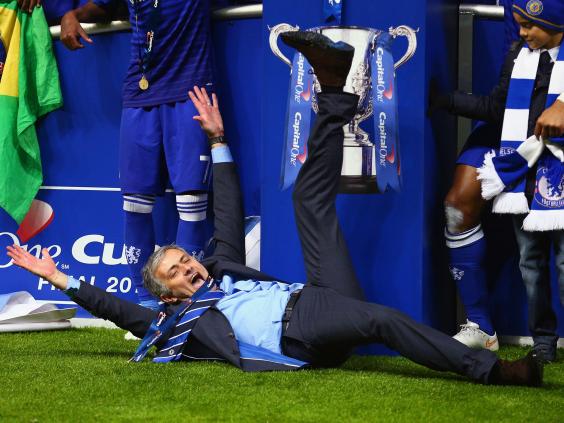 There is no doubting Tottenham's spirit. The number of late goals they have scored this season, and their valiant efforts to add two more on Sunday, underlined that. That is something you get from having a core of young players who have come through the ranks together.
But this was a chastening afternoon for them. Andros Townsend and Mason were withdrawn, Dier and Nabil Bentaleb booked. Danny Rose was at fault for the first goal, Kyle Walker implicated for the second. In attack Eriksen rarely escaped Zouma while the man of the moment, Kane, though ever willing, was ultimately neutered by a rolling-back-the-years display from Terry.
For all their huffing and puffing, Tottenham never forced Cech into making a save, ensuring he had plenty of time to analyse the game from his penalty box and distil its essence.
Reuse content