There was war within a war, as if the main event was actually not enough.  Jose Mourinho and Antonio Conte waged it through Michael Jones, the 4th official, each dispensing their thinly concealed dislike of the other at him. There was a moment towards the end of the first half when they gave up the pretence of the proxy and screamed in each other's face instead.
It has become so personal between Mourinho and Chelsea that he has given up all pretence of politeness. When a bunch of Chelsea supporters in the tight confines of the stadium told him, in so many words, to get lost, he raised three fingers at them behind his back – a reminder to them of the number of Premier League titles he has brought to this place.
That was before the sending off which torched the night, bringing a coral of Mourinho's players around referee Michael Oliver, venting their collective indignation and taking us all the way back to Roy Keane and Co and official Andy D'Urso against Middlesbrough, 17 years ago. Conte said something to Phil Jones in that melee. "F*** off," Jones told the Italian. He repeated it. "F*** off." 
Chelsea vs Manchester United player ratings
Chelsea vs Manchester United player ratings
1/22 Thibaut Courtois – 7 out of 10

Didn't see much action but when called upon to stop from Rashford he was equal to it.

Getty Images

2/22 Cesar Azpilicueta – 6 out of 10

A fairly quiet evening, especially after the sending off, but did his job perfectly as always.

AFP/Getty Images

3/22 David Luiz – 6 out of 10

Had his hands full with Rashford until the red card but an easier task after that, although did sell himself to the teenager to easily in the second half.

REUTERS

4/22 Gary Cahill – 6 out of 10

Rashford gave him a few problems but nothing he was unable to deal with as Chelsea's defence remained in control.

AFP/Getty Images

5/22 Victor Moses – 6 out of 10

Had a good battle with Young and a few efforts on goal that missed the target.

AFP/Getty Images

6/22 N'Golo Kante – 8 out of 10

Was put under a lot of pressure from the start by United but coped well to keep his metronomic style of play ticking over. Scored a cracking goal from outside the area to give Chelsea the lead.

AFP/Getty Images

7/22 Nemanja Matic – 6 out of 10

Sat back and helped break up any attacks and also on help cover any counter attacks that United looked to launch.

AFP/Getty Images

8/22 Marcos Alonso – 5 out of 10

A quiet game, with most of the action coming down the right-hand side, but backed up Hazard well.

Getty Images

9/22 Willian – 7 out of 10

Made a habit of dragging defenders out of position as he drifted inside and drew a number of fouls in the hotly contested match.

Man Utd via Getty Images

10/22 Eden Hazard – 7 out of 10

Was rarely allowed to get up to speed as United chopped him down at every opportunity. Came close on a number of occasions and brought out a lovely turn to get passed Jones.

Getty Images

11/22 Diego Costa – 5 out of 10

Strangely calm in a game which threatened to boil over during the first half and missed a glorious chance to double Chelsea's lead.

AFP/Getty Images

12/22 David De Gea – 7 out of 10

Made two amazing point-blank saves from Cahill and Hazard in the first half to keep United in it when Chelsea threatened to take a first-half lead.

AFP/Getty Images

13/22 Antonio Valencia – 6 out of 10

Started very brightly offensively but the red card changed his role to aid the defence.

Man Utd via Getty Images

14/22 Phil Jones – 5 out of 10

Made a number of stupid fouls on Hazard and should have been booked in the lead up to Herrera's red.

AFP/Getty Images

15/22 Chris Smalling – 6 out of 10

Marshalled the back four well during a tough time when they came under siege in the first half.

AFP/Getty Images

16/22 Marcos Rojo – 6 out of 10

Went close with an early header and had a good contest with Costa – even if it may have overstepped the line on occasions.

AFP/Getty Images

17/22 Matteo Darmian – 6 out of 10

Was dragged out of position on a number of occasions by Willian.

Getty Images

18/22 Ander Herrera – 3 out of 10

Sent off after 36 minutes for two fouls on Hazard. The first was justified, but the second looked slightly harsh, although very stupid.

Getty Images

19/22 Paul Pogba – 5 out of 10

His usual quiet self in the big games. Yet to establish himself against one of the top teams, which he will ultimately be judged upon.

AFP/Getty Images

20/22 Ashley Young – 5 out of 10

Played almost as a wing-back, despite having Darmian behind him. Had a good battle with Moses until he hacked him down in frustration.

Getty Images

21/22 Henrikh Mkhitaryan – 5 out of 10

Sacrificed by Mourinho after Herrera's red card but didn't really get into the game prior to that.

Getty Images

22/22 Marcus Rashford – 7 out of 10

Ran relentlessly and looked sharp despite his illness. Gave Chelsea's defenders a tough time and nearly scoring after a mazy solo run.

AFP/Getty Images
Conte actually seemed to be doing most of the detesting. When that open confrontation with Mourinho broke out, it was he who went furthest and looked like he was ready to punch the other man's lights out. The Mourinho barbs have not escaped his attention in the past few months – the ones about Chelsea recharging their batteries during the long, European weeks and his allegations that Conte's side are 'only' a counter-attacking team. You needed to be sitting in front of Conte last Friday to know how much Mourinho has got under his skin. 'We are not a counter-attacking team,' he said, a dozen times.
This war footing was not pretty to behold. The camera panned to Sir Bobby Charlton in the stand and you could not fail to wonder what he made of the United conflagration when Ander Herrera was sent off. Yet it was hard not to admire what Mourinho has imbued in his team. He introduced a new, pressing dimension, designed to squeeze the life out of Chelsea and though there was not much creative quality to underpin it, the players rarely looked less than monumentally committed.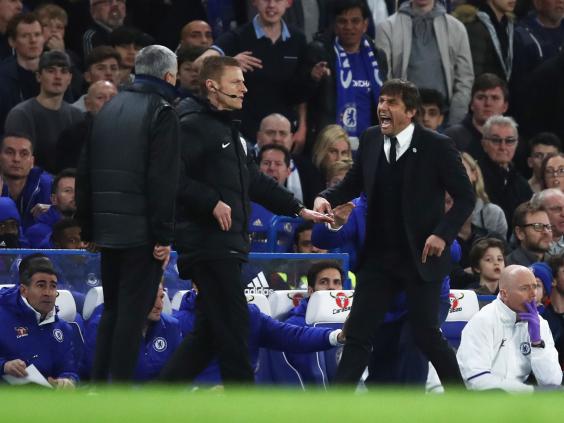 United needed Mourinho's ministry because when it came down to it, it was a mismatch of playing resources. United's lack of striking options had been foretold but springing Marcus Rashford out of the hat to start – his supposed illness a phantom one – did not make a great impact. The teenager was bundled out of a game which confirmed the manager's conviction that he is not the finished article. There was a sumptuous spin around Gary Cahill on 51 minutes which sent him through on Thibaut Courtois but the 19-year-old's shot struck the goalkeeper. Those moments were too rare for United to squander one.
The sending off of Ander Herrera  was a substantial part of United's failure to create more, of course. The removal of Henrikh Mkhitaryan for Marouane Fellaini in the ensuing reshuffle robbed the visiting team of one of its few creative entities. But Paul Pogba could not prove a creative fulcrum either. He had resorted to hauling down his man N'golo Kante, by the end. We still await the day when United can depend on Pogba to command and lead as Keane once did. Herrera, unfortunate to be dismissed for a second yellow card which was so marginal, does so with much more consistency.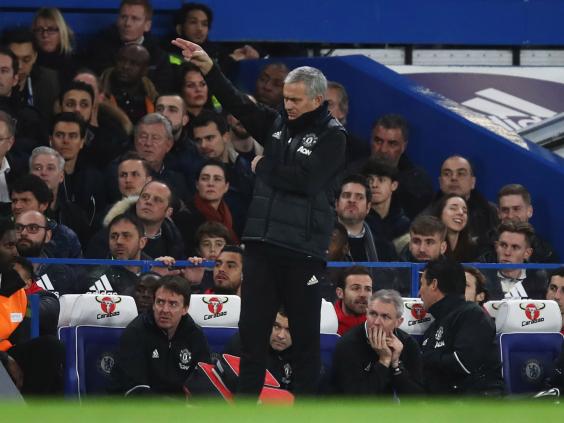 The irony of Eden Hazard playing quite so brilliantly was lost on no one. This was the player whom Mourinho alienated most in his second spell here. Chelsea did not extend the deficit, though, despite their superior numbers and an equaliser remaining a possibility until the end, as United's five-man defence organised itself to repel advances. Their manager marched off onto the pitch at the end, steadfastly avoiding contact with Conte, who seemed to be in a vain pursuit. The defeat will pain Mourinho more than he tells but United under his tutelage are a side to fear again. 
Reuse content