When Lucas Leiva sent out an enigmatic tweet last summer depicting light at the end of a tunnel, it seemed to indicate he was finally putting his Anfield career in the past. He had played four games since Christmas, plainly did not fit the Brendan Rodgers philosophy and felt the pull from Napoli of Rafael Benitez, the man who brought him from Brazil and told him eight years ago – in the face of some sceptical  Liverpool supporters – that he would flourish if he worked at it.
It is a measure of the iron in his soul that Lucas is still standing at the club and was yesterday once again shaking the hands of those correspondents who witnessed another Liverpool manager, Roy Hodgson, write him out of the script, just like Rodgers, and who have not counted on him being around for long.
Lucas pondered in a conversation with this newspaper five years ago on how the lack of the quintessential Brazilian qualities in his game perhaps led some to overlook him. "I am a midfielder," he said back then. "I cannot do tricks and things like that. Maybe  people expect that but it is not my best quality."
Rodgers does not go in for the kind of utilitarianism Lucas was describing. Only in those desperate days in November, when Liverpool were falling steeply, did Rodgers decide he needed some of what Lucas was offering. "I am not a fantasist," the manager reflected before restoring him. "We have seen the type of football we have played here in the last couple of years. We hope to return to that but in the meantime we have to get results."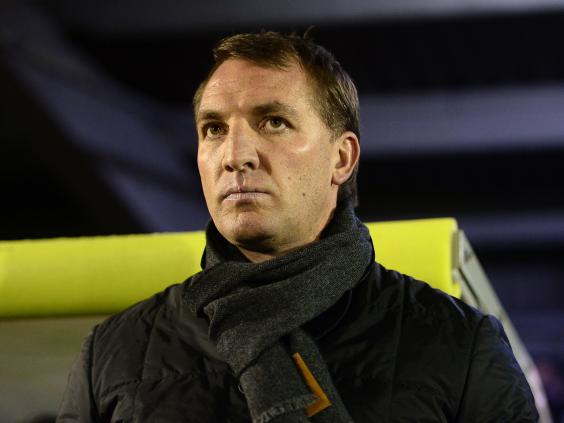 Lucas belonged again. He pleasantly surprised Rodgers in the experimental side which lost narrowly to Real Madrid in the Bernabeu and that performance, the 28-year-old revealed yesterday, was in the Northern Irishman's mind when the catastrophic fourth consecutive defeat at Crystal Palace later that month forced an overhaul.
It means that Liverpool's midfield at Stamford Bridge tonight for the League Cup semi-final second leg will be anchored by a player who was at the hub of that titanic, evenly balanced battle with Chelsea which raged so fiercely in the Benitez era. It was Lucas who scored the first equaliser in the monumental 4-4 draw there in 2009 when Chelsea progressed to the semi-finals of the Champions League. He also suffered cruciate ligament damage in his left knee on the same pitch in the League Cup quarter-final victory two years later and was denied what would have been his only chance to climb on to a winners' podium with Liverpool. Kenny Dalglish and Damien Comolli, then  manager and director of football, organised a medal for him when it was all over.
Lucas was yesterday reminded of the desolation he felt on the coach journey to Wembley in 2012, knowing he would play no part, and of how Steven Gerrard sent him a text message. "It said: 'Don't worry. We will get here again,'" the midfielder remembers. "It is something that I always remember and, hopefully, we will make that come true. That would be special."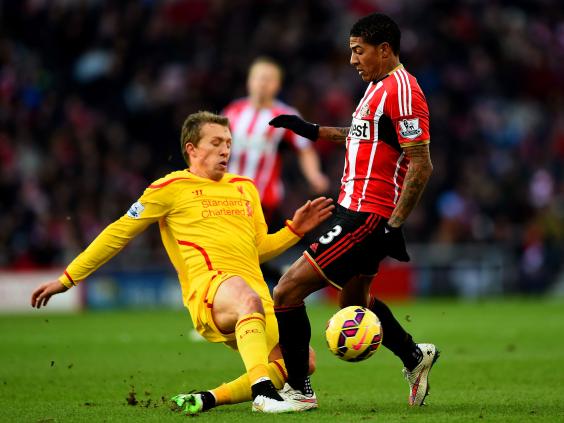 But the injury – sustained in a collision with Ryan Bertrand – was a more substantial blow than missing the final. Lucas was out for nine months in total, though he reflects that only in these past few months have the psychological effects started to recede. "It is just confidence and sharpness [which I lost] really," he says. "Confidence with yourself. The way I play, especially. It was  probably something on my mind. I didn't think about it when I did a tackle or anything like that but automatically when you get an injury you don't go as hard as you can. I think now – in the last 10 to 15 games – I feel like myself [again.] I feel now how I felt before the injury, which was  probably my best moment for the club."
That has certainly been borne out by results since the redeployment of Gerrard to a more advanced role has allowed Lucas to operate in tandem with Jordan Henderson – as he used to do with Javier Mascherano. Liverpool's single defeat in their last 16 games in all competitions – at Old Trafford – came in the solitary fixture from which he was missing.
Having been surplus to requirement for so long – "there were many games I couldn't even make the bench" – Lucas was operating with the fatalism of a player who has been written off too many times to worry about it. "There is nothing to lose," he says. "I have been here eight years [now] and I am not trying to convince people – especially those on the outside – that I am good or bad or whatever. At my age, you get experience and I just think: 'If you are too worried you don't play how you want'.
"I go into every game with the same mindset: that I have nothing to lose really and that is probably something that helped me."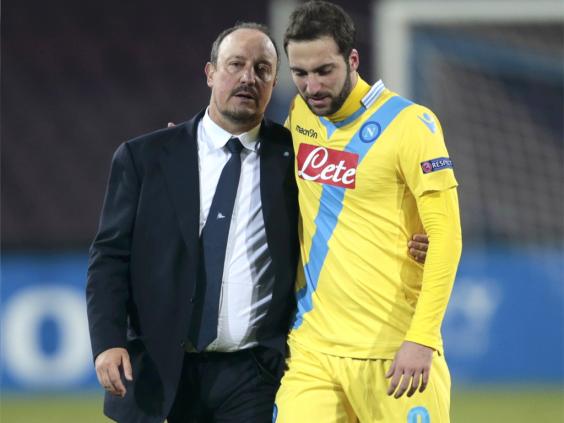 Gratifying though the rediscovered limelight might be, it is unlikely to carry profound security. Lucas fits the new, more muscular Rodgers team structure but knows he might be dropped once the manager reverts to his natural tactical instincts. He is surprisingly candid when the names of two clubs who want to sign him – Benitez's Napoli and Roberto Mancini's Internazionale – are put to him.
"We all know the relationship I have with Rafa, I don't need to explain that," he says. "If it wasn't for Rafa I probably wouldn't be here. Rafa was so important for me, as Kenny [Dalglish] was as well, and it is normal when you are out of the team and have been at a club for a long time.
"There are always rumours in the transfer window and it will be like that until the second [February]. I just have to focus on what I can control at the moment and see what happens. I would be lying if I said I never thought about something new but I can't tell you what is going to happen because it is football and we really don't know. I just focus on the day and leave the future to take care of itself..."
That League Cup medal Dalglish secured for him is in his house and he looks at it occasionally, he says, but stepping up to receive one, after the ups and downs of these last eight years, would perhaps mean more to him than anyone but the departing captain, Gerrard.
"It would be good," Lucas says. "I've only had a chance to win one trophy since I arrived. We were runner-up twice in the Premier League and lost the FA Cup final as well. It's always important to win trophies. That's what people remember at a big club."
But the optimism belies the existential football philosophy, which he communicated in the match programme for last week's League Cup semi-final first leg. "One day people might be saying how important you are; the next day they might not mention you," he reflected. "It means I don't get too carried away when the team is winning or too down if we are not.  Nothing is for ever in football: good or bad."
--
LUCAS IN NUMBERS
22 - Appearances in all competitions for Liverpool so far this season
4 - Goals scored in 265 games for Liverpool, with 17 assists
0 - Yet to score or make an assist during this season
Reuse content