For John Terry, it wasn't quite about the medal. It was about the "ripple" through the squad, and the bigger medals that consequently followed.
Ahead of Sunday's Capital One Cup final against Tottenham Hotspur, the Chelsea captain was at their Cobham training base this week recalling his own first experience of the fixture in 2005, when his side faced Liverpool. At that point, Terry had only an FA Cup to his name, and Jose Mourinho's first Chelsea side hadn't yet tasted victory together.
So, they were in the same situation as the current side. Terry may be on the brink of a 13th career medal, but that is not the case for a number of his team-mates. As many as 10 of the squad have never even played in a final for any club. This is not, then, a side bound together by winning, driven by the feeling only a trophy can bring.
Terry remembers the same situation a decade ago, and thinks victory on Sunday over Spurs can have the same effect as that 3-2 extra-time win over Liverpool in 2005.
Didier Drogba's stunning record in cup finals
Didier Drogba's stunning record in cup finals
1/8 2005 Carling Cup Final - Liverpool 2 Chelsea 3 (aet)

Drogba put Chelsea ahead in extra-time as the Blues won their first trophy under Jose Mourinho.

Getty

2/8 2007 Carling Cup final - Arsenal 1 Chelsea 2

Drogba scored both goals, including the winner six minutes from time, as Chelsea came from behind to beat Arsenal.

Getty

3/8 2007 FA Cup final - Chelsea 1 Manchester United 0

Drogba scored the winner with just four minutes of extra-time remaining after playing a one-two with Frank Lampard.

Getty

4/8 2008 Carling Cup final - Chelsea 1 Tottenham 2

Drogba became the first player to score in three League Cup finals when he put Chelsea ahead with a free-kick.

Getty

5/8 2009 FA Cup final - Chelsea 2 Everton 1

Drogba's equaliser set Chelsea on the road to victory after Louis Saha had put Everton ahead with the quickest FA Cup final goal.

Getty

6/8 2010 FA Cup final - Chelsea 1 Portsmouth 0

Drogba's 59th-minute free-kick clinched Chelsea their first league and cup double.

Getty

7/8 2012 FA Cup final - Chelsea 2 Liverpool 1

Drogba became the first player to score in four FA Cup finals as Chelsea lifted the trophy for a fourth time in six years.

Getty

8/8 2012 Champions League final - Bayern Munich 1 Chelsea 1 (Chelsea won 4-3 on penalties)

Drogba's 88th-minute header took the final into extra-time and, fittingly, it was the Ivorian who struck the winning penalty in the shoot-out in the final appearance of his first spell.

Getty
"Yeah, it was the first one for the team, which made a big impact through all the squad," Terry said. "It set us on our way. It gave us a taste of what we wanted – more. I think it brought the squad closer together.
"Like everyone, I felt something different when the manager came in [in 2004]. It was a different mentality, everything was about winning. That rippled through the whole squad, through the academy, through the whole club, and he has continued that. He has brought that back again. A lot of people write this competition off but for me it is huge and we look back on that 2004-05 season, it had a huge impact on our confidence and momentum.
"With that in mind, this could be the first one for a lot of us. It's a first chance for a first trophy [for a lot of our team]. There's a few new players in that situation because it has been a couple of years since we won anything. It is an important competition.
"The manager has made it clear from the outset, when we were away at the smaller clubs, that we are in it to win it."
Then again, Chelsea's young stars like Eden Hazard are not the only players hoping to seize a first trophy for their current clubs. On the opposite side, there is Harry Kane, who grabbed two goals in Spurs' 5-3 win over Chelsea on New Year's Day. Terry has been impressed with the 21-year-old.
"He is a very good player, his movement is fantastic and he is in great goalscoring form," Terry said. "He has got to be able to do that year after year and, for England, I hope he does. It is great to see young players coming through. So, if he keeps scoring... but there's still a long way to go."
Terry also claims a little too much has been said about that 5-3 defeat. "Everyone is rattling on about that but it was fairly comfortable for us at the Bridge when we won 3-0. There's a lot of quality throughout their squad. I'm really surprised they are not higher in the league because they deserve to be higher… but we concentrate on ourselves."
Terry is clearly learning the art of pre-game speak from his manager. The captain's words could have been scripted by Mourinho: the slight dig at the opponents ("they should be doing better than they are") then the old line about we only talk about ourselves.
Mourinho, meanwhile, is still peddling the old "conspiracy" line and is still not over last weekend's dismissal of his midfielder Nemanja Matic, which has ruled him out of Sunday's final. It might have been assumed that the manager's unscheduled and angry appearance on Sky's Goals on Sunday show last weekend had allowed him to get it off his chest, but he has still not calmed down about it. Or, at least, that's the impression he wants to give.
"I don't think in this country everybody realises what English football means for other countries," he said at yesterday's press conference. "I think this is something English football cannot lose. It's not about how many millions are watching on television. It's about the feeling of respect and credibility, what people think about it."
Matic was sent off for pushing Burnley's Ashley Barnes, in reaction to a challenge from the player which Mourinho has called "criminal" and potentially "career-ending".
"You lose credibility when a player like Matic is suspended," Mourinho added, "and another player that can play this weekend can't play this weekend. I don't think you can have any doubt that all around the world people open their mouths with surprise at how this can be possible."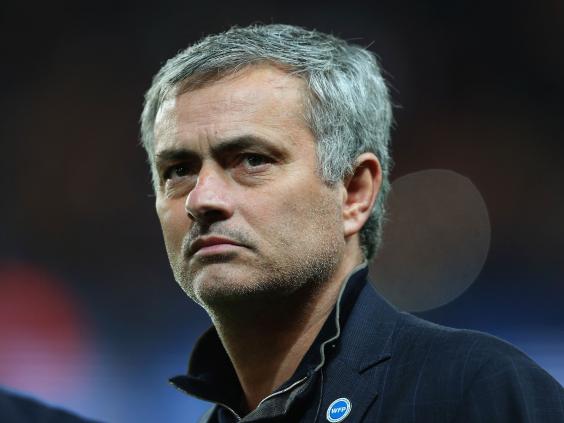 Do they? A player suspended because he's been sent off. Surely, it's time for Mourinho to move on and talk about the wonderful football his team is capable of playing.
Diego Costa's goals and Cesc Fabregas's assists are the obvious causes of Chelsea having moved almost out of sight of the rest of English football this season. But the immovable Matic in front of the back four has been the one player they have struggled to live without and Chelsea will miss him on Sunday. Their first defeat of the season, to Newcastle at St James' Park, was the first game he missed.
For a man who has won the Uefa Cup, the FA Cup, the Copa del Rey, the Coppa Italia and the Champions League twice, Mourinho is taking the Capital One Cup very seriously. "This cup final is the most important cup final of my career. More important than the Champions League. More important than the other cups I've played before," he said. "Because it's the next one. The other ones are in the club museum. My medals are somewhere at home, I don't know where they are... The most important final of my career is always the next one."
Sunday will be 10 years from when Mourinho first won the League Cup with Chelsea. He would go on to win two league titles and an FA Cup too. But he downplayed the suggestion that winning, or indeed losing, this trophy would mean much for his team's wider quest, of winning the league and the Champions League.
"We play Sunday. On Monday we have to train again. We have to think about the game on Wednesday. We have no time for stupid celebrations, for celebrating for a week. And we can't be crying for a week also. Ten years ago, even if we had lost the final [against Liverpool], we would have won the league. No relation. Your emotions remain for 24 hours after you play the match. That's it."
The build-up to the match has also brought reminders of another Spurs win over Chelsea, which just so happened to be Terry's sole defeat at Wembley with his club – the 2008 League Cup final.
"It was disappointing at the time," Terry added, "a real disappointment but, as you get older, you move on from that and we have gone on to win major trophies. Sometimes defeat can happen but that can have a positive impact."
Positives everywhere. Chelsea cannot lose.