Sitting at Wembley, watching as his team lifted the trophy, Harry Kane dared to dream. "One day, one day..."
It is the dream every boy has, lifting silverware at Wembley in your club colours, but only a very lucky few realise it. For every Charlie George, Phil Thompson or Gary Neville there are millions whose fantasy remains just that. But not Kane, who today has the chance to make his dream real, and in the same competition, against the same opposition, as  in 2008.
Kane was 14, an academy player at Tottenham Hotspur, when he saw Spurs beat Chelsea to win the  League Cup, their only trophy in the last 15 years. 
"I've been to Wembley a couple of times to see England but the match which stands out for me is the 2008 Carling Cup final against Chelsea," said Kane this week. "I was there as a fan, with the family. That was a great day out. To see them lift the trophy and all the fans stay behind and stay with them is something I've been thinking of leading up to this game. And if I'm up there lifting the trophy [this time] it would be something very special."
Kane was not, he recalled, "a shouter in the stands". Even then, at a final, he was concentrating on the game, looking to see what he could learn. "I try to watch players. Robbie Keane was an idol of mine and I was  watching him."
Dimitar Berbatov led the line alongside Keane for Tottenham that day. Subsequently Roman Pavyluchenko, Jermain Defoe, Peter Crouch, Emmanuel Adebayor, Louis Saha, Clint Dempsey and Roberto Soldado have done so. What they have in common is that they have  all been bought. Kane is the exception. He is, as Spurs fans sing, "one of our own".
It cannot be overstated how rare this is at a club like Tottenham. Big-spending clubs do not develop strikers, they buy them. Though Manchester United's James Wilson shows potential, the only equivalent to Kane in the last decade is Danny Welbeck at United, and he was never the main man as Kane is.
Chelsea vs Tottenham combined XI
Chelsea vs Tottenham combined XI
1/11 GK: Hugo Lloris

We start with easily the toughest choice. In Hugo Lloris, Thibaut Courtois and Petr Cech, Spurs and Chelsea have three of the best four goalkeepers in the Premier League. Lloris is picked because Courtois has looked shaky in recent weeks, but Cech can make a strong claim to be better than both - unfortunately for him, Chelsea are looking at the future; Courtois.

Getty Images

2/11 RB: Branislav Ivanovic

At one time a couple of seasons ago Kyle Walker would have challenged Ivanovic as one of the best full-backs in the league, but because of injuries the England man has dropped off. Only Pablo Zabaleta challenges the brilliant Serbian, who is an unparalleled force in the attacking and defensive thirds of the pitch.

GETTY IMAGES

3/11 CB: John Terry

He might be 34 but John Terry is still the best centre-back in the Premier League. Every defence in the division would be improved by his presence.

Getty Images

4/11 CB: Jan Vertonghen

The Belgian had a performance to forget in Florence but he is still a classy operator and Pochettino's best option. The likes of Bayern Munich and Barcelona don't become interested for no reason.

5/11 LB: Cesar Azpilicueta

Danny Rose is vastly improved this season and could be heading towards an England call up but the Spaniard, playing on his wrong foot, has been the best left-back in the league this season. So impressive has he been that £16m summer signing Filipe Luis is agitating for a move back to Spain.

6/11 CM: Cesc Fabregas

The best midfielder in England this season, Fabregas leads the assists, passes completed and chances created tables. With Nemanja Matic out Chelsea's hopes will rest on his shoulders even more than normal.

Getty Images

7/11 CM: Nabil Bentaleb

The Algerian, just 20, is composed and controlled in possession, giving Tottenham's creative players a strong platform on which to build. Ramires will likely start for Chelsea but he can sometimes be a liability when asked to operate in a holding role, such is his propensity for bombing forward.

GETTY IMAGES

8/11 RW: Christian Eriksen

A bit of a cheat selection as he usually operates on the left, but Eriksen cannot be left out of the team. The Dane is a match-winner and Spurs' best creative option. Willian is a workhorse but too often fails to deliver a decisive contribution, he has just four goals to Eriksen's 11 this season. Juan Cuadrado could also start but he needs time to settle into his new surroundings.

Getty Images

9/11 LW: Eden Hazard

The man Tottenham need to stop. The second Belgian in this combined team remains Chelsea's most important attacking option, and the player they look to first to win games. One of the best players in the world.

GETTY IMAGES

10/11 AM: Harry Kane

Another slightly contrived selection as Kane is the in-form striker in the division - but there is no way we can leave him and Diego Costa out. Oscar can be a great player at times but is far too inconsistent.

Getty Images

11/11 ST: Diego Costa

Looked slightly off the pace in his last two games and hasn't scored in four stretching back more than a month, but it would take a brave person to bet against the striker scoring at Wembley if he gets the opportunity.

Getty Images
Nor is this a new phenomenon. Kane is Tottenham's first home-grown centre-forward since Mark Falco three decades ago and, arguably, Channel Islander Chris Jones in the Seventies. Prior to that you have to go all the way back, past signings like Martin Chivers, Alan Gilzean and Bobby Smith, to Les Bennett, who joined in 1939, spent six years at war, then was  de-mobbed to score a century of goals playing inside-forward.
Fortunately Kane never knew the odds against him were stacked so high. Had he done so, even his unshakable self- belief may have wavered. "I've always wanted to be a footballer and I've always believed that's the path I was going to go down," he said when we met at Spurs' Enfield training base. "I had set-backs, but I stillalways had that belief that I was going to play for Tottenham  Hotspur. I think self-beliefis a massive thing in football. If you  don't believe in yourself, not many others will."
It is a message he passed on  before our interview to a group of local Neets (not in education,  employment or training) who are being helped by the Tottenham Hotspur Foundation's Education and Development Centre programme (tottenhamhotspur.com/foundation). Successive governments struggle to reach these youngsters but football can. Many of the students have gone on to higher education, employment, or even earned professional football contracts through the programme.
He also told them to work hard, sage advice he puts into practice. A formative part of Kane's development was a half-season loan at Millwall in January 2012 where he won over a demanding crowd with his goals and effort. The dressing room was just as impressed.
Paul Robinson, then the club's skipper, now at Portsmouth, recalled:  "His work ethic really stuck out. Us older pros would come in on  a Monday looking to do warm-downs and recovery. Harry was keen to train, to practise scoring goals, to work on his game. Kids get well looked after in big club's academies. They get the best of the best and sometimes lose their hunger, their edge, but Harry hadn't. We were struggling at the time, it was a high-pressure situation. He was instrumental in us up staying [in the Championship]."
Kenny Jackett was Millwall manager. Now at Wolves, he tried to sign Kane on loan this season too. "He had a fantastic work ethic. He had a real appetite to play and train which shows in his game," said Jackett, who was also impressed with Kane's football intelligence.
"After two or three games, when he'd played OK, he said to me he needed to adjust his game, to win more headers, to use his body more. He'd worked out the difference between Under-21 academy football and the Championship. He is humble and down-to-earth. The sort of player you are pleased to see go on and do well."
For many players a loan is the precursor to a move, but, said Kane: "Even when I went out on loan to clubs, it was always to come back and be a Spurs player." It was  not, however, until April last  season, having also been on loan at Leyton Orient, Norwich City  and Leicester City, that Kane made his first Premier League start for Spurs, nearly a decade after joining  them and nine months into  his twenties.
"It's hard work to become a footballer nowadays, especially coming through an academy," he said. With rising passion he added: "There's a lot of money in football and if a team hasn't got an answer, they just go and buy someone and they think that's the answer. That's not always the case. We've got great players here, with the likes of me, Ryan [Mason], Andros [Townsend] and Nabil [Bentaleb]. We've got young players who have shown that you don't always have to buy. There are players that are homegrown and in your academy that are good enough. It's just whether or not they get the chance, and maybe it's just that not enough young players coming through get a chance on the big stage. That's a big thing. But fortunately for us, we did and we were able to take it."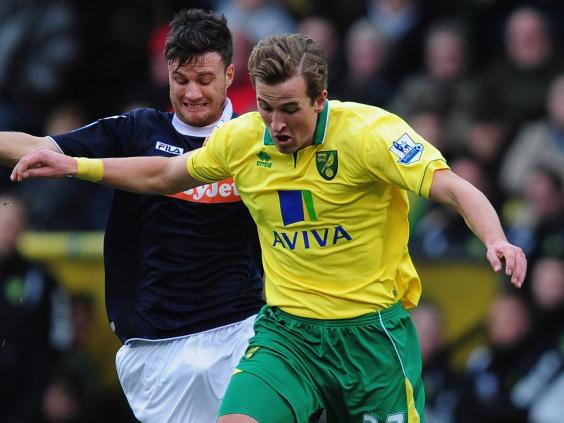 Initially he is wary of criticising Chelsea, but this is a subject that is close to his heart and he cannot help himself. So he added: "Chelsea are Chelsea. At the moment they've been buying a lot of players. It's hard to say what they want to do. I don't know. Maybe they will look at us and maybe other teams will look at us and maybe clubs can start looking at the academies and see the players they have. But, again, it's such a cut-throat league and the pressure on the managers is tough, so you  have to have a strong manager  to do that."
Kane's belief survived being  rejected by both north London clubs while still at junior school. "I think I was too young to even think about it," he said. " I wasn't too downhearted. I just wanted to play football,  so I played for my local side  [Ridgeway Rovers], got picked up by Spurs [again] and I have been here ever since."
There were, infamously, photographs taken of him in a Gunners shirt during his year at Arsenal which have resurfaced. Kane, though aware of the sensitivity, is relatively sanguine about the issue. "In the way it was a compliment, because if I hadn't have scored [against Arsenal] those pictures would never have come out."
Walthamstow-born to a Spurs-supporting family, there is no doubt as to where his loyalties lie. Kane has talked of being a one-club man, of being at Spurs for a  decade. We will see. In modern  football that only happens if a player's ability is in line  with his club's status. But given his enchanted, and dedicated, progress so far, if anyone can make such a Roy of the Rovers dream come true it is Harry of the Hotspurs.
--
Superstar in the making? Following in the footsteps of Becks
Harry Kane's belief that he would become a professional footballer was in part sustained by the knowledge that his path had already been trodden. As a boy he played for Ridgeway Rovers, the kids' team David Beckham played for. He then went to Beckham's educational alma mater, Chingford Foundation School (Crystal Palace's Dwight Gayle also attended the school, three years ahead of Kane, and, along with Andros Townsend, also played for Ridgeway).
"Beckham was a big inspiration to me growing up," said Kane. "He was a player I adored. When he launched the Beckham Academy at the O2 I got to meet him. I must have been 11. I was a little skinhead. It was a great moment for me. It made it more special for me to become a footballer and maybe meet him again one day and be able to talk about the game."
They did that when Beckham trained with Tottenham four years ago, though as Kane then left for a loan spell at Orient the conversation was brief.
"Just having that little chat with him was enough for me," said Kane. "Hopefully I will be able to meet and talk to him again one day."
Reuse content