Jose Mourinho believes the credibility of English football is at stake if decisions like the one which saw Nemanja Matic banned and Ashley Barnes escape punishment recur.
Blues midfielder Matic will miss Sunday's Capital One Cup final with Tottenham after his sending off in last weekend's Premier League clash with Burnley, when he took exception to a challenge by Barnes which Mourinho later called "criminal".
Mourinho has spoken of a "clear campaign" against his Chelsea side this season and thinks the fact Matic was banned by the Football Association but that Barnes can play on undermines English football's long-standing fair-play status.
"We must take care of our football," Mourinho said.
Didier Drogba's stunning record in cup finals
Didier Drogba's stunning record in cup finals
1/8 2005 Carling Cup Final - Liverpool 2 Chelsea 3 (aet)

Drogba put Chelsea ahead in extra-time as the Blues won their first trophy under Jose Mourinho.

Getty

2/8 2007 Carling Cup final - Arsenal 1 Chelsea 2

Drogba scored both goals, including the winner six minutes from time, as Chelsea came from behind to beat Arsenal.

Getty

3/8 2007 FA Cup final - Chelsea 1 Manchester United 0

Drogba scored the winner with just four minutes of extra-time remaining after playing a one-two with Frank Lampard.

Getty

4/8 2008 Carling Cup final - Chelsea 1 Tottenham 2

Drogba became the first player to score in three League Cup finals when he put Chelsea ahead with a free-kick.

Getty

5/8 2009 FA Cup final - Chelsea 2 Everton 1

Drogba's equaliser set Chelsea on the road to victory after Louis Saha had put Everton ahead with the quickest FA Cup final goal.

Getty

6/8 2010 FA Cup final - Chelsea 1 Portsmouth 0

Drogba's 59th-minute free-kick clinched Chelsea their first league and cup double.

Getty

7/8 2012 FA Cup final - Chelsea 2 Liverpool 1

Drogba became the first player to score in four FA Cup finals as Chelsea lifted the trophy for a fourth time in six years.

Getty

8/8 2012 Champions League final - Bayern Munich 1 Chelsea 1 (Chelsea won 4-3 on penalties)

Drogba's 88th-minute header took the final into extra-time and, fittingly, it was the Ivorian who struck the winning penalty in the shoot-out in the final appearance of his first spell.

Getty
"It's not about how many millions are watching on television. It's about the feeling and respect and credibility, what people think about it.
"Strong credibility. This is something English football cannot lose.
"You lose credibility when a player like Matic is suspended, and another player can play this weekend.
"I don't think you can have any doubt that all around the world people open their mouths with surprise at how this can be possible."
Mourinho hopes Sunday's final is not affected by controversy after struggling with the accumulation of perceived errors against his side.
"It's easy to cope with a mistake," the Blues boss added.
"It's not easy to cope with lots of mistakes. It's not easy. We try.
"Hopefully the final is a good final."
Mourinho has twice won the League Cup with Chelsea, but is bidding for a first trophy of his second spell in charge on Sunday.
The two-time Champions League winner, who has won the domestic championships in Portugal, England, Italy and Spain, said: "This cup final is the most important cup final of my career. More important than the Champions League. More important than the other cups I've played before.
"This is the most important one, because it's the next one.
"The other ones are in the club museum. My medals are somewhere at home. I don't know where they are.
"The most important game of my career is the next one, no doubts about it.
"I don't care about medals. I care about the club winning trophies and me and the players winning trophies."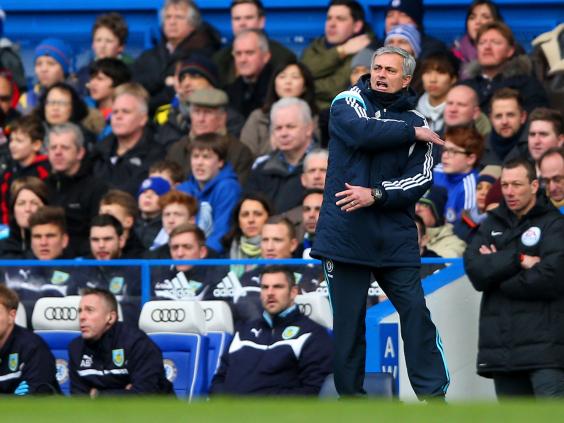 Mourinho joked Chelsea's new shirt sponsor Yokohama Rubber will provide Eden Hazard's new shinpads, after complaining about persistent fouling on the Belgium playmaker.
"A mixture of Yokohama rubber with carbon fibre and some steel," Mourinho said.
The Blues boss does not expect the reported £40million per season deal to impact on Chelsea's activity in the transfer market.
He said: "It's a good deal, a fantastic deal, but not a deal that will change forever Chelsea's way of life and thinking.
"We always try to be balanced in everything we do."
PA
Reuse content