David Ospina should start in goal for Arsenal ahead of Wojciech Szczesny in the FA Cup final against Aston Villa, according to readers of The Independent.
Arsene Wenger has a major call to make ahead of the Wembley showpiece.
Szczesny was Arsenal's number one at the start of the season, but questionable form and a crafty cigarette in the St Mary's Stadium dressing rooms saw him dropped in favour of Ospina.
However, Wenger has a policy of using his back-up goalkeeper in the cups which has meant that since the Fourth Round of the competition, Szczesny has started every FA Cup game.
Whilst the Pole has played his role in taking Arsenal to Saturday's showpiece, he was to blame for Garath McCleary's semi-final goal for Reading.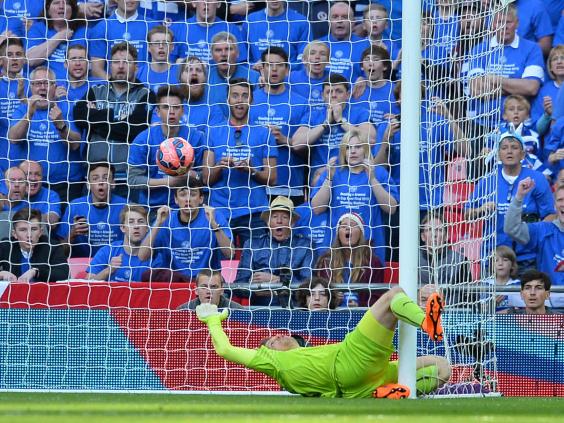 That incident coupled with Ospina's impressive Premier League displays have meant it is difficult to call who Wenger will start with. The Frenchman has been giving little away ahead of the match.
So in the run-up to Saturday's match, we've been asking you who you think Wenger should pick and the results are clearly in favour of Ospina.
The Colombian took 75 per cent of the vote, with a total of 554 readers taking part.
Those in favour of Ospina starting may have been swayed by his impressive stats when compared to Szczesny.
The pair played an almost identical number of Premier League matches with Szczesny featuring in 17 and Ospina in 18. Comparing their performances, Ospina fares much better.
During those games, Ospina made just 0.06 errors per game that led to goals. In contrast Szczesny made 0.18. Ospina had far more clean sheets - 0.44 per match to 0.18 for Szczesny. The Colombian stopper also made more saves per game - 1.94 to 1.65 and more saves per goal conceded - 3.18 to 1.4 for Szczesny.
The only areas in which Szczesny performed better than the player signed last summer as his understudy were in distribution and preferring not to punch. Szczesny had a successful distribution level of 68 per cent compared to 60 per cent for Ospina. The former also made just 0.15 punches per match compared to 0.56 for Ospina.
However, despite the poll result and the stats backing up Ospina, the choice lies with Arsene Wenger. The FA Cup final teams should be announced an hour before Saturday's 5pm kick-off.
Reuse content