Jose Mourinho raised the alarm last night over the role of stretcher bearers in the treatment of serious injury.
Mourinho was mystified at the time taken to get a stretcher to Kurt Zouma, injured in a clash three minutes before the break during the 3-1 Capital One Cup victory at Derby.
Zouma was down for at least four minutes after being clattered by his own keeper Petr Cech. Despite promptings from Cesc Fabregas the stretcher took an age to appear and when it did the bearers walked to the penalty box where Zouma lay prone.
"They cannot run. I think this is the direction (directive) The player is down, the body language of the players around him says its serious. I don't know. I can't see. But they walk. It is strange."
It emerged that Zouma was nothing more than dazed, but none knew that as he lay motionless on the pitch surrounded by worried team-mates.
"Zouma is fine, a bit dizzy and had some blood in his mouth because of a cut. He'll be available for Monday."
After goals from Eden Hazard, Felipe Luis and Andre Schurrle had secured victory against a Derby team reduced to ten-men for the final 20 minutes, Mourinho praised the organisation and approach of his opponents.
"If we are not strong we lose. I have seen a few matches. I know the quality they have. If you don't come with a strong side and a strong bench it will be a problem. We knew that."
Mourinho dismissed talk of the 'quadruple' insisting he is not looking beyond the next game at Stoke. "It was important to win today. It is Important to win on Monday. The next match is always the most important.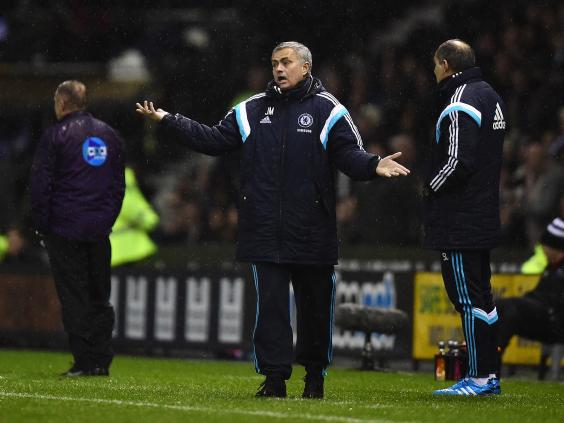 "We go like this. The players show that attitude playing a very professional game. This mentality is part of the group DNA. We don't speak about trophies. You spoke a few weeks ago about being unbeaten we never did it. Now you speak about a quadruple, we never do it."
Derby manager Steve McClaren expressed pride at his team's performance, bemoaning the red card given to Jake Buxton in the 71st minute that wrecked the home side's gathering rhythm after Craig Bryson had pegged Chelsea at 2-1.
"The red card was wrong. It was a tough call from the linesman. He gave what he saw but we believe it was wrong. It might not have changed the result but it robbed us of momentum.
"We can appeal. Whether it will do any good I don't know. If we appeal and lose it's another game he misses.
"I'm so proud of the players. We grew in terms of performance. We were nervous at the beginning after Saturday (2-0 defeat at Middlesbrough) but grew into the game, especially in the second half.
"We restricted Chelsea to few chances.. They were clinical and that was the difference between the teams and why they are top of the Premier League."
Reuse content