Southport's finest sporting sight was that of Red Rum galloping through the surf on the town's beaches. Here, their football team produced a performance that carried all of the racehorse's fabled grit and they failed not in the final furlong but in the final strides.
They were 90 seconds from FA Cup romance. It was not the kind  of romance that Charlotte Bronte wrote about but it was the kind Accountancy Today would have recognised.
For a club like Southport, struggling against relegation from the Conference, earning a replay would have been the ultimate achievement. Their chairman, Charlie Clapham, who made his money in solvents but who has been leading the struggle against insolvency at Haig Avenue, had been disappointed this game had not been chosen for live television coverage.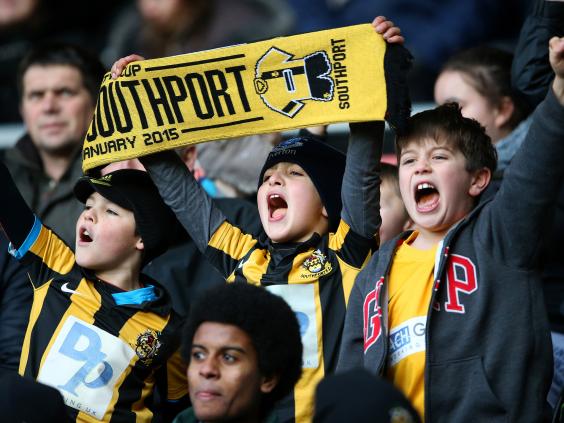 However, taking Derby and a former England manager to their windswept little ground for a replay might have tempted the broadcasters to part with £150,000 and they were guaranteed a share of a sizeable, passionate gate at Pride Park.
A mistimed tackle from Southport's captain, Luke Foster, on Johnny Russell in the third minute of added time ended those balance-sheet fantasies. Southport had been kept afloat by a fabulous performance from 19-year-old goalkeeper David Raya, who was in the final afternoon of his loan from Blackburn.
The young Spaniard got achingly near Chris Martin's penalty. Raya was born in Barcelona and here he performed as if he were playing at the Santiago Bernabeu.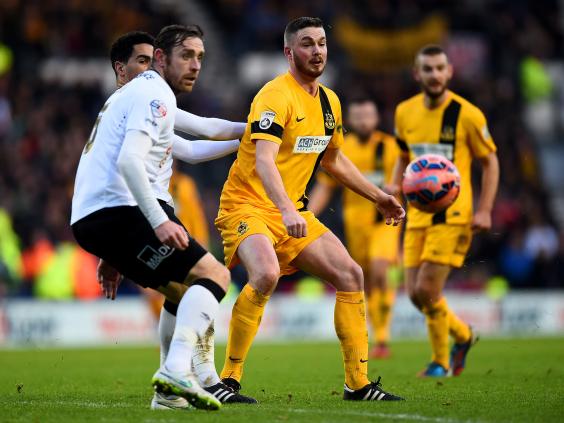 His manager, Gary Brabin, told his players that he wanted them to use this match as a shop window. Raya found himself front of house at Harrods.
Brabin said: "I wanted a good day out for our supporters, I wanted the team to leave with pride and I wanted to put a smile on our miserable chairman's face. It is a cruel way to lose, some of our lads are absolutely devastated in that dressing room."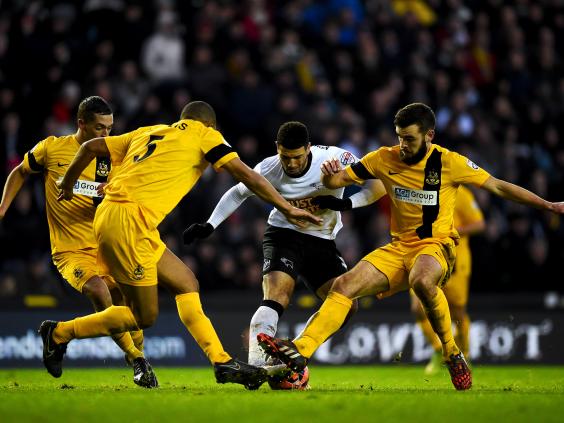 Southport did not, in truth, come very close to scoring. There were some scruffy moments in the Derby area and one header from Richard Brodie, who was probably relieved to have taken a pay cut to join Southport from Gateshead. Brodie flung his hands to his head as if he were Pele denied by Gordon Banks. The Derby keeper, Kelle Roos, had little difficulty making the save.
As someone who had been hounded out of the country after his failure to take England to the European Championship, even defeat would not have counted as the greatest humiliation of Steve McClaren's career, although the Derby manager learnt something about his squad – namely that it is neither deep nor good enough.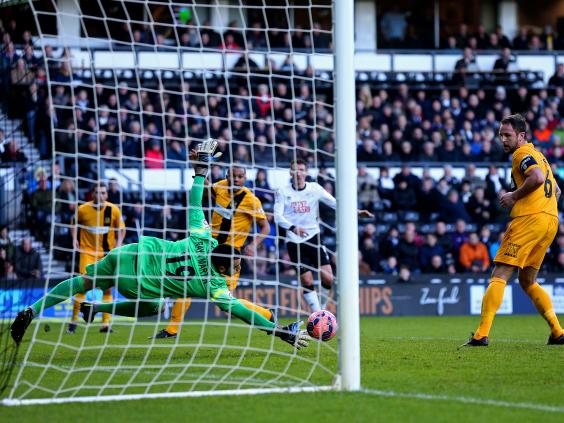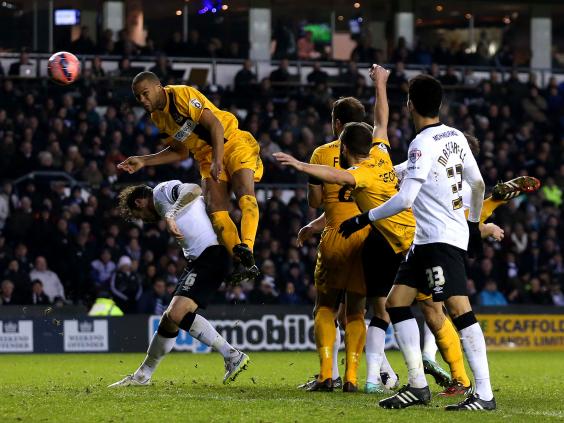 He had made nine changes from the side that overcame Leeds in the final match of 2014 and not many took their chances to shine. Leon Best had not started any of Derby's games this season and now, early on, a shot from Craig Bryson struck the post and rolled towards him. The shot was clumped over the stands. It is a fair assumption that, should Derby make the Premier League, Best will not be joining them.
 "My feelings are one of absolute relief," reflected McClaren, who was forced into a treble substitution to inject some life into his team. "There is not a lot to say about our performance but quite a lot to say about Southport's. They defended heroically and did what they could in the other areas of the pitch. We are thankful we are not the headlines on Sunday morning."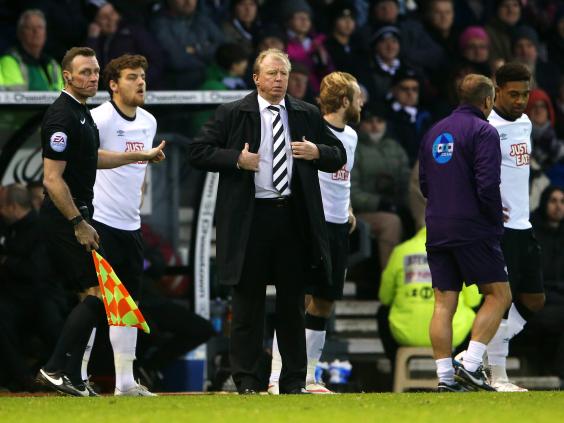 McClaren may yet make headlines should he pursue Newcastle's interest in his succeeding Alan Pardew. He has never categorically rejected the suggestion he might return to the North East, where he made his name at Middlesbrough. However, at St James' Park he will not have the FA Cup to worry about.
Derby County: (3-5-2) Roos; Keogh, Buxton, Naylor; Ward (Ibe 62), Shotton (Russell 63), Coutts, Nascarell, Bryston; Best (Martin 63), Dawkins.
Southport: (4-4-2)  Raya; Smith, Foster, Collins, Fitzpatrick; George, Kay, Joyce, Rutherford; Austin (Bakayoko 82), Brodie (Hattersley 70).
Referee: Graham Scott
Man of the match: Raya (Southport)
Match rating: 7/10
Reuse content