Diego Costa left fans and pundits disgusted after seemingly getting away with two stamps in the Capital One Cup semi-final win over Liverpool.
The Chelsea forward should have been sent off in the first half when he stamped on Liverpool defender Emre Can right under the nose of the fourth official, but it was missed.
The incident sparked handbags among the two sets of players, but play resumed.
In the second half Costa again got away with a stamp, this time on Reds centre-back Martin Skrtel.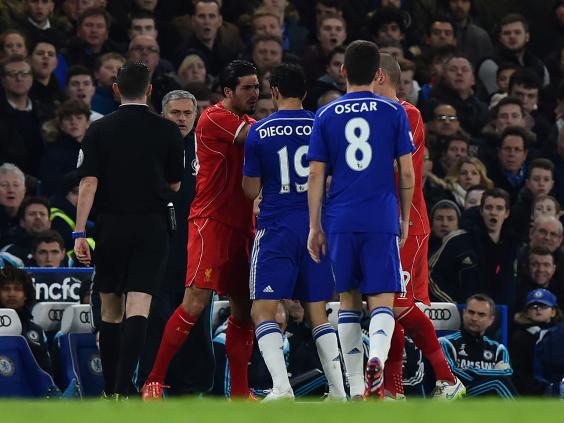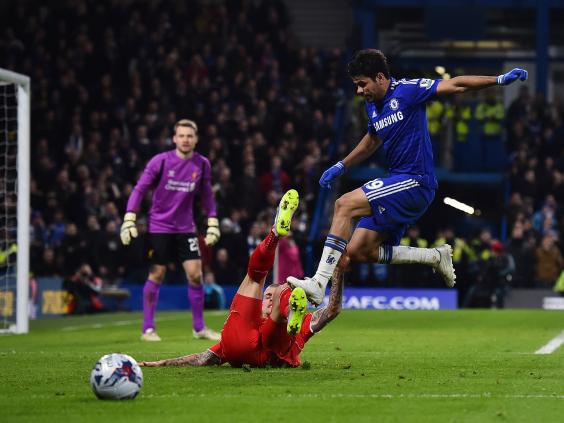 With referee Michael Oliver's attention diverted elsewhere - Lucas had fouled Oscar in the build-up, the Spanish striker appeared to lash out at the Slovakian, who did not react kindly.
This is how fans, pundits and jokers reacted....
Ugly from Diego Costa on Can. Stamped on him. No wonder Lucas and Skrtel had something to say to Phil Dowd and Mourinho #cfc #lfc

— ian herbert (@ianherbs) January 27, 2015
Nasty from Diego Costa. Trod on Can's ankle as he was on the floor.

— Phil McNulty (@philmcnulty) January 27, 2015
On looks alone, Skrtel v Diego Costa looks like the key match-up in a game between two opposing wings of a maximum security jail

— Sam Wallace (@SamWallaceIndy) January 27, 2015
1st class stamp from Diego Costa. pic.twitter.com/NCviw0o5T3

— SaGa (@GotDaFromage) January 28, 2015
#ThingsMoreUsefulThanBalotelli pic.twitter.com/YuKZcQJOu1

— Football Central (@FootballCentral) January 25, 2015
This is a Costa stampede!

— Gary Lineker (@GaryLineker) January 27, 2015
Naughty from Costa but reds be honest Suarez used to do that!!

— Jamie Carragher (@Carra23) January 27, 2015
Another look at the Diego Costa stamp. pic.twitter.com/zK4u6o5Bjh

— Sunday League Footy (@SundayChants) January 27, 2015
Looks like Diego Costa could be joining Gylfi Sigurdsson on the fantasy sideslines for three matches after that stamp.

— Dale Johnson (@dalejohnsonESPN) January 27, 2015
The NEW stamp released by Royal Mail. #CFC #LFC #CHELIV #CFCLive #Costa #DiegoCosta pic.twitter.com/oSfPScG3pE

— Roy (@PapaBeats) January 27, 2015
How to handle Diego Costa: https://t.co/8PpZFMI633.

— Matt Barnes (@Mkmatty83) January 27, 2015
Diego Costa clearly stands on Emre Can's ankle right in front of the dug-outs.

— Tom Williams (@tomwfootball) January 27, 2015
Diego Costa is fortunate still to be on the field. Just enough niggle, though, to make this a really absorbing tie #CHELIV

— Ben Smith (@BenSmithBBC) January 27, 2015
Diego Costa has misunderstood the concept of STAMP collecting #DiegoCosta #LFc #Stamp pic.twitter.com/5fZoRTYyu7

— Wio (@ColoWio) January 27, 2015
Diego Costa: 'You want me to stamp it?' #DirtyBaristard pic.twitter.com/SepNkSs5P1

— máirt (@HolyHonda49) January 27, 2015
In extra-time Costa was then involved in an incident with Steven Gerrard that finally earned him a booking. The pair battled for the ball and Costa appeared to grab the Liverpool captain in the face, prompting an angry reaction from Gerrard.
Chelsea went on to win the game and book their place in the Capital One Cup final thanks to an extra-time header from Branislav Ivanovic.
Reuse content