It was Roberto Martinez's calmness on the Wembley touchline during Wigan's FA Cup triumph over Manchester City in 2013 that persuaded Bill Kenwright to appoint him as the man to succeed David Moyes as Everton manager.
On Tuesday night, at what will be a sold-out but intensely nervous Goodison Park, Martinez's ability to take the pressure in the Cup will again come under scrutiny. Should Everton lose to West Ham, it will be their seventh defeat in eight matches and, for the first time in his managerial career, the Spaniard is facing up to the possibility of the sack.
Nevertheless, at Swansea, Wigan and now Everton, Martinez has been careful to ensure he works for chairmen who are old-style football men. He insisted that, despite a season that has seen Everton unable to string more than two wins together, he still enjoys Kenwright's trust.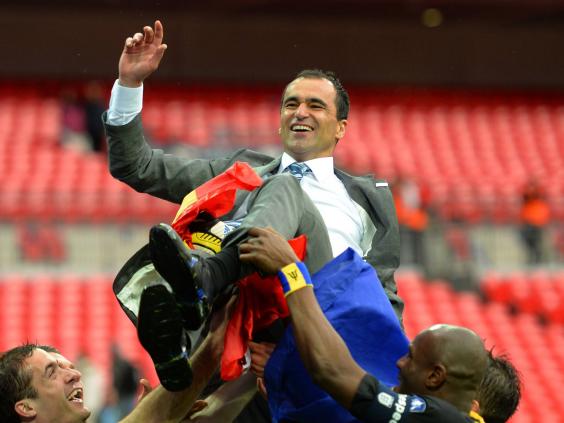 "I am always concerned about the relationship between manager and chairman," he said. "It has to be the one that ensures the stability of a football club. The relationship I had with Huw Jenkins [at Swansea], Dave Whelan [at Wigan] and now Bill Kenwright is something I never take for granted.
"The chairman is a proper, proper Evertonian. He never stops wanting to help and trying to be supportive," said Martinez. "In the same way, he is hurting like we all are, like the fans are because he is not a businessman, someone who is there for the financial aspects of that position. The support I have had from day one has been incredible and that has really helped in the moments like the ones we are experiencing now."
There are many reasons for Everton's decline: an ageing defence that will face West Ham without the injured Tim Howard in goal and the suspended Antolin Alcaraz at centre-half; a system that opposing managers appear to have worked out by pressing the full-backs – Everton have made more individual errors than any other Premier League club.
There has also been the inability to fulfil expectations which were raised during last season, when Everton become viable candidates for the Champions League.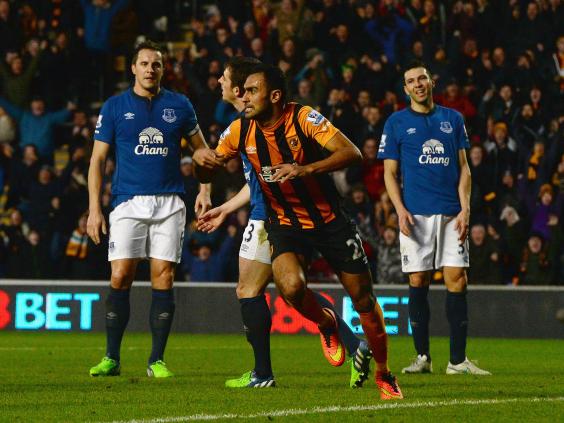 "Expectations were so high at the start of the season and for the right reasons," said Martinez. "But in the league, the four points we dropped in the opening two games against Leicester and Arsenal suddenly made it difficult.
"We became afraid of making a mistake. And when you are afraid of making a mistake you tend to make it. The league has become a very difficult competition for us. The Europa League has been a complete contrast because we have approached every game as something we might win rather than [in the league] as something we might lose. That is something, psychologically, we need to eradicate pretty quickly."
Martinez is not the first manager on Merseyside to have quoted Jürgen Klopp's struggles with Borussia Dortmund as an example. Liverpool's Brendan Rodgers argued that Dortmund, wallowing in the nether regions of the Bundesliga after the loss of Robert Lewandowski to Bayern Munich, shows what happens when you lose a key player –like Luis Suarez.
For Martinez, the comparison was how Dortmund have put aside their domestic struggles to top their group in the Champions League, much as Everton have done in their European competition. A squad like Martinez's, which is relatively thin and needs a new goalkeeper to cover the six weeks Howard will be missing, might not welcome a run in two cup competitions. And yet, he argued, the best way –perhaps the only way – to kick-start a season that has been forever stalling is to start winning in the FA Cup.