Just as Tottenham Hotspur are supposed to flourish in years that end in one, so Everton have always shown a liking for those that end in five.
In 1985, they came within an FA Cup final defeat of a treble. Ten years later, they lifted the old pot, and in 2005 they qualified for the first - and so far only - time for the Champions League.
In spite of everything, 2015 is still alive at Goodison Park, although but for a late equaliser from Romelu Lukaku in this third-round tie, their dreams would have been limited to improbably winning the Europa League.
Had Lukaku not controlled Bryan Oviedo's low cross and cracked it past West Ham keeper Adrian, this would have been Everton's seventh defeat in eight matches, and even with a chairman as understanding as Bill Kenwright, Roberto Martinez's position as manager would have come under intense scrutiny.
Sam Allardyce, his counterpart at West Ham, would argue that his side had done enough here to win – he certainly had the man of this match in centre-half James Collins. But this was a far better Everton display than the supine ones they have produced recently. Managers under pressure always look for turning points, and this might be Martinez's.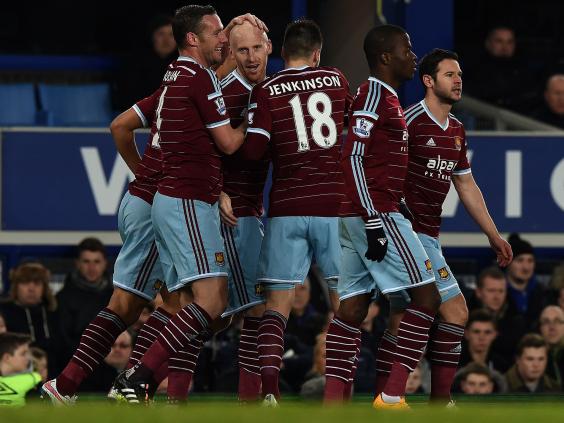 When the new year last came to Goodison, Martinez had taken over so seamlessly from David Moyes that the man who had run Everton for more than a decade had become, on Merseyside at least, a forgotten figure, floundering at Manchester United.
Now it is Martinez who has begun to endure the relentless, pounding pressure that comes with managing a struggling side while, in the wake of Real Sociedad's victory over Barcelona, Moyes once more looks like the man whom Sir Alex Ferguson saw as his natural successor.
Four straight defeats meant the FA Cup mattered more than usual at Everton and ensured that the players from West Ham, a club they had regularly beaten, assumed menacing shapes whenever they crossed the halfway line – which in the opening exchanges was quite lot.
Goodison was far from full but anxiety was sat on every seat; there was one sequence in which Gareth Barry and Ross Barkley kept passing among themselves while playing each other ever deeper into trouble.
Nevertheless, Martinez was right when he predicted the FA Cup might liberate Everton. In the league their manager had pointed out that his players had become obsessed with the consequences of losing rather than what they might achieve by winning. Against Hull on New Year's Day they had appeared paralysed after falling a goal behind.
Here they were sometimes still terribly sketchy in defence. Joel Robles, who had kept goal for Martinez and Wigan in the 2013 FA Cup final, was tested several times by Stewart Downing, whom Allardyce employed inventively in the middle of midfield. But gradually  Everton began looking like the team that had swept through its Europa League group and which had challenged for the Champions League the season before.
Barkley, the man on whom the club has invested so much hope, and Lukaku, on whom they have invested so much money, combined beautifully, with Barkley setting the Belgian clear on goal. Lukaku appeared to have taken one stride too many but the shot fizzed past Adrian's post.
Here, Lukaku looked like a man on whom Everton had spent £28m. Twice in the first half he launched fierce shots from outside the area. Each time, Adrian failed to hold the ball, each time the ball was scooped away to a place of greater safety.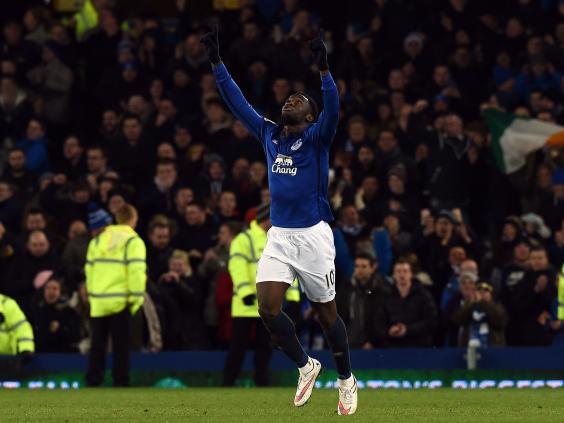 For someone who is a very English manager, Allardyce has not had much success in this most English of competitions since taking Bolton to the semi-finals in 2000. His tenure at Upton Park had seen West Ham eliminated at the first hurdle on every occasion.
Sometimes he has been accused of tossing away the competition but, even when missing three players to the Africa Cup of Nations, the side he put out for this match was a sign the West Ham manager meant business and scented blood.
They began the second half as well as they had started the first. Carl Jenkinson, driving down the Everton left flank, kept going and forced a fine save from Robles at his near post.
Then, in a manner that has become wearily familiar to those observing Everton's disintegration at close quarters, came the breakthrough. West Ham had forced 11 corners by the time the 55th minute ticked over but the 12th proved fatal. Matt Jarvis delivered it and Collins, the big, brave centre-half from Newport, met it with the kind of header that brooked no argument. Another header from Enner Valencia almost doubled the lead.
In contrast to their capitulation on Humberside, Everton at least showed some fight after going behind but once more they ran into the impressive shape of Collins, who cleared off the line just after blocking a fierce shot from Barry. What had seemed like Lukaku's equaliser was ruled out for a push.
And that appeared to be  that. Samuel Eto'o a man who has won three European Cups, was thrown on to little obvious effect and Everton appeared to embrace their fifth straight defeat. However, Lukaku popped up to possibly save his manager's job and seal a personal performance which certainly revived the striker's flagging reputation.
Chesterfield fight back to earn replay
Chesterfield came back from two-goals down to draw 2-2 and force a replay at Scunthorpe United in their delayed third-round tie.
Goals from full-back Alex Davey, on loan from Chelsea, and striker Lyle Taylor put the home side 2-0 ahead before the break, but fellow League One side Chesterfield virtually laid siege to the Scunthorpe goal in the second half.
They pulled a goal back on 71 minutes when Sean McAllister gave away a penalty converted by Eoin Doyle for his 21st goal of the season. Then the equaliser arrived five minutes from time, Jay O'Shea scoring from close range.
The eventual winners of the tie will travel to Derby County in the fourth round.
Fourth-round draw
Southampton/Ipswich v Crystal Palace, Cambridge United v Manchester United, Blackburn v Swansea, Chelsea v Millwall/Bradford, Derby v Scunthorpe/Chesterfield, Preston v Sheffield United, Birmingham v West Bromwich, Aston Villa v Bournemouth, Cardiff v Reading, Liverpool v Bolton, Burnley/Tottenham v Leicester, Brighton v Arsenal, Rochdale v Stoke, Sunderland v Fulham/Wolves, Doncaster/Bristol City v Everton/West Ham, Manchester City v Middlesbrough
Ties to be played 24-25 Jan
Reuse content