Whether Ricky Alvarez has earned himself a place in Gus Poyet's first-choice team remains to  be seen, but he did win them a trip to Bradford City.
Alvarez is a very gifted footballer – he is a full Argentina international who grew up being compared to Kaka – and yet he has struggled to make an impact on Wearside. This was just his fourth start for Sunderland, and the fact that they are likely to buy him for £7.5million this summer is not necessarily a reflection of his contribution.
But Alvarez, in the bitter cold at Craven Cottage, was decisive here, scoring the crucial late goal to put them 2-1 up. They had needed a mistake by Marcus Bettinelli to draw level but it was Alvarez who won them the game, killing off a competitive but limited Fulham side.
Injuries and adaptation have limited Alvarez's playing time since he joined on loan from Internazionale in the summer. But here he was given a chance by Poyet and he took it, which was the most he could have done. He was Sunderland's best attacking player, taking the game to Fulham in the first half, in which they went somehow went behind. Alvarez had some early openings but he kept on probing all evening. When he thumped the ball past Marcus Bettinelli with 15 minutes left it felt like a reward for his efforts.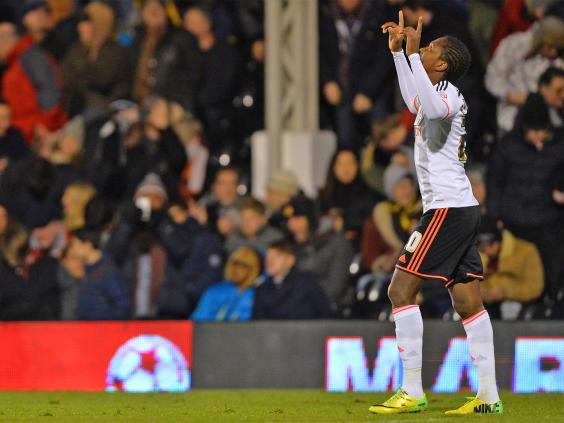 Poyet was delighted afterwards for Alvarez, and said that his team-mates were too. "You saw the reaction from the other players," Poyet said. "They watch him every day, and they know what he can do because they try to get the ball from him. I wouldn't be happy if I was a full-back and he was running at me."
This was Alvarez's first goal in English football and one which Poyet hopes will be a turning point for him. "He needs to get the pace of English football," said Poyet, who knows something about adapting to the speed of the Premier League. "The time you have to recover between matches in Italy, it's not going to happen here."
Until Alvarez's intervention this was an open and competitive game, which more than enough chances and bookings to keep the 15,000 freezing fans engaged. There was even something approaching a mass brawl in the second half, which surprisingly led to just two yellow cards.
While Sunderland were the superior side throughout, dominating possession and creating chances, they had needed a freak mistake to draw level.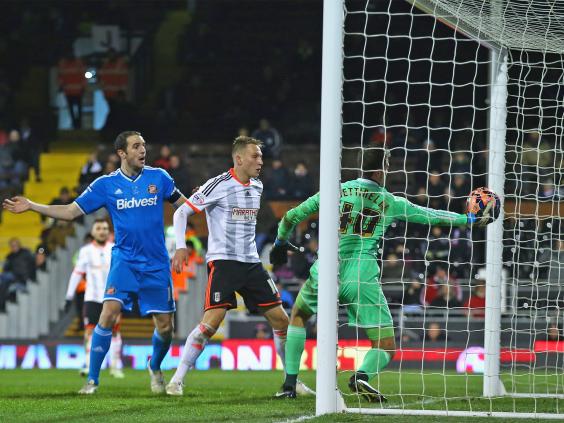 Marcus Bettinelli had been excellent in the first half, saving from Alvarez, Jordi Gomez, Emanuel Giaccherini and Steven Fletcher but he cost Fulham their lead soon after the re-start. Patrick van Aanholt's deflected cross looped into the air and Bettinelli let a comfortable catch slip through his fingers and into the net. "Goals are defining moments in games," said Kit Symons afterwards, "it was a mistake but he's been excellent for us, so we are not going to point any blame. He will dust himself down and get on with it."
Fulham had taken the lead in the first half when Hugo Rodallega bundled in Ross McCormack's corner but that had been against the run of play. Symons admitted that his team were not at their best here – "too many off nights" – whereas Poyet was impressed with the rhythm his team showed with the ball. Jordi Gomez's stoppage-time penalty completed the win and sets up a fifth round trip to Valley Parade. "Everybody knows it's one of the worst pitches in the country," he smiled, "and we will need to adapt." It would be an unlikely but appropriate step on Alvarez's long journey, but only if he is picked.
Man of match Alvarez.
Match rating 6/10.
Referee P Tierney (Lancs).
Attendance 14,777.
Reuse content