Poor, old Arsène Wenger. FA Cup history beckons, north London honour is upheld and interest in the league title is retained, yet still the natives are restless. This is the reward for hanging about a place for almost 20 years. People forget what it used to be like supporting boring, boring Arsenal.
Victory tonight at Hull City would leave Wenger just three more wins from a hat-trick of FA Cup triumphs, a feat not recorded since Blackburn Rovers rattled off three on the spin in the 1880s. The old pot is not what it was but winning it still counts for something, and doing so consecutively is impressive. 
After Arsenal roused themselves magnificently on Saturday to draw the north London derby with 10 men against the best-placed Spurs team in half a century, Wenger is entitled to feel a degree of satisfaction. The past fortnight has not been what it might, with a painful defeat to Manchester United, despite dominating possession, and a torrid home loss to Swansea following the Champions League setback against Barcelona.
To lose to the aesthetes of Catalonia was not unexpected. The subsequent reverses Wenger classifies as anomalous, untypical, the consequence of unusual forces acting against Arsenal. Wenger's critics are having none of it. Same old, same old, they say. Here we go again – the familiar retreat of Wenger's team as spring approaches is for them one of football's hardy perennials. 
The quasi toy-throwing exercise was the posturing of a man loved in the boardroom but disconnected from the rank and file. Those fans standing at the gates to the London Colney training complex with sharpies in hand are not intimate with the rhythms of Wenger's working day. They cannot see what he sees nor intuit the sensitivities of the players.
They must make do with what they witness on the pitch. Of late, Saturday apart, that has not sustained them. Though they will be cheering loudly enough at Hull tonight, success in the Cup, thrilling as the annual trips to Wembley might be, is no substitute for the more substantial reward of a league title. Wenger struggles to appreciate how he has exhausted the promise of his beautiful template. This is the tension that visits him every season at this time of year. And no amount of trumpeting the FA Cup will change that.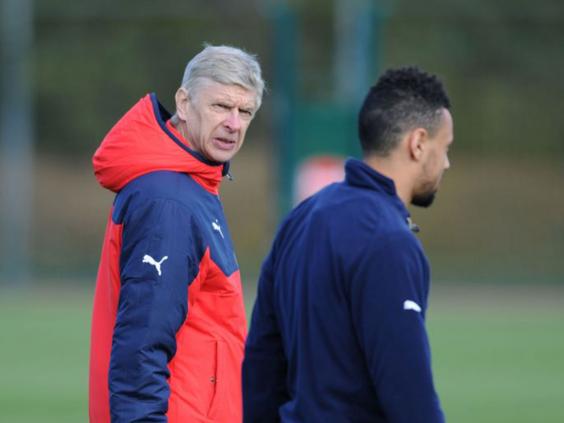 "Personally, I rate highly the FA Cup. I think it's a fantastic, prestigious competition," he said. "When I listen to people, should we lose a game in the FA Cup it will be a disaster. You cannot say, on one side, it's undervalued and, on the other side, if we lose it's a disaster. We won the FA Cup twice in the last two years. We will try to do our best again in this competition.
"I believe that if we were able to do it again, it would be absolutely fantastic. There's no country where the national cup is bigger. In Spain and France it's a fantastic, prestigious competition as well. Nobody neglects it: not Barcelona, not [Real] Madrid. Everybody plays for it 100 per cent, with a top team always."
Wenger at least takes his team to Hull with confidence partially restored after the draw at White Hart Lane. For almost an hour Arsenal were largely untroubled, leading by an Aaron Ramsey goal. Then Francis Coquelin lost his discipline and within the space of seven minutes a controlled environment had become a febrile, inhospitable bear pit, with a third successive Premier League defeat the promised outcome.
Tottenham 2 Arsenal 2 player ratings
Tottenham 2 Arsenal 2 player ratings
1/24 TOTTENHAM HOTSPUR: Hugo Lloris - 7 out of 10

Difficult to fault for either of Arsenal's goals, made a couple of smart saves and was quick off his line to sweep up the danger on several occasions.

2015 Getty Images

2/24 Kyle Walker - 7 out of 10

Good performance defensively from the full-back to help combat Sanchez whilst posing a constant threat down the Spurs right.

2016 Getty Images

3/24 Toby Alderweireld - 7 out of 10

Dragged out of position for the opening goal but redeemed himself with a superb finish for the equaliser.

2016 Getty Images

4/24 Kevin Wimmer - 4 out of 10

Given the run around by Welbeck at points in the first-half, was regularly exposed by pace and movement of Arsenal in final 3rd. Did make a crucial tackle late on to deny Ramsey.

2016 Getty Images

5/24 Danny Rose - 5 out of 10

Fairly solid defensively, however, end product very poor at the other end.

2016 Getty Images

6/24 Eric Dier - 4 out of 10

Regularly bypassed in midfield and gave possession away several times inside his own half, disappointing derby for the 22-year-old.

2016 Getty Images

7/24 Mousa Dembele - 8 out of 10

Very composed performance from the Belgian, regularly helped recycle possession for Spurs and brought a much needed cool-head to the derby.

8/24 Erik Lamema - 5 out of 10

Disappointing performance from the Argentine, missed a guilt-edged first-half chance and was replaced on the 67th minute.

2016 Getty Images

9/24 Dele Alli - 7 out of 10

Hard-working display from the Englishman, superb work in the assist for Kane's goal.

2016 Getty Images

10/24 Christian Eriksen - 4 out of 10

The pace of the derby didn't suit the Dane, looked slow and produced a number of wayward passes.

Getty

11/24 Harry Kane - 9 out of 10

Sensational performance from Kane, his hard- work forced a silly challenge and a red card for Coquelin before producing a moment of magic to give Spurs a short-lived lead.

12/24 From the bench: Ryan Mason - 5 out of 10

Brought on at 2-1 to sit in front of the back four, he allowed Ramsey to break free for Sanchez's goal.

2015 Getty Images

13/24 ARSENAL: David Ospina - 9 out of 10

Made a couple of wonderful saves to earn his team the point, couldn't fault the Colombian for either of Spurs goal.

14/24 Hector Bellerin: 6 out of 10

Good assist for Ramsey's goal, didn't offer his usual threat going forward for the Gunners.

15/24 Gabreil Paulista - 7 out of 10

Fairly solid performance from the Brazilian, difficult afternoon whilst others around him were regularly exposed.

Getty Images

16/24 Per Mertesacker: 3 out of 10

Routinely caught out of position and made to look out of his depth by the hard work of Kane, at fault for Tottenham's second 'If in doubt, get it out'.

2016 Getty Images

17/24 Kieran Gibbs - 6 out of 10

Decent performance from Gibbs, coming in to start only his second Premier League game of the season

18/24 Francis Coquelin - 1 out of 10

Tackle for the second yellow card was incredibly naive and immediately changed the complexion of a game Arsenal looked to be controlling.

2016 Getty Images

19/24 Mohamed Elneny - 5 out of 10

Tottenham's midfield certainly had the upper-hand in this one, struggled to contain Dembele.

20/24 Aaron Ramsey - 6 out of 10

Clever finish for his goal, worked hard but lacked quality and routinely gave away possession.

21/24 Mesut Ozil - 5 out of 10

Largely innocuous performance in midfield, the German did produce a couple of nice touches but struggled to get any time on the ball.

2016 Getty Images

22/24 Alexis Sanchez - 8 out of 10

Sanchez worked exceptionally hard, making several crucial interventions defensively before producing a wonderful finish to help keep Arsenal's season alive.

2016 Getty Images

23/24 Danny Welbeck - 7 out of 10

Arsenal's front man worked exceptionally hard and gave Spurs' centre back's a tough afternoon, however he struggled in-front of goal and missed a couple of chances.

24/24 From the bench: Olivier Giroud - 7 out of 10

Came on for the final 15 minutes but was a handful for the Spurs defence, easing the pressure and holding the ball up well

2016 Getty Images
Arsenal's response vindicated Wenger's claim that his team do not lack spirit or fight, that they are not an effete ensemble shorn of leaders. Alexis Sanchez took to the Spurs defence like a can opener, ripping an equaliser with his customary zest. The importance of that strike for morale was acknowledged by Wenger, who maintains the championship is in the balance with 27 points for his team still to contest.  
"We feel we had the right response after going down to 10 men. We were really down after Swansea because I feel that was a terrible night for us. We responded very well, showing this group is united. We lost under special circumstances at Man United and against Swansea. Of course, we are not used to that.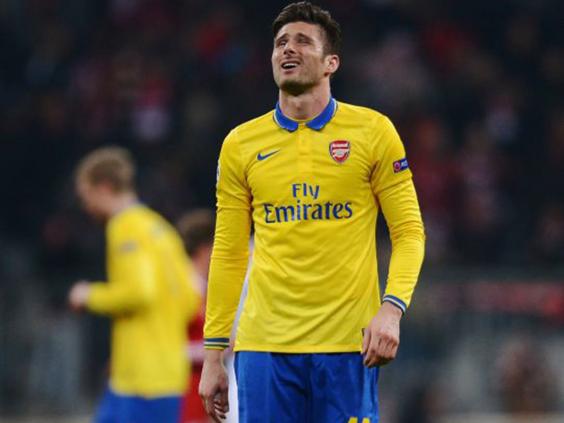 "The championship is far from over. I'd just remind you we've beaten Leicester twice and have done our job against them. People should look at other teams. We will not give up and [will] fight until the end. When people question the spirit it does not mean they are right. Our spirit was questioned against Swansea and I invite you to watch it again and again. We can only go on and do our job. You [the public] have to be influenced by our desire to win the game and by giving our best."
Wenger celebrates 20 years in the post in September and turns 67 one month later, begging the question how long he means to continue even if he were to win the league. Succession plans are not common in a reactionary industry low on patience. Since there is no sense he intends to leave either of his own accord or the board's, the question might appear moot but it shouldn't, given the upheaval experienced at Manchester United in the post-Sir Alex Ferguson period.
Wenger is locked in the endless cycle of preparation and recovery, the next match the only one that matters. He simply turns down the volume on the web churn about the job he is doing. All he will say is he will not be here for another two decades. "No," he said when asked if it crossed his mind in 1996 that he would still be in an Arsenal tracksuit 20 years later. "And it does not cross my mind I will be here in 20 years! 
"I feel privileged to have the confidence of the club for such a long time," he said. "On the other hand, I work seven days a week with full commitment. I'm not part-time and since I have been here I have given full commitment and that is all I can do. I always have the same pressure, which is the same pressure I apply to myself.
"After that, people talk and you have more people talking than 20 years ago and more opinions. That doesn't change the pressure. The real pressure comes from your desire to win the next game and that is the only one that matters really. 
"I do my job and one day someone will replace me. That is part of life and as long as you have done well and given your best – that is what I try to do. I try to do my best and leave this club in the best shape so the guy coming after me will have good potential to work with."