"I can still hear the shouts of their team," said Arsène Wenger, reflecting on the epic 1999 semi-final Ryan Giggs had snatched for Manchester United. "They could not believe they had won."
When, at the end of the season, the Arsenal manager closes his eyes and reflects on the nine long months just gone, he will still be able to hear the voices of the 9,000 who had travelled from London for what might prove a turning point for their club.
Most remained long after the final whistle, chanting in Old Trafford's vast empty space. There was a time, between 2001 and 2005, when Arsenal reached every FA Cup final bar one – and then they were beaten in the semi-final by Manchester United.
In the years that followed, as Wenger admitted, his focus shifted elsewhere, to the broad, lost horizons of Europe, and the FA Cup ceased to  matter that much. Now it  matters very much.
Arsenal's fans had last tasted victory at Old Trafford in September 2006. Then, Wenger was still coming to terms with defeat in the European Cup final in Paris and Thierry Henry had made his ill-advised decision to remain at the Emirates another season. They did not know it but the period of slow decline was upon them, a period that would see them regularly beaten at Old Trafford. In the context of the season and in terms of their recent history, this was a decisive victory  for Arsenal and for their  manager.
Manchester United 1 Arsenal 2 player ratings
Manchester United 1 Arsenal 2 player ratings
1/24 David De Gea

Without him United could have been humiliated. A save from Cazorla seemed frankly impossible but the Spaniard made it look merely ordinary. 8

2/24 Antonio Valencia

A horror show from the Ecuadorian. Woeful defending allowed Monreal through to score and his back pass then allowed Welbeck through for the second. 3

3/24 Chris Smalling

He never seems to look comfortable in the United defence. His loose pass early on to Sanchez summed up yet another careless performance. 5

4/24 Marcos Rojo

The least poor of a dreadful performance by the United defence, he seemed to be nervy around Welbeck, particularly when playing at centre-back. 5

5/24 Luke Shaw

Struggled to deal with the direct running of Oxlade-Chamberlain whilst also offering little of his usual attacking skill. Unsurprisingly he lasted just 45 minutes. 4

6/24 Daley Blind

Often found himself overrun as he looked to protect a leaky defence on his own, his role in the game diminished after Carrick's arrival. 5

7/24 Ander Herrera

Made good runs early on, Fellaini couldn't find him. Unfortunately he was hauled off at half-time as his colleagues gave him few opportunities. 5

8/24 Angel Di Maria

His best game for some time, with his left-foot deliveries causing chaos for Mertesacker. Then he ruined it all by grabbing the referee's shirt. 5

GETTY IMAGES

9/24 Marouane Fellaini

Another big-money signing who shone, his physicality caused Arsenal's defence all sorts of panic. But as a forward he lacks any real confidence in front of goal. 6

10/24 Ashley Young

United's star outfield player's contest with Bellerin was thrilling in which the Englishman often got the better, though his final pass was lacking. 7

GETTY IMAGES

11/24 Wayne Rooney

Oozed confidence throughout, scoring a wonderful header and running powerfully at the Arsenal defence with menace. 7

12/24 Best off the bench: Michael Carrick

His passing radar kept United ticking and allowed them to dominate possession, even if that wasn't enough to carry his side through. 6

GETTY IMAGES

13/24 Wojciech Szczesny

A dropped cross in the first half could have been calamitous as throughout the match he seemed to be lacking the confidence usually associated with him. 5

GETTY IMAGES

14/24 Hector Bellerin

An early yellow card put a target on his back but he continued in his usual fashion, a pacey presence in attack and defence. 6

GETTY IMAGES

15/24 Per Mertesacker

Implausibly gave away a corner early on as nerves looked to be getting the better of him, he struggled aerially against Fellaini and Rooney. 5

16/24 Laurent Koscielny

The Frenchman brought invaluable composure to the Arsenal defence, the rarity with which he ever had to step in a testament to his organisational skills. 7

17/24 Nacho Monreal

Exceptionally threatening going forward, he picked up a well-deserved goal. But the Spaniard was too timid around Di Maria, giving him space to cross. 6

18/24 Francis Coquelin

A quiet game from the powerful Frenchman but that is just what Wenger would have wanted. His tackling continues to be ferocious. 6

GETTY IMAGES

19/24 Santi Cazorla

His range of passing was vital to Arsenal's counters and he even displayed his recently discovered tackling ability when the visitors needed to defend. 7

20/24 Alex Oxlade-Chamberlain

Enjoyed his duel with Shaw and his powerful running created Arsenal's first. The visitors missed his explosiveness after he went off injured. 7

GETTY IMAGES

21/24 Mesut Ozil

Peppered the contest with moments of pure class, his understanding of space and his colleagues' movements brightened Arsenal's play and found their first goal. 8

22/24 Alexis Sanchez

As ever the Chilean was full of energy and menace, his passes always seeming to put Arsenal in a more dangerous attacking position. 8

23/24 Danny Welbeck

He even managed to make an open goal look difficult but nevertheless he got his goal and his energy caused problems for Rojo. 7

GETTY IMAGES

24/24 Best off the bench: Aaron Ramsey

His driving runs from deep gave United's defence another problem to deal with. His presence on defence was invaluable when United chased an equaliser. 7

GETTY IMAGES
In David De Gea, their player of what is proving to be a deadening season, Manchester United possessed the better goalkeeper and any team in the world would want Wayne Rooney when he is used in his natural position as a centre-forward. Otherwise, Arsenal had nine better footballers than their opponents.
That has not always been enough. Last year's victory in the FA Cup final that put an end to nine trophyless years was supposed to have reinvigorated Wenger's team but, if you examined their route to Wembley, it was still the same old Arsenal.
They beat Tottenham,  Liverpool and Everton and then, when the old pot beckoned, they stumbled horribly in the semi-final against Wigan and went two goals down to Hull within eight minutes of the final kicking off.
They came into this tie  having won 10 of their last dozen matches. The two that Arsenal had lost were, naturally, the most important ones – to Tottenham and Monaco to squander yet another chance of the European Cup.
Even when Angel Di Maria's blatant piece of play-acting triggered his dismissal, you wondered if Arsenal would see it out. Wenger, patrolling the touchline from where he has seen his side concede six and eight goals against Manchester United, looked agitated when the board indicated five minutes of stoppage time. He looked slightly concerned when Alexis Sanchez missed a gaping opportunity when those minutes had whittled down to 90 seconds. He need not have worried.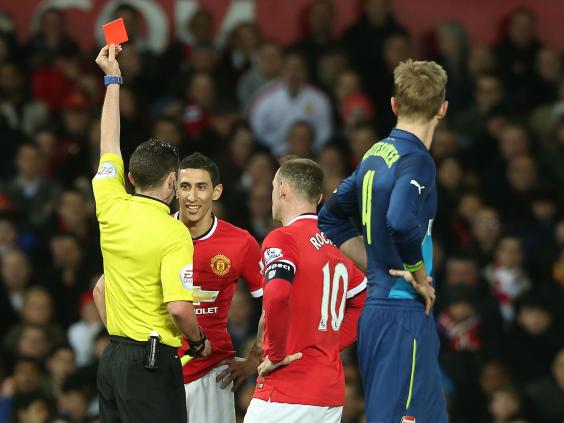 Louis van Gaal did not leave his bench at all, handing over the touchline duties to his assistant, the man whose goal at Villa Park had so haunted Wenger in the build-up to this quarter-final.
It seems strange, given the humiliations he has suffered on this ground but Wenger enjoyed one of his finest moments at Old Trafford; the May night in 2002 he won his second Premier League title. Then, Arsenal wore gold shirts as they celebrated Sylvain Wiltord's winner. Here they wore the blue shirts in which they were humbled 8-2, one of what Wenger calls "the scars in your heart" they have suffered at Old Trafford.
In 2002, Arsenal's back four was: Lauren, Sol Campbell, Martin Keown and Ashley Cole. They may not, as Per Mertesacker can, boast a World Cup winner's medal, but they probably would not have allowed Rooney the space to meet Di Maria's superlative cross. The header was unstoppable but the question was whether Rooney should have been given a dual carriageway's worth of space in which to make his run. For the third consecutive time in the FA Cup, Rooney had scored against Arsenal. This time, however, it was not decisive.
The night was important for other reasons. The balance of power in English football may have shifted to another part of Manchester and another part of London but Manchester City v Chelsea will never possess the history or the intensity of this fixture.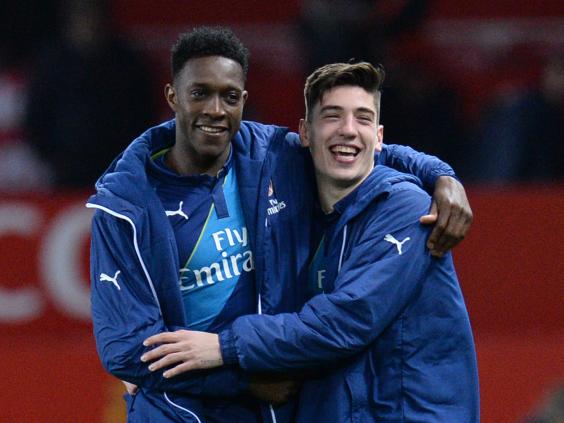 As Arsenal were bypassed by the oligarch money that flowed into Stamford Bridge and the Etihad Stadium, Sir Alex Ferguson and his lieutenants would fall into nostalgic talk of the days when this fixture decided championships; when Roy Keane faced down Patrick Vieira in the tunnel at Highbury and when, eyes bulging, Keown taunted Ruud van Nistelrooy.
The prize is no longer the Premier League but the FA Cup, although this game mattered as if the time of Sheikh Mansour and Roman Abramovich had never been. After a weekend of goalless draws and pitch invasions, it was a night on which the FA Cup itself came alive.
It was a night when Arsenal confronted the many ghosts they have left behind at Old Trafford and the traits that have been part of their character since men like Vieira and Keown took their leave of the club.
Reuse content