There is much that has been shocking about the steep decline of Manchester United this season but nothing embodies their struggles more than the fact that, when it came, defeat in the FA Cup third round to Swansea was no great surprise.
Bereft of confidence, without either of their two best players, and utterly unable to generate the kind of momentum that might floor Swansea, so United succumbed to a defeat that looked ever more likely from the moment that substitute Fabio Da Silva was sent off on 80 minutes. Like their home defeat to Tottenham Hotspur four days earlier, another perfect storm brewed around David Moyes and they are coming thick and fast these days.
Only once since Ron Atkinson's United conspired to blow their defence of the 1983 FA Cup with a defeat to Bournemouth the following January have United bowed out this early in the competition. Moyes' United era will not ultimately be measured in terms of FA Cups, they are not the currency they once were, but this defeat was symptomatic of the utter mediocrity of his players in a season in which they are consistently coming up short.
As ever, in the stands behind him Sir Alex Ferguson looked down upon his appointee floundering on the touchline with a team that always felt inadequate and eventually proved to be so. It was a side picked with the Capital One Cup semi-final first leg against Sunderland on Tuesday in mind and yet while Moyes may have presumed the benefit of planning ahead, he now finds himself fighting game to game to raise his team out of this slump.
It was the first Swansea victory at Old Trafford in the Welsh club's history, earned in the last minute by Wilfried Bony's header by which time United had slipped from predictable and one-paced to plain vulnerable. Fabio's studs-up challenge on Jose Canas, another substitute, was the tipping point ten minutes from time, but moments like that are symptomatic of teams that are struggling and this United team is in a very bad place.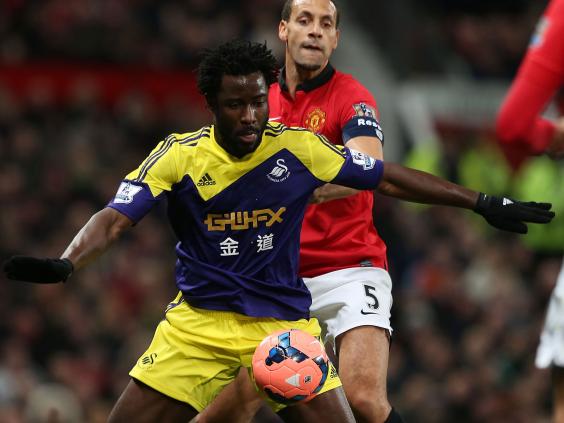 After that defeat to Spurs this was not how it was supposed to be for United, but then what is these days? Without Wayne Rooney and Robin Van Persie, among seven injured first-teamers, they played much of their football in front of Swansea in a meaningless sequence of sideways and dead-ends.
On as a second half substitute, Adnan Januzaj was the darting winger who conjured up memories of United past but he found himself largely marginalised. The imploring from the home support to "attack" in the last 20 minutes went largely unheeded. Their second half performance, after the two goals before the break, was utterly barren in terms of chances.
Afterwards, Moyes put his bravest face on, accepted the sending off and said that he would be doing his best to change things in the January transfer window. "There's an urgency that we would like to bring these players in," he said. But all great teams are rebuilt from a position of strength and there is no dressing up United's current situation that way.
In the likes of Tom Cleverley, Shinji Kagawa, Alexander Buttner and Chris Smalling, it feels like Moyes has inherited the supporting cast of a great team rather than the central characters. Those individuals all seem to be either jaded, injured or with their best years behind them.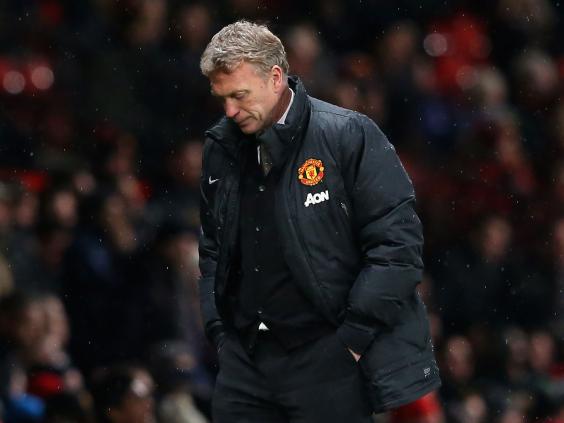 As change sweeps through Old Trafford, and the English game as a whole, Swansea's part in the day will inevitably find itself pushed to the margins. This was one more impressive step forward from Michael Laudrup's team in cup competitions and the kind of result that would have been inconceivable in the club's darkest days – but even they would admit there have been more hard-won victories in recent years.
Within 12 minutes they were ahead. In the centre of defence, Moyes recalled Rio Ferdinand, last in a United starting XI in the final Champions League group game against Shakhtar Donetsk on 10 December. He was lost for the Swansea goal but then, in Ferdinand's defence, he was not the only red shirt culpable. It was Smalling who chased in vain as Routledge went through the middle and lobbed Anders Lindegaard.
It had been pitifully simple for Swansea. Bony had laid off a ball for Alejandro Pozuelo who had struck a nice pass into the wide open space behind United's defence. Ferdinand had set off to close down Bony but never got close to making a critical intervention. Jonny Evans was conspicuously missing. Smalling was the wrong side of Routledge to make a challenge.
It had taken three passes, starting with Chico Flores, to slice United open up the middle and that was not the only occasion in the first half that they struggled with the fluidity of Swansea's passing. Yet, to give the home team their due, they equalised quickly on that occasion.
The goal came from Alexander Buttner's best cross of the game – a later attempt ended up in the East Stand – which was whipped from the left side across the area and guided in by Javier Hernandez who had got in between Neil Taylor and Flores. The Mexico striker looked like the United player whom the away team were least able to anticipate but his chances were scant after that.
There was the glimpse of a chance for Antonio Valencia soon after the goal when the ball sat up nicely for his left foot which, being unusable, had to be struck with the outside of his right and missed the target. Just before the break Hernandez tried to hit a cross on the full but did not get his connection right. After that there was nothing of note on Gerhard Tremmel's goal.
Fabio replaced Ferdinand, who looked to have a bad injury, and the Brazilian lasted less than four minutes before he was sent off. Swansea exploited the weakness in United's right side efficiently with Routledge crossing for Bony to head the winner. Old Trafford emptied in silence and, as Laudrup followed Moyes off the pitch afterwards, he seemed to keep a respectful distance from a fellow manager who must feel his options are running short.
Manchester United (4-4-1-1): Lindegaard 6; Smalling 5, Evans 5, Ferdinand 5 (F Da Silva, 76), Büttner 5; Valencia 5 (Januzaj 5, 63), Cleverley 5, Fletcher 5, Kagawa 4; Welbeck 5; Hernandez 6.
Substitutes not used: De Gea (gk), Anderson, Carrick, Giggs, Zaha.
Swansea (4-2-3-1): Tremmel 6; Tiendalli 6, Amat 6, Chico Flores 6, Taylor 6; De Guzman 6 (Vazquez, 84), Britton 6; Shelvey 6 (Canas 6, 64), Pozuelo 7, Routledge 7; Bony 7.
Substitutes not used: Cornell (gk), Davies, Williams, Rangel, Donnelly.
Man of the match: Bony
Booked: Swansea Tiendialli, Amat, Flores
Sent off: F Da Silva
Reuse content