If Juan Mata can be certain of one thing he will improve when he finally arrives at Old Trafford, it will surely be the standard of penalty taking.
As the finishing touches were put on the Mata deal, Manchester United lost the semi-final of the Capital One Cup tonight after an extraordinary penalty shoot-out in which they scored just one of their five spot-kicks. Danny Welbeck, Adnan Januzaj, Phil Jones and Rafael Da Silva all struck wide or had their shots saved as the collective nerve buckled and then cracked under the pressure.
Sunderland only went one better with successful penalties from Marcos Alonso and Ki Sung-Yeung but it was enough. They will remember this occasion for years on Wearside. It was, quite simply, the most remarkable penalty shoot-out in living memory. And we haven't even started on the events at the end of extra-time.
Gus Poyet's team will face Manchester City, the 9-0 aggregate conquerors of West Ham, on 2 March at Wembley. It is the club's first major final since 1992, their first League Cup final since 1985. They go into it as underdogs, decidedly so, but after this, anything is possible.
It looked like Poyet's team had pulled it off with two minutes of extra-time remaining when a terrible mistake by David De Gea allowed a shot by Phil Bardsley to trickle in to make the aggregate score 3-2. Jonny Evans' first half goal had levelled the tie. Away goals only counted at the end of extra-time and, Sunderland were heading out until Bardsley scored despite having been the better side.
In pictures: Manchester United 2 Sunderland 1 (agg 3-3, Sunderland win 2-1 on penalties)
In pictures: Manchester United 2 Sunderland 1 (agg 3-3, Sunderland win 2-1 on penalties)
1/9 Sunderland beat United to book Wembley date with City

Jonny Evans pulled the score level on aggregate with a close range header

Getty Images

2/9 Sunderland beat United to book Wembley date with City

Jonny Evans celebrates his goal as John O'Shea looks on in dismay

Reuters

3/9 Sunderland beat United to book Wembley date with City

David Moyes and Gus Poyet urge their teams on as extra-time edges nearer

Getty Images

4/9 Sunderland beat United to book Wembley date with City

Phil Bardsley scored late in extra-time as David De Gea spilled his effort into the net

Reuters

5/9 Sunderland beat United to book Wembley date with City

Javier Hernandez forced a penalty shootout as United responded immediately to Bardsley's goal

AP

6/9 Sunderland beat United to book Wembley date with City

Once again, Sir Alex will have been unimpressed with what he saw from his seat in the stands at Old Trafford

Getty Images

7/9 Sunderland beat United to book Wembley date with City

Manchester United players watch on as the penalty drama unfolds

Getty Images

8/9 Sunderland beat United to book Wembley date with City

Sunderland players sprint towards their penalty-saving hero Vito Mannone as their place in the final is assured

Getty Images

9/9 Sunderland beat United to book Wembley date with City

Vito Mannone is congratulated by teammates after saving Rafael Da Silva's penalty

PA
With the tie at 3-2, Sunderland looked like they had made it. Then Moyes saw a spark from his team. From Januzaj's cross into the area, Hernandez claimed the winner on the night and the game was level at 3-3 with identical 2-1 home wins for both sides. Then the drama could really begin. As it turned out, only Darren Fletcher scored for Moyes' team in the shoot-out.
They are worth reliving. The sequence of penalties was as follows. Craig Gardner: miss. Welbeck: missed. Steven Fletcher: saved. Darren Fletcher: scored. Marcos Alonso: scored. Januzaj: saved. Ki: scored. Jones: missed. Adam Johnson: saved. Rafael: saved.
Amid the madness, it should be said that there was an exceptional performance in the Sunderland goal from Vito Mannone. He intervened at crucial points during the game and saved two of the penalties. It was Mannone to whom Poyet gave the credit in the aftermath of victory, saying that in the away dressing room the Sunderland players and staff had sung the name of their goalkeeper.
As for Moyes, there was no attempt to excuse the performance. United had not been good enough, he conceded, and had they prevailed it would have been by "stumbling over the line", he said. He even admitted that the choice of five penalty-takers was not ideal. Hernandez would have taken one but was injured by the end of the game.
As the Sunderland players celebrated it began to sink in that United had conspired to fall even further. They had started the evening without Robin Van Persie or Wayne Rooney in the squad, and plenty of pressure on those who Moyes tasked with overhauling the deficit from the first leg. They ended it wondering where the turnaround will come from.
Mata's arrival will be a start, but the more they play, the more the problems for this club bubble to the surface. They can add Michael Carrick to the list of injuries.
There were five changes from the team that was well-beaten at Stamford Bridge on Sunday with Nemanja Vidic, serving the first game of his suspension, among them. Hernandez was given the job of leading the attack and it was his header on six minutes that forced the first notable save out of Mannone.
As usual the best from United flowed from Januzaj on the right wing who gave Alonso a terrible time of it in the early part of the first half before Sunderland managed to halt the flow of possession heading out that way. Alonso, on loan from Fiorentina, has family history at Old Trafford. His father, also Marcos, played for Barcelona in the European Cup-winners' Cup game there in 1984. His grandfather, another Marcos, played there for Real Madrid.
Sunderland's best chance of the half came from a ball forward from the right-back position from Johnson, that Fabio Borini ran onto through the middle and struck narrowly over De Gea's crossbar. Johnson came into the game more at the end of the half, and was the subject of a heavy challenge from Welbeck that left both of them limping.
Before then United took the lead, although they had hardly overwhelmed Sunderland by that point. Other than Welbeck's shot from the left, they had lost momentum before the events leading up to Evans' goal. In the moments before that Darren Fletcher had hit the post from Shinji Kagawa's cross and Mannone had saved the follow-up from Welbeck.
The referee gave a corner when the ball was subsequently cleared out of play; wrongly it turned out as the last touch belonged to Kagawa. From Januzaj's corner, Welbeck helped the ball on and it bounced once before Evans headed it in. Borini's mistake was not to get out quick enough and he played the centre-back onside.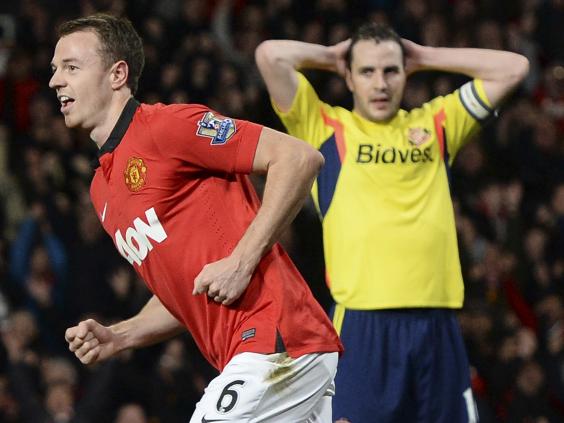 As is their way, United fell back after that. Wes Brown had a good header cleared away by Alex Buttner in the six-yard area in the last few minutes of the first half. Sunderland could not make that good spell count but they returned for the second half just as well-organised and prepared to chase every ball in midfield. The lapses in concentration that have cost them at times over the last few months were absent. They never looked like they would be overrun.
In the centre of midfield, Lee Cattermole was tidy in possession, so too Ki. What Sunderland lacked was the pressure in attack to force United into a mistake in those early stages. Evans and Chris Smalling did well under early pressure, especially two defensive headers from Smalling at the start of the half.
Moyes made the first change, Antonio Valencia on for Kagawa although United could not break Sunderland's good spells of possession. It was Valencia's cut back from the right that was United's first good opportunity of the half. Januzaj, switched to the left, hit it first time with his left foot but for once his technique let him down and the ball was sliced wide.
In the last 15 minutes of normal time, Sunderland pushed United hard. Johnson had a shot blocked and then Smalling seemed to pull Steven Fletcher to ensure the player did not retrieve possession. It was Fletcher's dummy on the left side that allowed Alonso in for a shot across De Gea's goal.
Having run himself into the ground, Borini was finally relieved with four minutes of normal time left and Jozy Altidore came on in his place. The American played an unwitting part in United's final attack in normal time. He mis-controlled the ball on his chest and allowed Hernandez a run at goal. Hernandez was the subject of a judicious foul by John O'Shea on the edge of the Sunderland area. Januzaj's free-kick could have decided the tie but it did not have enough pace to beat Mannone.
Moyes lost Carrick, an influential figure for United for much of the night, to injury with five minutes of extra-time played. It looked a bad one, an ankle knock, with the Englishman walking off with a limp and one boot in his hand. Phil Jones was the last substitute in a game that United had been reduced to playing on the counter-attack.
They lacked the pace to get away from Sunderland when they broke 12 minutes into the first period of extra-time. Januzaj's ball from the right played Hernandez in but he did not have the confidence in his own speed that he would not be caught carrying the ball forward. He shot wide from relatively far out.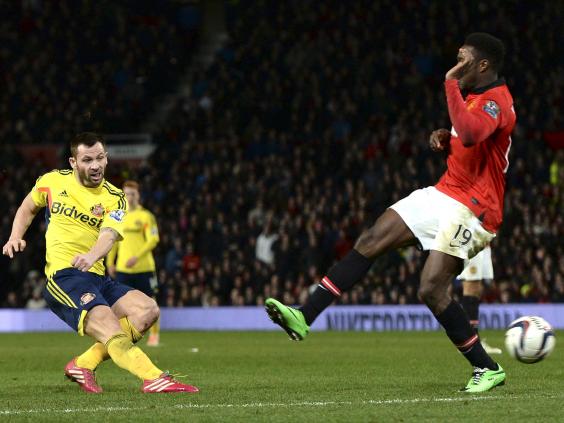 Then came the madness of the final minutes of extra-time. De Gea allowed Bardsley's shot to dribble past him with a minute left to play. As Old Trafford started to empty, Januzaj broke down the left and squared for Hernandez to score the winner on the night to take the tie to penalties. At Old Trafford, they will never forget what followed.
Manchester United (4-2-3-1): De Gea; R Da Silva, Smalling, Evans, Buttner (Evra 84); Carrick (Jones 95), Fletcher; Januzaj, Welbeck, Kagawa (Valencia 61); Hernandez.
Sunderland (4-4-2): Mannone; Bardsley, O'Shea, Brown, Alonso; Cattermole (Gardner 82), Colback, Ki, Johnson; Borini (Altidore 86), Fletcher.
Match rating 8/10.
Man of the match Januzaj.
Referee L Mason (Bolton).
League Cup Final details
Manchester City v Sunderland, Sunday 2 March, Wembley, 2pm
TV Sky Sports (Highlights, BBC)