Nemanja Vidic had scarcely raised the Football Association's silver platter above his head than he was looking back down the line of his team-mates for his manager and indicating that they pass the Community Shield back down to David Moyes.
At Manchester United lifting trophies has become a way of life so on days like these, when it is just one of the minor trinkets up for grabs, you will not see the likes of Ryan Giggs or Michael Carrick barging their way to the front to get in on the act. They have won so much - and done so in the expectation there will always be more to come - that Community Shield days must seems the least remarkable.
For Moyes though, this really was the first time, unless you count the championship with Preston North End in what is now League One, 13 years ago. Without wishing to make too much of that fact, there was a desire among his senior players to see him get his hands on the Community Shield, and he did so with the self-consciousness you might expect of a man in his position.
When your predecessor broke the bank in terms of trophies, one glorified friendly at the start of August is nothing to get too excited about. But it must have been a relief, nonetheless. A game against a Championship team with nothing to lose and one that has already started their domestic season had the makings of a horror-story. As it turned out, it was a stroll for United.
Afterwards, Moyes declared that this one counted as Sir Alex Ferguson's last trophy rather than his successor's first although from now on it was up to him. Curiously no United manager has ever won a trophy in his first season, although Dave Sexton did share the Charity Shield in 1977.
The post-match highlight was Moyes' spiky press conference in which he took the fight to the assembled press on the Wayne Rooney issue. First he declared that it had been Rooney's decision to train with the reserves on Friday – a detail that had been reported at the time – and that anyone who said otherwise were guilty of "misleading their readers".
All managers reserve the right to give the press a hard time; that comes with the territory. But the intractable question at the heart of the Rooney saga – that the player himself wants to go – is not quite so easy to deal with. "I heard your question ... good" was how Moyes responded when that was put to him, but declined to elaborate.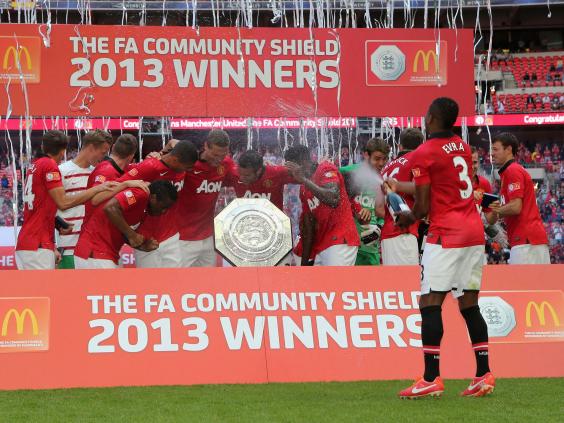 In the lingua franca of public relations, it felt like Moyes was pushing back. After a couple of weeks with Rooney dominating the agenda he could hardly be blamed for doing so. Not that this issue is going to disappear before the window closes on 2 September.
The result itself was never in doubt after Robin van Persie head home a ball crossed in from the left by Patrice Evra, beating Scott Carson with just six minutes of the game played. Van Persie was, once again, a man apart in the things he did. It was his ball out to Evra that started the move and he is a player of such high quality that you can count his errors during the course of a match in single figures.
Lesson one of the new season: at United, it is still all about Van Persie. Ever more so in a squad without Wayne Rooney, but even if Rooney was staying and one of Cesc Fabregas or Luka Modric were on their way as well, you suspect that Van Persie would still be the man. As it is, Marouane Fellaini may be the most likely arrival. He was left out of the Everton side against Real Betis although Moyes was not for disclosing his hand in that regard.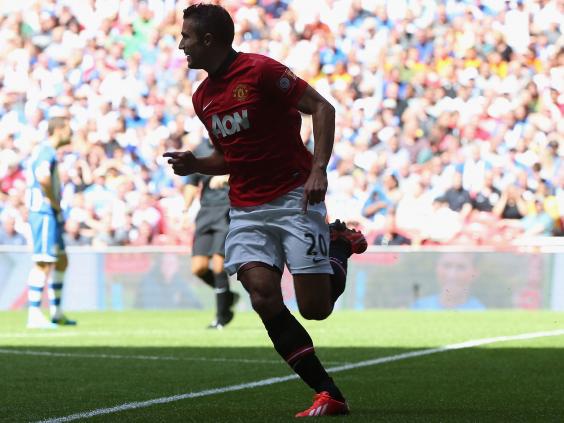 Van Persie scored the second goal too, a shot hit aggressively on the turn that took a big deflection off James Perch on the way past Carson. When he was interviewed on the pitch at the end of the game, Van Persie was asked whether he could break his record of 30 goals last season. "It's not about breaking records, it is about winning trophies," he replied, his answer precipitating a roar of approval from the United fans at Wembley.
Wilfried Zaha started the game and looked, at times, like United's best threat out wide. He came off limping after an hour and Moyes said that he was not certain of the injury or how it would affect his chances of playing some part for England against Scotland on Wednesday night.
Zaha was replaced by Antonio Valencia whose decision to wear No 25 this season rather than No 7 will naturally pose the question as to whether United have anyone in mind for that famous shirt. There are plenty they would like, whether they get them is another matter.
United were never obliged to stretch themselves, playing a fluid front four of Zaha, Van Persie, Danny Welbeck and Ryan Giggs, with Michael Carrick and Tom Cleverley taking turns to break from in front of the defence. It certainly looked like a 4-4-1-1 formation in the early stages but as Moyes made substitutions, including the introduction of the 18-year-old Belgian Adnan Januzaj, that changed.
As for Wigan, their best moments came late in the first half when two free-kicks from the right offered them opportunities to pick out Grant Holt, involved in a battle of his own with Vidic. Their new signing James McClean had a run down the left but with a 4-5-1 formation they never looked like anything like as adventurous as they were in the FA Cup final in May.
An injury to Rafael Da Silva in the first 15 minutes could yet mean that he misses a few weeks, and required Phil Jones to move over to cover that position. As for Rooney, he will be in training on Monday morning with the England squad and Moyes says that he expects him to play a "chunk" of Wednesday's friendly, as befits a player who has missed so much of pre-season with injury.
If only the Rooney conundrum was as simple for Moyes as getting the player back to fitness. Unfortunately for United, it is a lot more complex than that.
Manchester United (4-4-1-1): De Gea 6; R Da Silva 6 (Smalling 7, 16), Jones 6, Vidic 7, Evra 7; Zaha 7 (Valencia 6, 60), Carrick 7, Cleverley 6, Giggs 7 (Anderson 6, 67); Van Persie 8 (Januzaj 6, 83); Welbeck 6 (Kagawa 6, 83).
Substitutes not used: Lindegaard (GK), Evans.
Wigan (4-5-1): Carson 6; Boyce 6, Barnett 6, Perch 5, Crainey 5; Maloney 6 (Gomez, 71), McArthur 6 (McCann 6, 60), Watson 6 (Espinoza 5, 71), McCarthy 6 (Dicko, 86), McClean 6 (McManaman 6, 60); Holt 5 (Fortune 5, 60).
Substitutes not used: Nicholls (GK).
Booked: McArthur
Attendance: 80,235
Man of the match: Van Persie
Match rating: 5
Referee: M Clattenburg (Durham)
Reuse content