The League Cup is supposed to be a stage on which clubs display their young talent but at Old Trafford the biggest applause of the night was reserved for a 32-year-old whose Manchester United career was thought to be over.
The stadium might have been gripped by a late-November chill during Wednesday's 4-1 defeat of West Ham but it was nowhere near as frozen out as Bastian Schweinsteiger has been since Jose Mourinho's arrival as manager.
When Schweinsteiger came on for the final few minutes for his first match since the derby victory over Manchester City in March, it was to an ovation. He nearly scored with his first shot and was involved in the build-up for United's fourth. After the quarter-final, he tweeted: "Amazing evening with a perfect result. Thanks for the warm welcome at Old Trafford".
Afterwards, another of Mourinho's thirty-somethings, Michael Carrick, confessed he had been moved by the sight of a man who had until last month been banished to train with the under-23s coming on to the field.
"He got an unbelievable reception. It was great just to see him playing. He nearly scored as well – and that would have been nice," said Carrick who has been in the game long enough to see players receive the treatment Schweinsteiger has endured.
"You understand that all sorts of situations happen in football. You just have to get on with it," he said. "Decisions are made by people above you and there are all sorts of ups and downs along the way. You get on with it because it is the only way you can cope.
"Bastian has trained well and trained hard. He has got his first game of the season and who knows what will happen now?"
It is still Manchester United's dearest wish that Schweinsteiger, who has become a regular fixture on the golf courses of Cheshire while earning £200,000 a week, finds somewhere else to play.
Schweinsteiger may have earned plaudits for fighting his way back to the Manchester United bench but he was only there because Paul Pogba and Marouane Fellani were suspended.
Manchester United transfer targets
Manchester United transfer targets
1/6 Jose Gimenez (Atletico Madrid)

The 21-year-old Uruguayan has already played 21 times for his country and has been touted as a future world-class centre-back. Currently on the books of Atletico Madrid, Gimenez is not a regular and a move in January for first-team football would surely appeal to him.

Getty

2/6 Victor Lindelof (Benfica)

The most recent player to be linked with the Red Devils, Lindelof is a 22-year-old centre-back currently plying his trade at Benfica. The Swedish international has been in fine form this season and could be tempted by a move to England in January.

Getty

3/6 Mesut Özil (Arsenal)

The German midfielder has emerged as a shock transfer target for the Red Devils as the Arsenal playmaker demands a substantial increase to his current £140,000 per week contract in North London.

Getty

4/6 Antoine Griezmann (Atletico Madrid)

The French forward had a brilliant season in Spain last year and was top scorer and Player of the Tournament as he helped his country to the final of Euro 2016. Atletico Madrid would certainly not let him go on the cheap however.

Getty

5/6 Yannick Carrasco (Atletico Madrid)

The third Atletico Madrid player reported to be on Mourinho's wish-list, Carrasco is one of Belgium's new generation of talent and, at just 23 years of age, has a long career ahead of him. The Belgian is an attacking midfielder who has added a ruthlessness in front of goal to his repertoire this season, contributing nine goals in all competitions.

Getty

6/6 Bruma (Galatasaray)

Galatasaray's fleet-footed winger is rated at around £21.5m and has impressed in the Turkish league this season, receiving five Man of the Match awards in just ten starts so far. Bruma is a fantastic dribbler who would certainly provide competition for places on the left wing.

Getty
Uli Hoeness and Karl-Heinz Rummenigge, two luminaries of Bayern Munich, have been intensely critical of Manchester United's treatment of Schweinsteiger and both said they doubted the midfielder would look to play in America, which seems his most obvious route out of Manchester.
Hoeness, who has regained the Bayern presidency after time in jail for tax evasion, said the MLS was unworthy of a player of Schweinsteiger's talents. He added there were plans for a farewell game involving Bayern Munich probably in the summer.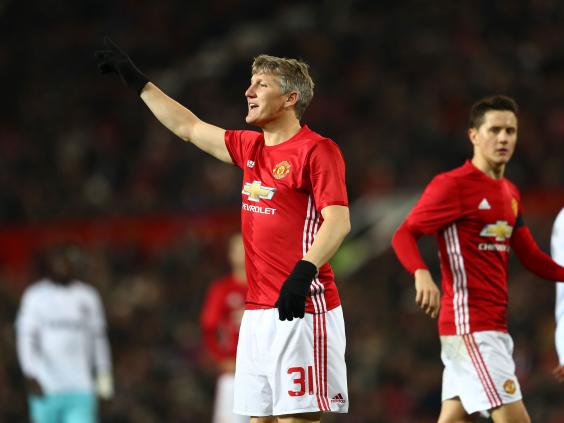 But he also remarked: "My hope is that Manchester United keep paying him every day until June 30 2018, when his contract expires." Rummenigge, Bayern's managing director, said of Schweinsteiger: "It was one of his greatest wishes to play abroad and he must regret what has happened to him."
What will happen to Carrick himself is intriguing. He will be 36 next summer but Mourinho has indicated he is ready to offer him a further one-year contract.
"I didn't know that, to be honest," said Carrick. "I am relaxed about it. It all depends on whether I am playing and whether I am playing well enough and if I feel I can contribute."
Part of Mourinho's enthusiasm for Carrick might stem from the statistics that show that, of the eight games he has started, Manchester United have won seven and drawn one. The draw was the game at home to Arsenal which United dominated.
"I am not looking at another club," Carrick said. "It would be very difficult to play somewhere else. You can't beat the buzz of playing in and winning big games, having success and winning trophies. That is what I am here for."
Reuse content