Eden Hazard is the best player in the Premier League right now, for the second season out of three, and if there is any player at any English club worth being scared of then it is him. But here at Stamford Bridge Jose Mourinho was so scared of Hazard that he ripped up his plans to deal with him. The United players fed off that fear, responded by kicking Hazard, costing them the match.
It was a moment that showed the power and the authority that comes with being about to seal a second Premier League in three years. Or a second Footballer of the Year trophy, if he does manage to squeeze out N'Golo Kante in the vote. Alexis Sanchez, Kevin De Bruyne and Zlatan Ibrahimovic have had their moments this year but Hazard, it is clear now, is at the top of the pile, and it is not even close.
That, in short, is why Mourinho abandoned his trusted 4-2-3-1 system for an obscure 6-3-1 that made them look more like a Tony Pulis team than one managed by a double Champions League winner. Mourinho, more than anyone, knows how dangerous Hazard is when he comes deep, picks up the ball, spins and runs, which is why he had Phil Jones, on the right of the tight back four, trying to follow Hazard all over the pitch.
Chelsea vs Manchester United player ratings
Chelsea vs Manchester United player ratings
1/22 Thibaut Courtois – 7 out of 10

Didn't see much action but when called upon to stop from Rashford he was equal to it.

Getty Images

2/22 Cesar Azpilicueta – 6 out of 10

A fairly quiet evening, especially after the sending off, but did his job perfectly as always.

AFP/Getty Images

3/22 David Luiz – 6 out of 10

Had his hands full with Rashford until the red card but an easier task after that, although did sell himself to the teenager to easily in the second half.

REUTERS

4/22 Gary Cahill – 6 out of 10

Rashford gave him a few problems but nothing he was unable to deal with as Chelsea's defence remained in control.

AFP/Getty Images

5/22 Victor Moses – 6 out of 10

Had a good battle with Young and a few efforts on goal that missed the target.

AFP/Getty Images

6/22 N'Golo Kante – 8 out of 10

Was put under a lot of pressure from the start by United but coped well to keep his metronomic style of play ticking over. Scored a cracking goal from outside the area to give Chelsea the lead.

AFP/Getty Images

7/22 Nemanja Matic – 6 out of 10

Sat back and helped break up any attacks and also on help cover any counter attacks that United looked to launch.

AFP/Getty Images

8/22 Marcos Alonso – 5 out of 10

A quiet game, with most of the action coming down the right-hand side, but backed up Hazard well.

Getty Images

9/22 Willian – 7 out of 10

Made a habit of dragging defenders out of position as he drifted inside and drew a number of fouls in the hotly contested match.

Man Utd via Getty Images

10/22 Eden Hazard – 7 out of 10

Was rarely allowed to get up to speed as United chopped him down at every opportunity. Came close on a number of occasions and brought out a lovely turn to get passed Jones.

Getty Images

11/22 Diego Costa – 5 out of 10

Strangely calm in a game which threatened to boil over during the first half and missed a glorious chance to double Chelsea's lead.

AFP/Getty Images

12/22 David De Gea – 7 out of 10

Made two amazing point-blank saves from Cahill and Hazard in the first half to keep United in it when Chelsea threatened to take a first-half lead.

AFP/Getty Images

13/22 Antonio Valencia – 6 out of 10

Started very brightly offensively but the red card changed his role to aid the defence.

Man Utd via Getty Images

14/22 Phil Jones – 5 out of 10

Made a number of stupid fouls on Hazard and should have been booked in the lead up to Herrera's red.

AFP/Getty Images

15/22 Chris Smalling – 6 out of 10

Marshalled the back four well during a tough time when they came under siege in the first half.

AFP/Getty Images

16/22 Marcos Rojo – 6 out of 10

Went close with an early header and had a good contest with Costa – even if it may have overstepped the line on occasions.

AFP/Getty Images

17/22 Matteo Darmian – 6 out of 10

Was dragged out of position on a number of occasions by Willian.

Getty Images

18/22 Ander Herrera – 3 out of 10

Sent off after 36 minutes for two fouls on Hazard. The first was justified, but the second looked slightly harsh, although very stupid.

Getty Images

19/22 Paul Pogba – 5 out of 10

His usual quiet self in the big games. Yet to establish himself against one of the top teams, which he will ultimately be judged upon.

AFP/Getty Images

20/22 Ashley Young – 5 out of 10

Played almost as a wing-back, despite having Darmian behind him. Had a good battle with Moses until he hacked him down in frustration.

Getty Images

21/22 Henrikh Mkhitaryan – 5 out of 10

Sacrificed by Mourinho after Herrera's red card but didn't really get into the game prior to that.

Getty Images

22/22 Marcus Rashford – 7 out of 10

Ran relentlessly and looked sharp despite his illness. Gave Chelsea's defenders a tough time and nearly scoring after a mazy solo run.

AFP/Getty Images
But it did not matter what Jones had planned for Hazard, nor the nominal two-man shield of Paul Pogba and Ander Herrera. Because no United player could lay a finger on Hazard, or at least, not legally, and it was that imbalance of skill that swung the game for Chelsea.
From Chelsea's first good move, Hazard came deep for the ball, spun Chris Smalling, skipped past Marcos Rojo, and hit a shot deflected just wide. That was the warning and United knew they were in trouble.
Hazard got a shoulder in the face from Ander Herrera, and the next time he was clattered, Mourinho jumped up demanding he be booked for simulation. It was the reaction of a man desperate to see the player unsettled.
One of Hazard's great qualities, especially in the last few years, is his physical bravery, his resilience, his resistance to getting kicked all over the pitch. He has said that he enjoys it, not for the masochism, but for the clear message that he is an important part of the game, a puzzle his opponents cannot solve. If the more he is kicked, the better he is playing, this was his best performance of the season. Even if it did not have a signature moment like his solo masterpiece against Arsenal.
Back up on his feet, Hazard skipped past Jones so Jones went through him from behind. Michael Oliver told the United players to lay off Hazard so when Herrera tripped him, the second yellow card should be no surprise.
United had already come here with a plan that negated their chances of scoring a goal and when they were reduced to 10 Mourinho was not exactly going to open up. They became more compact, more reactive, and defended for the rest of the night from their own penalty area. It was attack against defence to an extent rarely seen between two big sides.
Even though it was N'Golo Kante who scored the only goal, it was Hazard who won Chelsea this game. He was the man who forced United into their new system, because Mourinho was not confident of stopping him with his usual plan. He was the man who forced United into fouling him, reducing them down to 10 men, ending their chances.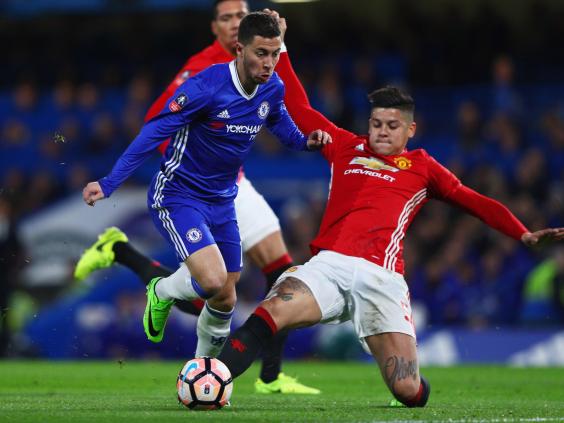 Hazard is a reliable contributor of goals and assists and is sure to finish this season with even more than he bagged in 2014-15. But there is more to him even than that. He now has the charisma, the aura, the presence, that defines a top player at the peak of his game. And here at Stamford Bridge United and Mourinho, the biggest names in the game, were blinded by it. They used to have an aura of their own, but for all their money and prestige, they do not scare opponents like that anymore. 
Reuse content