N'Golo Kante's strike from outside the area was enough for Chelsea to edge pass 10-man Manchester United and knock the holders out of the FA Cup at the quarter-final stage.
But as the Blues head for the semi-finals, what can we take away from yet another defeat at Stamford Bridge for Jose Mourinho?
Herrera not quite a master of the dark arts
It is no wonder why Jose Mourinho loves Ander Herrera. He has the number one quality Mourinho looks for in a player, which is obedience, as well as a healthy familiarity with the dark arts. But this was a game where Herrera's dirty side cost United dearly. Although it was Phil Jones' job to stick to Hazard, on one of the many occasions where Hazard skipped away from him, Herrera dropped his shoulder into Hazard and was deservedly booked. United continued to target Hazard and when Herrera tripped him from behind, Michael Oliver was entitled to send him off. Being dirty has its uses, but the truly clever players know how to hide it better.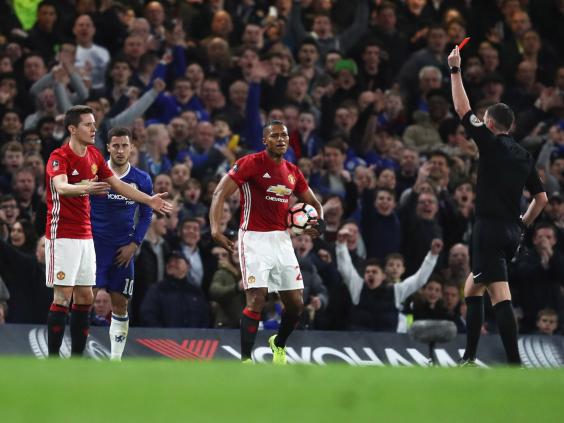 Mourinho channels his inner Pulis
Jose Mourinho still knows how to spring a tactical surprise. Manchester United have played 4-2-3-1 for almost all of the season but here he unveiled a formation no-one expected. Phil Jones, Chris Smalling, Marcos Rojo and Matteo Darmian played as a narrow back four, although Jones stepped into midfield to follow Eden Hazard at times. But with Ashley Young and Antonio Valencia playing as defensive wingers, they could drop back to form a flat back six. An unusual plan, only used by one other team in the Premier League this season: Tony Pulis' West Bromwich Albion.
Chelsea vs Manchester United player ratings
Chelsea vs Manchester United player ratings
1/22 Thibaut Courtois – 7 out of 10

Didn't see much action but when called upon to stop from Rashford he was equal to it.

Getty Images

2/22 Cesar Azpilicueta – 6 out of 10

A fairly quiet evening, especially after the sending off, but did his job perfectly as always.

AFP/Getty Images

3/22 David Luiz – 6 out of 10

Had his hands full with Rashford until the red card but an easier task after that, although did sell himself to the teenager to easily in the second half.

REUTERS

4/22 Gary Cahill – 6 out of 10

Rashford gave him a few problems but nothing he was unable to deal with as Chelsea's defence remained in control.

AFP/Getty Images

5/22 Victor Moses – 6 out of 10

Had a good battle with Young and a few efforts on goal that missed the target.

AFP/Getty Images

6/22 N'Golo Kante – 8 out of 10

Was put under a lot of pressure from the start by United but coped well to keep his metronomic style of play ticking over. Scored a cracking goal from outside the area to give Chelsea the lead.

AFP/Getty Images

7/22 Nemanja Matic – 6 out of 10

Sat back and helped break up any attacks and also on help cover any counter attacks that United looked to launch.

AFP/Getty Images

8/22 Marcos Alonso – 5 out of 10

A quiet game, with most of the action coming down the right-hand side, but backed up Hazard well.

Getty Images

9/22 Willian – 7 out of 10

Made a habit of dragging defenders out of position as he drifted inside and drew a number of fouls in the hotly contested match.

Man Utd via Getty Images

10/22 Eden Hazard – 7 out of 10

Was rarely allowed to get up to speed as United chopped him down at every opportunity. Came close on a number of occasions and brought out a lovely turn to get passed Jones.

Getty Images

11/22 Diego Costa – 5 out of 10

Strangely calm in a game which threatened to boil over during the first half and missed a glorious chance to double Chelsea's lead.

AFP/Getty Images

12/22 David De Gea – 7 out of 10

Made two amazing point-blank saves from Cahill and Hazard in the first half to keep United in it when Chelsea threatened to take a first-half lead.

AFP/Getty Images

13/22 Antonio Valencia – 6 out of 10

Started very brightly offensively but the red card changed his role to aid the defence.

Man Utd via Getty Images

14/22 Phil Jones – 5 out of 10

Made a number of stupid fouls on Hazard and should have been booked in the lead up to Herrera's red.

AFP/Getty Images

15/22 Chris Smalling – 6 out of 10

Marshalled the back four well during a tough time when they came under siege in the first half.

AFP/Getty Images

16/22 Marcos Rojo – 6 out of 10

Went close with an early header and had a good contest with Costa – even if it may have overstepped the line on occasions.

AFP/Getty Images

17/22 Matteo Darmian – 6 out of 10

Was dragged out of position on a number of occasions by Willian.

Getty Images

18/22 Ander Herrera – 3 out of 10

Sent off after 36 minutes for two fouls on Hazard. The first was justified, but the second looked slightly harsh, although very stupid.

Getty Images

19/22 Paul Pogba – 5 out of 10

His usual quiet self in the big games. Yet to establish himself against one of the top teams, which he will ultimately be judged upon.

AFP/Getty Images

20/22 Ashley Young – 5 out of 10

Played almost as a wing-back, despite having Darmian behind him. Had a good battle with Moses until he hacked him down in frustration.

Getty Images

21/22 Henrikh Mkhitaryan – 5 out of 10

Sacrificed by Mourinho after Herrera's red card but didn't really get into the game prior to that.

Getty Images

22/22 Marcus Rashford – 7 out of 10

Ran relentlessly and looked sharp despite his illness. Gave Chelsea's defenders a tough time and nearly scoring after a mazy solo run.

AFP/Getty Images
Kante adds another string to his bow
It is no secret that N'Golo Kante is the best destructive midfielder in football, the fastest, strongest, sharpest, hardest working scurrier in the game. That was clear last season and is even truer now, as he drives his second team in two years to the Premier League crown. But here he showed that, when his team needs it, he can do the other side of the game too. Chelsea were working hard to break down United's flat back six but they were leaving too much space in front of their own box. Paul Pogba could not get out to Kante quick enough, so Kante put the ball in the bottom corner. Is there anything he can't do?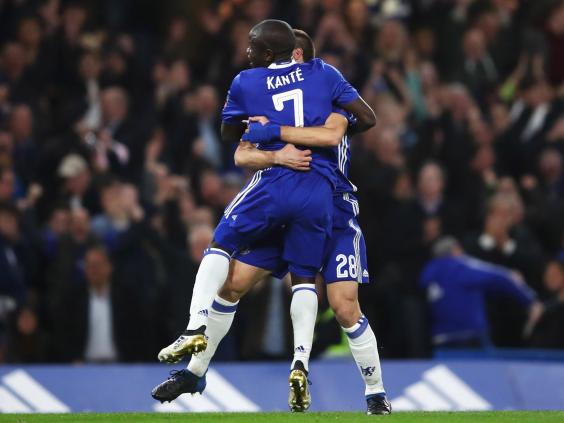 Rashford's miracle cure
It was to the credit of Manchester United's medical department that they found a miracle cure for Marcus Rashford in time for him to play this game up front, instead of the rather less useful Marouane Fellaini. But Rashford did at least give United a mobility and speed up front that no-one else could have provided. He continued to chase lost causes, fashioning himself United's best chance, beating David Luiz then skipping past Gary Cahill. He was denied by Thibaut Courtois when he should have scored, but he kept giving it everything, which is more than some of his team-mates did.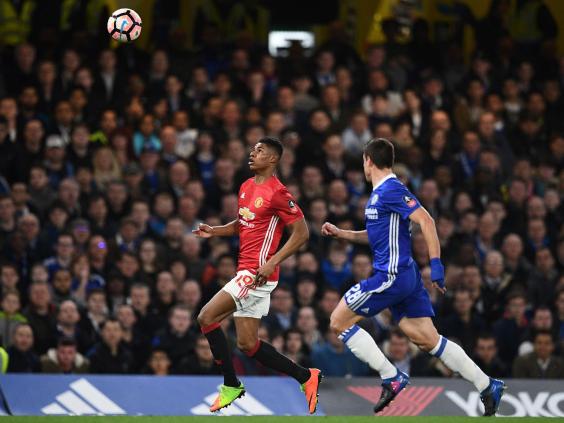 Chelsea fans wash their hands with Mourinho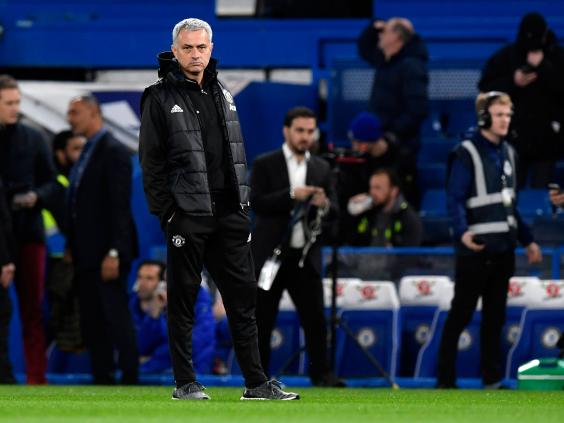 How quickly loyalties change. Just over one year ago there were Jose Mourinho scarves and t-shirts on sale here, he was still the hero, even after his dismissal, which was blamed by some Chelsea fans on the players, rather than the manager. Not anymore. Mourinho was targeted by a section of Chelsea fans sat near the dug-outs in the east stand here. They told him to sit down, to go away (or words to that effect), and even called him a Judas. That was an unfair jibe: Judas did not return for a second spell with the apostles, and then get sacked. Mourinho responded in kind, pointing to himself, to the pitch, holding up three fingers, indicating the three Premier League titles he won here. This bond will not be fixed soon.
Reuse content