After an FA Cup tie that ended with such a difference between the sides in terms of second-half performance, there was still a huge difference of opinion between the managers.
Jose Mourinho claimed Manchester United's gameplan in the first 30 minutes of their sixth-round match at Chelsea worked, and that he had "the feeling" his side would win - until what he evidently perceived was as an unfair red card for Ander Herrera. Antonio Conte did not see it like that. He believed United's whole gameplan was to "kick" Eden Hazard, with one possible inference from that that a red card was inevitable when you play a game so based on impeding an attacker.
In the wide open space between such contrasting viewpoints, there are a few more specific questions that can fairly be asked.
Chelsea vs Manchester United player ratings
Chelsea vs Manchester United player ratings
1/22 Thibaut Courtois – 7 out of 10

Didn't see much action but when called upon to stop from Rashford he was equal to it.

Getty Images

2/22 Cesar Azpilicueta – 6 out of 10

A fairly quiet evening, especially after the sending off, but did his job perfectly as always.

AFP/Getty Images

3/22 David Luiz – 6 out of 10

Had his hands full with Rashford until the red card but an easier task after that, although did sell himself to the teenager to easily in the second half.

REUTERS

4/22 Gary Cahill – 6 out of 10

Rashford gave him a few problems but nothing he was unable to deal with as Chelsea's defence remained in control.

AFP/Getty Images

5/22 Victor Moses – 6 out of 10

Had a good battle with Young and a few efforts on goal that missed the target.

AFP/Getty Images

6/22 N'Golo Kante – 8 out of 10

Was put under a lot of pressure from the start by United but coped well to keep his metronomic style of play ticking over. Scored a cracking goal from outside the area to give Chelsea the lead.

AFP/Getty Images

7/22 Nemanja Matic – 6 out of 10

Sat back and helped break up any attacks and also on help cover any counter attacks that United looked to launch.

AFP/Getty Images

8/22 Marcos Alonso – 5 out of 10

A quiet game, with most of the action coming down the right-hand side, but backed up Hazard well.

Getty Images

9/22 Willian – 7 out of 10

Made a habit of dragging defenders out of position as he drifted inside and drew a number of fouls in the hotly contested match.

Man Utd via Getty Images

10/22 Eden Hazard – 7 out of 10

Was rarely allowed to get up to speed as United chopped him down at every opportunity. Came close on a number of occasions and brought out a lovely turn to get passed Jones.

Getty Images

11/22 Diego Costa – 5 out of 10

Strangely calm in a game which threatened to boil over during the first half and missed a glorious chance to double Chelsea's lead.

AFP/Getty Images

12/22 David De Gea – 7 out of 10

Made two amazing point-blank saves from Cahill and Hazard in the first half to keep United in it when Chelsea threatened to take a first-half lead.

AFP/Getty Images

13/22 Antonio Valencia – 6 out of 10

Started very brightly offensively but the red card changed his role to aid the defence.

Man Utd via Getty Images

14/22 Phil Jones – 5 out of 10

Made a number of stupid fouls on Hazard and should have been booked in the lead up to Herrera's red.

AFP/Getty Images

15/22 Chris Smalling – 6 out of 10

Marshalled the back four well during a tough time when they came under siege in the first half.

AFP/Getty Images

16/22 Marcos Rojo – 6 out of 10

Went close with an early header and had a good contest with Costa – even if it may have overstepped the line on occasions.

AFP/Getty Images

17/22 Matteo Darmian – 6 out of 10

Was dragged out of position on a number of occasions by Willian.

Getty Images

18/22 Ander Herrera – 3 out of 10

Sent off after 36 minutes for two fouls on Hazard. The first was justified, but the second looked slightly harsh, although very stupid.

Getty Images

19/22 Paul Pogba – 5 out of 10

His usual quiet self in the big games. Yet to establish himself against one of the top teams, which he will ultimately be judged upon.

AFP/Getty Images

20/22 Ashley Young – 5 out of 10

Played almost as a wing-back, despite having Darmian behind him. Had a good battle with Moses until he hacked him down in frustration.

Getty Images

21/22 Henrikh Mkhitaryan – 5 out of 10

Sacrificed by Mourinho after Herrera's red card but didn't really get into the game prior to that.

Getty Images

22/22 Marcus Rashford – 7 out of 10

Ran relentlessly and looked sharp despite his illness. Gave Chelsea's defenders a tough time and nearly scoring after a mazy solo run.

AFP/Getty Images
One, who was right - who did start better? Two, was Herrera's red card genuinely as unwarranted as Mourinho made out? Three, did United respond to that dismissal as well as they could have.
As Mourinho himself said, it's down to "perspective", but worth teasing out.
The Portuguese was right when he said that the way United's forwards pressed Chelsea's three centre-halves disrupted Conte's game.
"Our strategy was to play with two up front," Mourinho argued. "When we had two up front, the three central defenders couldn't come with the ball. They were giving bad long balls, outside the pitch."
He was only right, however, to an extent. It was only two United players doing this, while the rest seemed primarily concerned with either stopping the ball getting to Hazard or just stopping Hazard, especially Phil Jones. How else to explain a formation with four centre-halves, and two effective wing-backs? It just about told in the chances and pattern of play before the red card. While United had one opportunity from a ball up to Marcus Rashford that ended with a Henrikh Mkhitaryan shot just wide, Chelsea seemed more capable of creating flurries, as they did with one impressive spell around the 17th minute sparked by a Hazard run.
It would be completely fair to say that the game was generally well balanced, however, and it would have been engaging to see how it would have developed had both kept 11 men on the pitch.
That didn't happen. Chelsea got the breaks that have gone their way this season, in a way you could say haven't for United. Every campaign will be conditioned by base luck to an extent that is often underappreciated, even if you should obviously do your best to try and minimise its effects.
That was maybe what Herrera didn't do here, as Michael Oliver felt he was deserving of a second yellow card. The Spanish midfielder did seem to rather snidely impede Hazard for his first, and this may have influenced the referee's mind for the next, not to mention the fact that he had told Chris Smalling to get the United players to cut out the fouling. That Herrera's next foul came so quickly after this was conspicuous, and he could have played it a little more smartly. Hazard did perhaps use this to his advantage by going down easily, but Herrera also went in strongly.
The key is that both yellows were generally understandable if not necessarily cast-iron. That would usually make it harsh to criticise Oliver for them… except for the fact that there were so many inconsistencies to his decision-making.
This was where United and Mourinho were right to be aggrieved, as the manager made clear.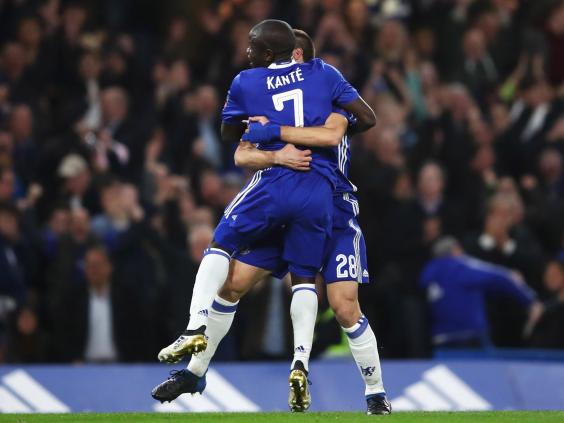 "Compare Herrera's second yellow card with that of a couple of minutes later when Rashford goes to attack the space and the Chelsea captain grabs him, stops him in a counter-attack. Mr Oliver does not give a card, not even a yellow. But I'm not talking about that."
Mourinho was willing to talk about how the game transformed at this point, but this is perhaps where the most criticism could be offered. One red card, after all, need not be a death sentence even if it will skew things. It felt rather too reactionary and submissive to take off United's most creative player, Henrikh Mkhitaryan, for their most destructive in Marouane Fellaini.
It ensured that they could only play one way. Was there nothing else that could have been done? Could he have maybe switched to three at the back, or else used Mkhitaryan or Juan Mata as a shuttling presence between attack and defence as, say, Glenn Hoddle did with Alan Shearer in England's epic penalty shoot-out defeat to Argentina in the 1998 World Cup? There were also plenty of examples of his predecessor Sir Alex Ferguson still being willing to go for it when United were a man down, not least in the famous 1999 FA Cup semi-final against Arsenal, when their main midfielder - Roy Keane - was dismissed. This was surely an occasion for Paul Pogba to step up, too, to bridge that gap in the team with his athleticism and ability; to offer that statement over-performance in a big game that we haven't yet seen from him for United. He did not. That's not to criticise him for failing to do so in difficult circumstances but you can say it was a wasted opportunity. One of those displays really does have to come at some stage to stave off criticism and justify that talent.
Similarly, the point here is not to criticise Mourinho for losing a game when they went to 10. It is whether he could have done a bit more. 
It was impossible to escape the conclusion that he reverted to type a little too easily, and just defensively retreated. There are plenty of caveats to that, of course. United were without attacking options such as Zlatan Ibrahimovic and have a much more important game in the Europa League on Thursday. No point in exhausting themselves for that.
Caveats, however, should not be excuses. It just felt like United offered very little, other than that one Rashford chance, that was probably the best in the game.
It is quite a thought experiment to wonder how the match would have panned out had he scored that to make it 1-1, as he should have, but then that's the case with this entire occasion. A cup tie of what-ifs.
How they would have panned out depends on perspective.
Both managers had very different perspectives.
Reuse content