Manchester United manager Louis van Gaal has delivered his own memorable equivalent of Sir Alex Ferguson's "squeaky bum time" expression – declaring in defence of his controversial 3-5-2 system that the alternative 4-4-2 "makes my a** twitch".
Van Gaal – who also appeared to dismiss any notion of Victor Valdes making his debut in the FA Cup against Cambridge United at the Abbey Stadium on Friday night – has come under more criticism for the 3-5-2 this week. Former United captain Gary Neville, now a TV pundit, described it as ponderous and risk-averse after some United fans chanted "4-4-2" during the uninspiring win at Queen's Park Rangers last weekend.
But Van Gaal said the openness of the 4-4-2 set-up had left him anxious about conceding. "I know that with 4-4-2 the stats are giving the positive results. We have won more with  4-4-2 in a diamond," he said. "But when you analyse the game then we have twitched our ass on the bench. I said to my players I was squeezing my ass but it was the wrong expression! I have twitched my ass on the bench because we were out of balance."
Van Gaal's baffling output at press conferences stems from his tendency to translate Dutch expressions straight into English. His latest "make my ass twitch" is based on the Dutch "met samengeknepen billen" ("with a squeezed bum"), which means: very nervous and hanging on in quiet desperation. The Ajax coach Frank de Boer also used it recently, saying: "Ik zat met samengeknepen billen op de bank." ("I sat on the bench with my bum squeezed.")
Manchester United injury list
Manchester United injury list
1/5 Wayne Rooney

There is uncertainty over the extent of the Manchester United captain's injury, with fears he may have suffered ligament damage to his knee during the 3-0 defeat to Everton. Unlikely to feature against West Brom and could miss the rest of the season.

GETTY IMAGES

2/5 Michael Carrick

Having limped off in the 4-2 derby victory over Manchester City, it's uncertain if the England midfielder will fit for this weekend. Was unable to even make the bench for the defeat to Everton.

GETTY IMAGES

3/5 Rafael

The right-back's return to action has suffered a set-back. After making a short appearance in the 3-0 win over Tottenham in March, the Brazilian has been pushing for full fitness. However he suffered a blow to the ribs in an Under-21 match against Leicester and could miss the rest of the season.

GETTY IMAGES

4/5 Marcos Rojo

Having missed the games against Chelsea and Everton due to a groin injury, the Argentina international is pushing for a return and could feature this weekend.

GETTY IMAGES

5/5 Phil Jones

Fellow defender Phil Jones also missed the defeats to Chelsea and Evertton but the England international has returned to training after a foot complaint and could play at against West Brom.
Van Gaal was irritable when it was put to him yesterday that supporters do not like the 3-5-2 system, which also involves playing Angel Di Maria out of position. "I have to take into account 600 million opinions?" he retorted. "I have to communicate with my players and observe my players and analyse my players and my team and my opponent and the quality of my opponent and then I have to make a decision with my staff.
"But I cannot hear or listen to what the media are writing or what other people are saying or writing. No, because they are never at the training ground and not attending the meetings," he added.
But, in what for him was an unusual shift, he then held at bay further questions in his press conference until he had justified his reason for persisting with 3-5-2, which was in place when United lost 5-3 at Leicester and were subsequently unconvincing in the defeat to Manchester City at the Etihad. He even asked if he had explained his reasons fully before moving on.
"When we play 4-4-2 like against West Ham United it was always twitching your ass and I don't like it," he said. "Maybe then you see after I switch the system [in the  2-1 win at Arsenal in November] we have won nine or 10 in a row. Then we lose one match and then the discussion about the system is coming – so it is ridiculous!" United have actually won seven and drawn three after going to a three-man defence, before losing to Southampton.
In another interesting observation on his team's laboured progress under his management, Van Gaal admitted his players are "still not comfortable" with his philosophy of playing with their "brains not their feet" – suggesting that his lack of time with them in pre-season was to blame. He wants them to respond to situations on the field as they have been instructed rather than intuitively.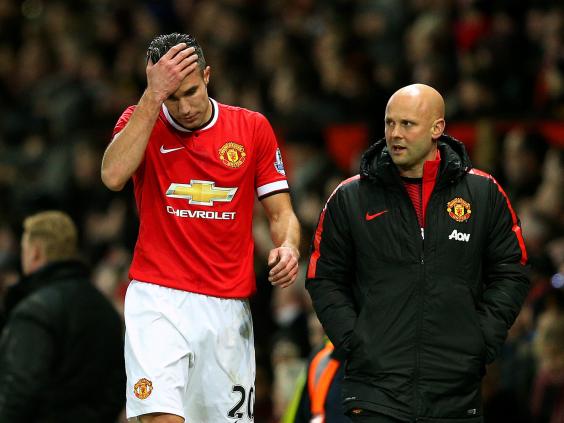 Van Gaal said that playing Cambridge United is like facing QPR, and the League Two side's aerial threat will be a danger in the FA Cup. "QPR in the last match is more or less also how Cambridge play," he said. "[Cambridge] have five or six players above 1 metre 90. It is not so easy to beat Cambridge United."
Robin van Persie returns after an ankle injury and Luke Shaw is available. But they will be without Chris Smalling and Jonny Evans as their defensive injury problems continue.
Reuse content