At Ajax it was the Uefa Cup. At Barcelona and Bayern Munich it was a league and cup double. It remains one of Louis van Gaal's proudest boasts that at every major club he has managed he has won a trophy in his first season.
At Manchester United, there is only one piece of silverware available. The one United have won 11 times, the one they have not won for 11 years, the one major trophy Wayne Rooney has never lifted.
United and Arsenal, who contest Monday night's quarter-final at Old Trafford, have won the FA Cup more than any other club but until recently it had been relegated to the status of optional extra at both Old Trafford and the Emirates.
The struggle between Arsène Wenger and Sir Alex Ferguson, which the Scot eventually won, was for domination of the Premier League. In a throwaway remark to Martin Keown, in an interview for BBC radio, the Arsenal manager confessed to not knowing where his FA Cup medals were. He will probably have kept tight hold of the last one after the breathless 3-2 victory over Hull City that provided Arsenal's first silverware for nine years. That afternoon at Wembley, the FA Cup was no longer an add-on – it was, Wenger said, the stuff that could transform Arsenal's attitude to winning.
After Chelsea's victory in the League Cup final a week ago, Jose Mourinho remarked that he needed to "feed off titles". They had starved at Arsenal, and at Old Trafford they have started going on to short rations.
"You can say as a footballer that you want to play because it is your profession but that is never enough," said Van Gaal. "You want to win something and so does the manager and so do the fans and that is why Jose Mourinho said what he did. When you compare coaches with one another, titles are very important things."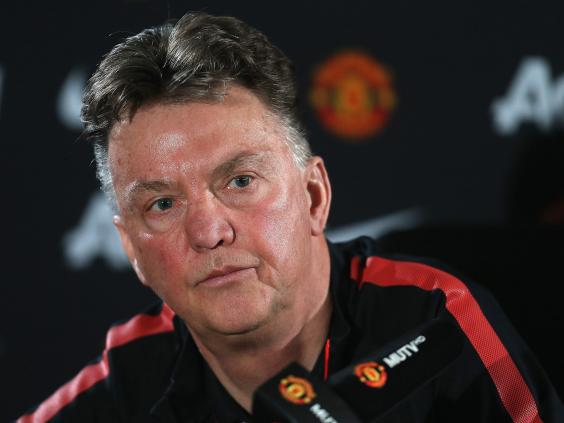 When he was asked which trophy he considered his most important, Van Gaal paused for a moment and said it was his first Eredivisie championship with Ajax in 1994.
He had lost Dennis Bergkamp and Wim Jonk and was rebuilding the club around the products of the Ajax youth academy, De Toekomst. A year later they would be European champions.
At Manchester United, the self-styled biggest club in the world, his horizons are narrower. Van Gaal agrees with Wenger that qualification for the Champions League should be regarded as "a fourth trophy" and repeats that his brief is to finish fourth and take Manchester United back into the European elite.
For a man with his CV and the kind of financial resources that the club's chief executive, Ed Woodward, has placed at his disposal, this is a bar set very low indeed. Only once since 1991, when they beat Barcelona on a rainswept night in Rotterdam to win the Cup-Winners' Cup, have Manchester United failed to finish in the top three.
Ron Atkinson managed at least fourth place in every one of his full seasons at Old Trafford. Van Gaal's brand of mechanical, possession-based football is just about on course to take them there, although the FA Cup would mean more to someone like Rooney.
Eleven years ago, just as Rooney's relationship with David Moyes at Everton was souring beyond repair, Newcastle United were fighting for a Champions League place and found themselves in the Uefa Cup semi-finals.
Manchester United vs Arsenal combined XI
Manchester United vs Arsenal combined XI
1/11 David De Gea (Man Utd)

While David Ospina has impressed recently after taking Arsenal's No 1 shirt from Wojciech Szczesny, David De Gea has been one of the standout players in the division this season.

Getty Images

2/11 Hector Bellerin (Arsenal)

The Spanish youngster is improving by the week, while Antonio Valencia still struggles in the position.

Getty Images

3/11 Laurent Koscielny (Arsenal)

A consistent performer in the centre of the Arsenal defence.

Getty Images

4/11 Chris Smalling (Man Utd)

A more solid choice than Per Mertesacker.

5/11 Luke Shaw (Man Utd)

The £30m man just makes the starting line-up ahead of Kieran Gibbs.

GETTY IMAGES

6/11 Francis Coquelin (Arsenal)

A revelation in the defensive midfield role for the Gunners. Just gets the nod ahead of Daley Blind due to recent form.

7/11 Santi Cazorla (Arsenal)

Possibly Arsenal's best player this season, even wearing the captain's armband on occasions.

GETTY IMAGES

8/11 Angel Di Maria (Man Utd)

Has come in for much criticism after his poor run of form, but has still enough to keep Danny Welbeck, not a natural right-winger, out of the side. Theo Walcott is not firing on all cylinders yet after lengthy absence.

Getty Images

9/11 Wayne Rooney (Man Utd)

The captain has three goals in his last four games, and gets in ahead of the inconsistent Mesut Ozil.

10/11 Alexis Sanchez (Arsenal)

The first name on the team sheet.

GETTY IMAGES

11/11 Olivier Giroud (Arsenal)

Has scored five goals in his last five games for Arsenal despite being met with criticism from his own fans. With Robin van Persie injured, his only opponent is Radamel Falcao - who has scored just four goals in 20 appearances for United.

GETTY IMAGES
For Sir Bobby Robson's side, there was no question what the priority was. Newcastle had been in the Champions League before but it was 1969 when they last won a trophy. In Marseilles, as the sunset turned the hills above the Velodrome the colour of lavender, they were destroyed by Didier Drogba. The defeat ultimately cost Robson his job. The weight of the absent silverware had become unbearable.
Rooney would have understood. "Football," he once remarked, "is all about winning trophies – always has been, always will be."
In his first season at Manchester United, Rooney played in an FA Cup final against Arsenal in Cardiff. He hit the post, he scored his penalty in the shoot-out, he lost a game United dominated.
Two years later, Rooney was at Wembley, a very different Wembley to the stadium he had visited as a kid to watch Everton beat Manchester United in the 1995 final. The pitch was dreadful, Ryan Giggs had a goal disallowed and Drogba won the game for Chelsea deep into extra-time. Rooney was near to tears on the final whistle. It was, he said, "just about the worst I have ever felt as a footballer".
Manchester United have not reached an FA Cup final since and it says something for how the trophy came to be marginalised at Old Trafford –and how in the end Ferguson marginalised Rooney – that on five of the last six occasions United were eliminated from the competition, he did not play.
"He wants to win the FA Cup," said Van Gaal. "It is something that is missing from him. My first championship with Ajax was very important for me but it was also an emotional thing and you have seen how Rooney was motivated in the last minutes of the game at Newcastle for our winner.
"He was running and pressing for a lost ball; it was fantastic. Every human being has his own character and this is Wayne's."
Reuse content