The golden rule for those attempting an FA Cup giant-killing is you only live once. If you do not fell your giant with the first blow, you will get the money from the replay – in Cambridge's case, more than £1m – but not a place in the next round.
In recent seasons, Luton, Leyton Orient and Notts County have held Liverpool, Arsenal and Manchester City respectively to draws and lost the return matches by a collective scoreline of 15-0. Cambridge did rather better than a five-goal defeat and their players have their stories.
Josh Coulson can talk of how he cleared off the line from Angel di Maria. Chris Dunn had his double save from Wayne Rooney and Robin van Persie. Tom Elliott could have scored at the Stretford End. Instead, James Wilson, one of the great hopes of Manchester United's youth policy, wrapped the match up in front of Old Trafford's most iconic stand.
Cambridge may have the tales and the sort of money that will transform the club but Manchester United have a fifth-round tie at Preston.
For their manager, Louis van Gaal, the FA Cup is opening out very nicely. Half the Premier League are already eliminated and Manchester United could reach the quarter-finals without having faced top-flight opposition.
The FA Cup was, famously, the trophy which salvaged Alex Ferguson's regime, and in 1990 four of those who would make up the Football League's top six failed to make it past the fifth round. The omens are there.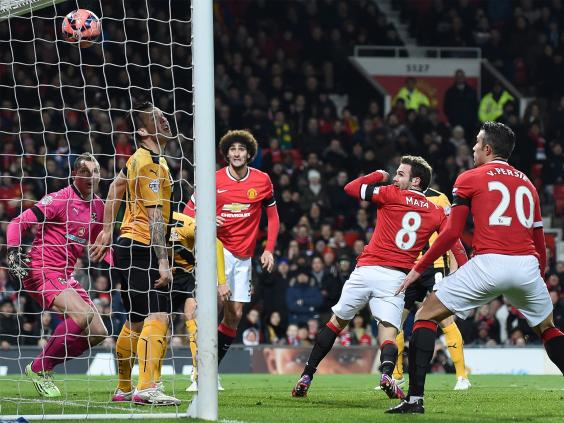 Apart from Luke Chadwick, who briefly played for Manchester United against Bayern Munich here and earned a £10,000 substitute's bonus for so doing, the night would have been full of the unfamiliar. The extent of the Old Trafford pitch that stretched out before them as they walked out of the tunnel, the sight of stands rising giddyingly above them and the fact that a match involving Cambridge United had been delayed because of crowd congestion.
Some 64 coaches and 6,500 fans had set off from the city of dreaming spires to the Theatre of Dreams, a mobilisation which had proved too much for Manchester's creaking transport system.
And yet a minute after the delayed kick-off came the stuff of wild fantasy. Elliott found himself advancing on goal with only David de Gea to beat. The striker tried to curl the ball round the Spaniard rather than simply blasting it goalwards and the shot kissed the outside of the post. As Elliott trotted back to the halfway line he would have suspected, very strongly, that the chance for the great upset had come and gone.
The scare would have confirmed all of Van Gaal's suspicions. It might not have been a coincidence that transfer deadline day saw a number of those footballers who had been humiliated in the League Cup at Milton Keynes leave Old Trafford. The goalless draw at the Abbey Stadium might have made up the Manchester United manager's mind about a few others.
While Ferguson, who had been held to humbling goalless draws by Burton and Exeter in the FA Cup, might have placed his trust in youth at Old Trafford, Van Gaal was not prepared to take any chances here.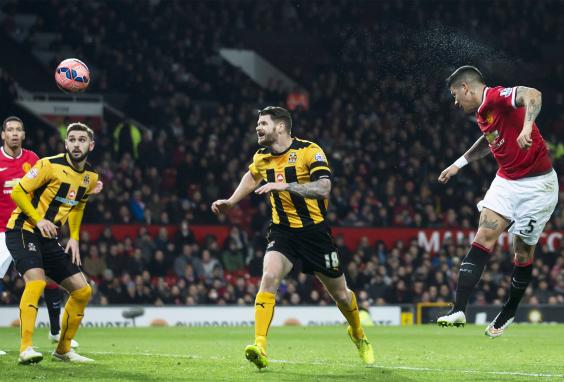 Yes, there was Paddy McNair at right-back but instead of Wilson and Adnan Januzaj up front in the starting line-up, there was Di Maria, Juan Mata, Van Persie and Rooney – around £145m worth of footballers trying to smash down a defence that did not command a transfer fee between them.
Early on, the England captain looked the busiest of the four on the edge of the area. One attempt at a shot ended with a fine tackle from Michael Nelson, the other was comfortably saved by Dunn, who five years ago had been part of the Northampton side that knocked Liverpool out of the League Cup in Anfield's driving rain. The skies above Old Trafford were clear and glacially cold. The outcome, too, was to be different.
If Cambridge were to pull off one of the greatest shocks in the history of the FA Cup – and this might have eclipsed Bradford's victory at Stamford Bridge 10 days ago – you imagined it was essential that they scored first.
Twenty-four minutes after Elliott's miss and 115 after they had kicked off in Cambridge, Manchester United broke through and that, pretty much, was that. A cross from Di Maria was headed across goal by Marouane Fellaini, who was to play a part in the second, and Mata, balletically, flicked it home.
Seven minutes later, it was two. Fellaini's shot was blocked, Van Persie chipped it back in and Marcos Rojo's header brought the Argentine his first goal in a United shirt. For Cambridge's brave footballers there was only one question: how many?
Man of the match Dunn.
Match rating 6/10.
Referee J Moss (Tyne & Wear).
Preston secure United tie
Three goals in 10 minutes earned Preston North End a home fifth-round tie against Manchester United as they beat fellow League One side Sheffield United 3-1 at Bramall Lane. Trailing to Jamie Murphy's first-half goal, Simon Grayson's team fought back after the break through two Paul Gallagher goals, one a stunning free-kick, the other a penalty, and a Paul Huntington header.
Revised fifth-round draw
Saturday 14 February
West Brom v West Ham (12.45pm)
Blackburn v Stoke (3)
Derby v Reading (3)
Crystal Palace v Liverpool/Bolton (5.30)
Sunday 15 February
Aston Villa v Leicester (12.30)
Bradford v Sunderland (2.30)
Arsenal v Middlesbrough (4)
Monday 16 February
Preston v Man United (7.45)
Reuse content