Phil Neville launched a scathing attack on West Ham United goalkeeper Adrian for his 'disgusting' challenge on Manchester United's Zlatan Ibrahimovic in the EFL Cup on Wednesday night.
The West Ham goalkeeper landed his studs on Ibrahimovic's knee as the United striker opened the scoring just before half-time at Old Trafford before being left writing in agony on the pitch.
The referee, Mike Jones, missed the incident, but Sky Sports pundit and former Manchester United defender Neville was fierce in his criticism of the goalkeeper.
"It was impossible [for the referee] to see, even we didn't see it here because you're concentrating on Zlatan being one v one. But it's a disgusting challenge, really," Neville said.
"The way he [Adrian] plants his foot into the leg of Zlatan - it could have caused major danger."
Ibrahimovic avoided serious injury and was able to play on, with the Swede going on to score again while Anthony Martial also hit two in United's 4-1 win in the quarter-finals.
Dean Ashton, Neville's co-pundit and former West Ham forward, said he believed it was a deliberate challenge by Adrian.
Ashton said: "If the referee sees the angle we get to see - which is the big difference - then I'm sure he's looking at bringing a card out whether that be yellow or even red given how high it was.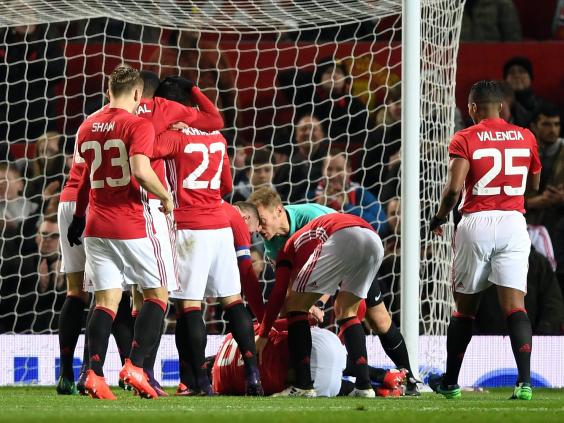 "But that's the keeper's opportunity to stick one on you. When you're going down on goal that's when they can catch you. 
"He certainly does and he's lucky the referee doesn't see more of that. He seriously could have injured Ibrahimovic."
Reuse content