Liverpool striker Rickie Lambert feels he needs to do more to improve his fitness having been disappointed with the performance he put in on his first competitive start for the club on Tuesday.
The stage had seemed perfectly set for local lad Lambert - a Reds fan and youth player as a boy - to make the most of the occasion, with him not only coming into the starting XI to face Sky Bet Championship outfit Middlesbrough at Anfield in the Capital One Cup third round, but also being named as captain.
However, the 32-year-old struggled to make an impact in a crazy contest that finished 1-1 after 90 minutes, 2-2 after extra-time and then 14-13 to Liverpool in an epic penalty shoot-out.
He only lasted until the 74th minute, when the former Southampton man was replaced by fellow summer signing Mario Balotelli.
And Lambert said of his experience of being Liverpool skipper: "I wasn't expecting it, and it was a great honour to lead the team. It was a nice surprise.
"But forgetting about that, it was a strange game. I wasn't happy with my own performance, so that overshadowed the honour of being captain a little bit.
"I didn't feel as sharp as I want to feel. That's the main thing I want to look at going back into training.
"I want to get my match fitness up because obviously everyone knows I'm not playing every game so I have to adapt myself now.
"I think I'm going to have to do more so my fitness is up to the same level as everybody else."
Asked if he thought there was a danger of trying too hard, Lambert said: "Obviously that's probably an aspect as well, which I've got to take into consideration and not let affect me.
"But that's just the way it is, and the situation I'm in. I'm more than confident I can start contributing the way I know I can.
"I do work, push myself to the limit, but maybe I am going to have to go to the fitness coach and see if I can do more."
Lambert, who played for England at the World Cup over the summer, is understandably eager to be involved when his club host Everton in Saturday's Merseyside derby, where Liverpool will be looking to boost their Barclays Premier League record for 2014-15 which to date features three defeats from five games.
He said: "Hopefully we can get one over on them. It's always a special day against Everton and I can't wait for it.
"It's another dream (to play in a Merseyside derby).
"But for now, I want to stay away from stuff like that and focus on my performance and fitness."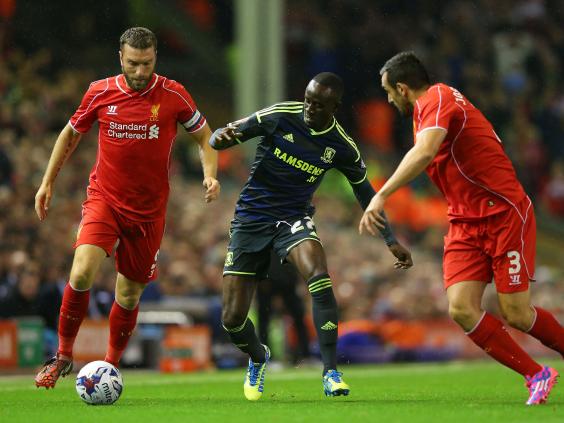 Lambert's action for Liverpool in the Premier League so far has amounted to four substitute appearances and he is yet to score for his new club.
Meanwhile, Middlesbrough winger Albert Adomah has admitted he did not initially realise when he missed the 30th penalty of Tuesday's shoot-out that it had signalled the end of the tie.
"When I missed I thought Liverpool had to take a penalty, so I was a bit surprised to see the players coming towards me," Adomah told the BBC.
"I didn't know we took 30 penalties. I'd actually lost count. It just went on and on and on until I missed!"
PA
Reuse content