There was no disguising how desperately Fulham wanted this game abandoned, giving them unexpected preparation for Tuesday's match at Swansea, who are two points above them in the Premier League.
Ray Wilkins, their assistant manager, peered suspiciously over referee Andre Marriner's shoulder during the lunchtime pitch inspection, as the ball slapped lifelessly into the Bramall Lane penalty area mud, and by last night manager Rene Meulensteen was wondering whether the fixture congestion was ever going to ease. "I haven't taken my Christmas tree down yet!" he said.
He had Darren Bent's imprecise finishing to rue for a replay, a week tomorrow, which will sit amid the cluster of awkward matches up ahead. Bent is the striker who will always be remembered for comparisons with Sandra Redknapp, after his late miss against Portsmouth five years ago led his then Tottenham manager to invoke the likeness with his wife. Meulensteen was not entirely diplomatic about the 29-year-old side-footing over the bar with four minutes to play here.
"Darren should have scored," the Dutchman said. "He has made his life on taking chances like that. That's where those type of players turn up. He is disappointed but he hasn't said anything. He knows."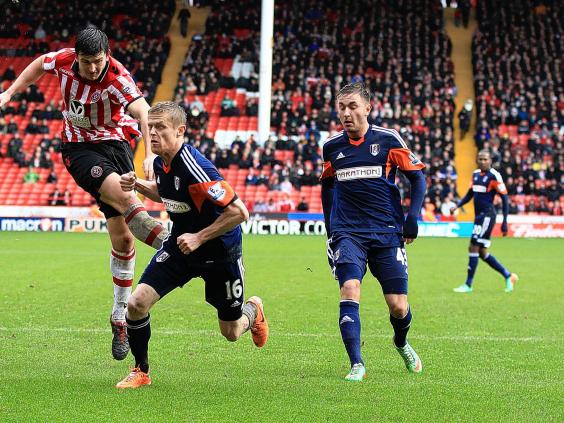 So did the other player on whom the course of an Arctic south Yorkshire afternoon also turned. Nigel Clough's Sheffield United team were beginning to shape a tie they had struggled with into their favour when their captain Michael Doyle was dismissed, six minutes into the second half, for a wild lash at Fulham's Chris David.
It was a "killer" said Clough – he meant the sending off, rather than Doyle's kick – and it certainly reduced the home side to a position on the back foot, battling to see the game through, especially after Hugo Rodallega had equalised with 15 minutes to go.
The match programme carried an image of Dimitar Berbatov alongside United's Harry Maguire but it was never going to be the Bulgarian's kind of afternoon. He was not even in the squad which was named as the rain sheeted down remorselessly. Clough said he felt the climate might help his team and you felt he had a point as the game's early tackles sent players on 10- yard slides – John Arne Riise's being halted by the advertising hoardings. He promptly retired with a hamstring injury.
But Fulham were not averse to the muck and nettles. They began brightly and industriously, knitted together by Giorgos Karagounis and Pajtim Kasami, two of the wiser heads in a side with fully 11 changes from the one that lost to Arsenal eight days earlier.
The Swedish teenager Muamer Tankovic, in his first senior start, looked especially bright, hustling behind Rodallega, and it was the Premier League side who put the ball into dangerous places. It was a fine, floated cross from Karagounis that Rodallega headed over barely five minutes in. Then it took some desperate heft from Neill Collins to clear the ball that Tankovic sent across George Long's six-yard box and which lodged there, stuck in the mud.
Clough's side could not find a way to make inroads on their own turf. "We were disappointed with the way we played first half despite getting the lead," he later reflected.
That advantage arrived in the improbable way that the FA Cup can create them – the pity being that large swathes of this famous old stadium were empty for a tie as likely as any to deliver the weekend's big shock for the team who have slipped so far, so soon: from the Premier League to the League One relegation zone in seven years. It was central defender Maguire who created the goal, barging through 20 yards of turf in an unstinting run that seemed to have reached a Fulham defensive wall when he was rewarded for his efforts – firing a speculative shot that Chris Porter instinctively turned into the net at the near post.
The goal seemed to turn the home side in on themselves. They sat deeper and looked like they might be immediately punished for it. Doyle's first major misdemeanour of the afternoon was gifting Tankovic possession in enough space for him to slip Rodallega into the area. The Colombian was clipped there by goalkeeper Long, though Marriner waved Fulham's penalty appeals away.
Clough had a grievance of his own – adamant that Aaron Hughes had brought Matt Hill to ground in the Fulham penalty area early in the second half. Meulensteen agreed with him. "Maybe we have been lucky because they had a penalty that could have been given," he said. "I have seen it again and it could have been given."
But Clough's claim that United might have won the game even after Doyle's dismissal was more far-fetched. The red card prompted no complaints from his team-mates and not a flicker of expression on Clough's blank face as he walked past.
It was an idiotic lash out from an Irishman, starting his 150th game for the club, who can be short-tempered and whose actions shifted the game's balance.
United's opportunities were not entirely extinguished. It took a sharp instinctive save by David Stockdale, blocking Ryan Flynn's right-foot shot with his own right foot after the Scotsman flew unchallenged into the right-hand side of the Fulham area.
But Adel Taarabt, arriving from the bench, delivered some extra class for Fulham before Rodallega equalised with a sharp, low 25-yard precision effort into the bottom left-hand corner. Philippe Senderos headed against the bar and was unable to convert the rebound on the challenging surface of the penalty area. Taarabt's strong shot was deflected over and then came Bent's big miss from Kasami's low cross.
Clough's efforts were not helped by the withdrawal of Porter, with a tight hamstring, and Maguire, after a kick on the knee, and he expressed hope that his players could deliver beside the Thames in eight days' time. But Fulham looked up to this challenge. The Yorkshire moment may have passed.
Reuse content