Southampton manager Ronald Koeman refused to shake hands with his Sheffield United counterpart Nigel Clough after the Premier League side crashed out of the Capital One Cup at the hands of the League One giant-killers.
The Dutchman said that he was unimpressed in particular with the lack of respect Clough and his coaching staff showed towards the fourth official after the United manager and his colleagues repeatedly complained about referee Michael Oliver's handling of the game.
It meant that United's 1-0 victory courtesy of Marc McNulty's goal midway through the second half ended on a sour note. Clough brushed the incident aside later, even though his first-team coach, Chris Morgan, was sent to the stands following heated exchanges in the wake of the goal, yet Koeman was clearly unhappy.
"I shake hands with people who have respect for me as a coach, who have respect for the fourth referee," Koeman said.
"In the behaviour of the bench of Sheffield United, I never saw that. That was the reason why I didn't shake hands."
But Clough said the incident would not take the shine off Sheffield United's night after Southampton became his side's fourth Premier League scalp in two seasons in the two cup competitions.
"I don't know why he didn't shake hands, you'll have to ask him," Clough said, before being told of Koeman's explanation.
"That's his opinion, but I don't think one sentence should be said on it.  That's not the story tonight and it's not going to make the result any less sweet."
The defeat was a fifth in a row  for Southampton, who were second in the Premier League table when they drew Clough's team after their quarter-final win at Stoke, which formed part of a sequence of 11 wins in 12 matches.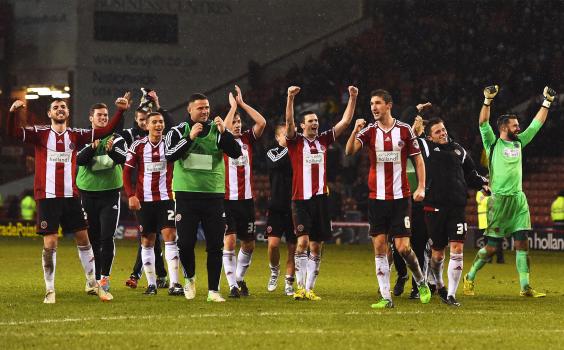 "We played too much long ball tonight and we didn't have that ball possession that we usually have," Koeman said.  "Then it's more difficult because you have more battles, more second balls and we didn't bring our football and the way they like to play. That was the difference.
"It's cup football and it's not about the level. They can make it difficult against everybody.  It's not the first time and it's not the last time a League One club will beat a Premier League club.
"You have to bring more quality on the pitch and we didn't tonight."
Koeman said injuries had disrupted his team but would not use it as an excuse, although he had feared his squad might suffer as a result.  Dusan Tadic and Steve Davis were ruled out last night and Morgan Schneiderlin played a full 90 minutes despite his recent absence through injury. 
Schneiderlin will be suspended after picking up a fifth booking, as will Florin Gardos after his red card late in the game.
"In the last few weeks, we have to change the team every time with injuries and suspensions. But it's part of football.
"We had a lot of players available but not good midfielders. Schneiderlin played 90 minutes when he would not normally have done after being injured but we had to change and that was the problem.
"I said that before the season – if we get these kind of problems and suspensions, then we know it's difficult.
"I'm disappointed. Every game you lose you feel disappointed. We did everything but the quality was not enough today. It was not about the spirit but about the quality.
"We are different, we like to play football.  With all due respect, they made it very difficult for us and they deserve it because they got the best chances in the game."
United have beaten West Ham as well as Southampton to reach the semi-finals, having knocked out Aston Villa and Fulham in reaching the same stage of the FA Cup last year.
McNulty claimed the decisive goals after 63 minutes when Fraser Forster let the ball squirm away from him after Bob Harris had fired in a low free kick from just outside the box.
"I love the cups, these games are special and maybe the players feed off that," Clough said.  "The chance for a League One side to take on a Premier League team, they are always special occasions.
"But I'd like the players to respond in the same way for league games, too, because we need to pick up some points.
"But when you look at the side we had out -- with the two lads, Che Adams and Kieran Wallace, who we signed from Ilkeston in the Northern Premier League, on at the end, and a 17-year-old in Louis Reed on from the start it was a remarkable effort.
"We haven't always had the breaks in the league recently and we deserved that one tonight.  We never really looked like the underdogs."