Sir Alex Ferguson predicted Manchester United would win the 1996 FA Cup final 1-0 the moment he saw Liverpool's "ridiculous" white suits.
In a BBC documentary focusing on the former Manchester United manager's leadership qualities, the Scot looked back at that memorable Wembley final.
Shown a picture of Jamie Redknapp, Steve McManaman and Robbie Fowler wearing their white suits, Ferguson said "Why did they do that?" before recounting that he turned to his then assistant Brian Kidd and said: "1-0".
8 players that almost signed for Manchester United
8 players that almost signed for Manchester United
1/9 8 players that Sir Alex Ferguson almost signed for Manchester United

Sir Alex Ferguson's new book 'Leading' not only reveals the secrets behind the former Manchester United manager's success, but also lifts the lid on the transfers that nearly were. Here are eight players Ferguson almost managed to coax to Old Trafford with explanations from the man himself as to why they didn't quite work out.

GETTY IMAGES

2/9 Ronaldo

"We wanted to sign the Brazilian striker from Cruzeiro in 1994, but we could not get a work permit and he went to PSV Eindhoven."

Getty Images

3/9 Petr Cech

"I went to see him in 2003 for Rennes. We thought Petr was a bit young for the bruisers in the Premier League."

4/9 Didier Drogba

"We went to check him out [at Marseille] but the club wanted £25million and Chelsea moved in for the kill before we had made up our minds."

Getty Images

5/9 Thomas Muller

"He was a ten-year-old when we heard about him. We had him watched and the following day he committed himself to Bayern Munich."

GETTY IMAGES

6/9 Sergio Aguero

"His agent was demanding a price we were not prepared to pay..."

Getty Images

7/9 Raphael Varane

"In 2011 I hurtled down to Lille. Zinedine Zidane got wind of this and somehow scooped him up for Real Madrid."

Getty Images

8/9 Lucas Moura

"We offered £35million but Paris Saint-Germain signed him for £45million."

GETTY IMAGES

9/9 Mario Balotelli

"In 2010 I briefly flirted with the idea of signing Mario Balotelli, the talented but controversial Italian striker. I did my homework on him, speaking to a few Italian contacts, but the feedback I got confirmed it was too big a risk."

Getty
Explaining why he felt it gave his side an advantage in a game United would win thanks to a single goal from Eric Cantona, Ferguson said: "I think that's arrogance or over confidence or I don't know. It was ridiculous. Blue shirt, red and white tie and a white suit. With a blue flower. Who designed that? I mean Jamie Redknapp's got his sunglasses on."
He continued: "You know, the most telling part of it was Roy Evans (Liverpool's manager) and Ron Moran (coach) had black suits on. I think they were embarrassed.
"Liverpool's a great club with history. They've won the European Cup more times than Manchester United. Between Manchester United and Liverpool they've won more trophies than any club in Britain. That (the white suits) didn't represent Liverpool."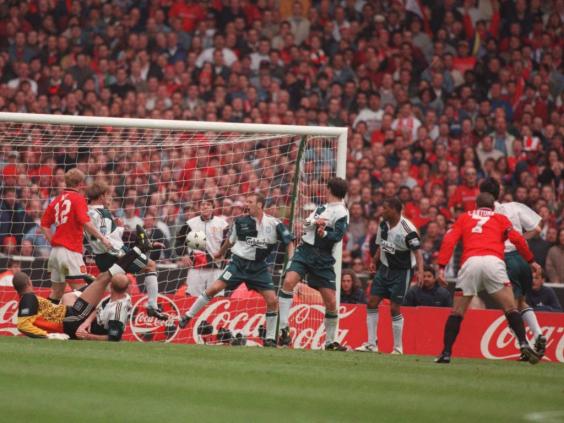 The documentary, which will be shown on BBC1 on Sunday, features various former players and leadership experts. Among them is Ryan Giggs who revealed how Ferguson would use such trivial incidents to help his team.
"He would use stuff like that (the white suits)," says Giggs. "Have you seen what they're wearing. They think they've won it already."
Sir Alex Ferguson: Secrets of Success will be on BBC1 at 10.30pm on Sunday 11th October
Reuse content