When the dust has settled, they will attempt to rationalise the value of a match which has earned them as much as £60,000 and an FA Cup run which has yielded a 10th of their entire annual revenue, but that might take a day or two for Wrexham.
Kevin Wilkin's side hit the bar, took a 73rd-minute lead and as they held on to it for seven quite beautiful minutes the clock turned back to those days when the Cup was more than a day out for this club; when they thought they would beat anyone and generally did – as Arsenal, defeated 23 years ago today, will attest.
Wrexham would have become only the third non-league side in 126 years to beat top-flight opposition in the FA Cup had they only held the advantage. It will not help their attempts to get over this that they contributed to their own fate, succumbing to the natural temptation to defend a lead, dropping deeper and then making errors which allowed Stoke to score three times in the last 10 minutes.
You might say Wrexham scored too early: 17 minutes felt like an eternity and the man for whom Wrexham's Racecourse Ground was part of his boyhood, Stoke manager Mark Hughes, also had enough in reserve to make substitutions which made a difference. One of them, Stephen Ireland, scored two late goals, though Jon Walters – once of Wrexham and Chester and clearly on a mission – was equally dangerous.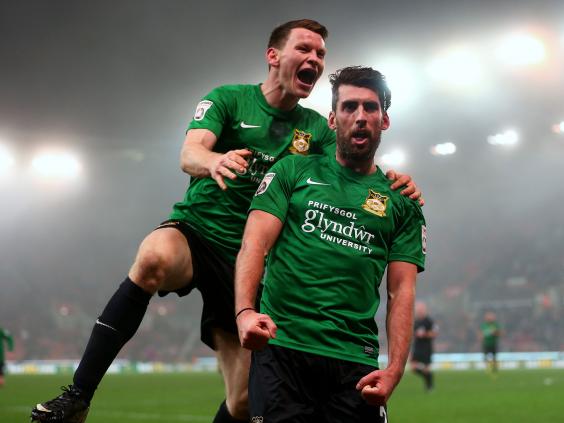 This afternoon, it did not feel like the Britannia cauldron which Premier League visitors have come to dread and Wrexham's 5,000 backing was testament to why the club's supporters believe they are better than the non-league to which they were consigned seven years ago. The last time the two sides played, in 2002, they were in the same division and though their trajectories have been painfully different since,  at no stage did they look worlds apart.
There were hairy moments for Wrexham in a first half which needed the best of Neil Ashton, restored to the captaincy, and Manny Smith, a very bright talent, to help them hold on. Liverpool fans may take a dim view of Oussama Assaidi, still on loan at Stoke, but he was in a different class on the left flank.
This is a Wrexham whose financial gulf from the Premier League bears no resemblance to those days of Mickey Thomas glories. One-year contracts are the most they can risk, now, and they had asked Wolves to extend Jonathan Flatt's loan just to give them a goalkeeper for the tie. Had they earned a replay, they would have been back on the phone to Molineux today, asking to extend again. He was nervous in the first half, sprinting out for a ball which Blaine Hudson was simultaneously heading back past him and scrambling to recover his position. His finest instincts were needed to touch over an effort by Peter Crouch, another of the Hughes'  substitutes, after a rare piece of carelessness in possession by Jay Harris.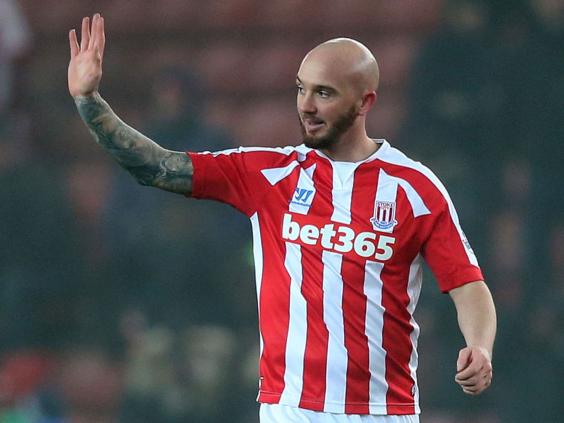 The Wrexham game-plan – contain for an hour and then go for it – looked like it might work when Wes York advanced through midfield and struck a shot against the bar, with defender James Pearson not quite able to wrap a foot around the rebound. Then, delirium. Mark  Carrington put them ahead in style, getting his head to Connor Jennings' cross from the right.
 The 80th-minute equaliser – Marko Arnautovic pouncing on the rebound from a blocked Crouch shot – was as poor from a back-peddling Wrexham  perspective as Ireland's goal to put Stoke ahead two minutes from time, which Flatt might have gathered. Ireland's fine second strike, from 20 yards, was academic.
As Stoke prepare to announce defender Philipp Wollscheid's arrival on loan from Bayer Leverkusen this week, Wrexham will be counting pennies: £5,000 from the Radio 5 Live Extra commentary and £60 raffle money from each of the 30 buses they laid on. "The town needs a Football League club, but as a lot of people know it's not going to be easy," Hughes reflected. "A lot of other league clubs have dropped as well." Tell me about, Wilkin would say.
Stoke City: (4-2-3-1) Butland 6; Bardsley 7, Shawcross 6, Huth 7, Wilson 6; Cameron 5 (Ireland 71 7), Sidwell 5 (Crouch 62 7); Arnautovic 6, Adam 6, Assaidi 8; Diouf 5 (Walters 61 7).  Substitutes: Sorensen, Pieters, Helan, Shenton.
Wrexham: (4-4-2) Flatt 6; Pearson 6, Smith 7, Hudson 6, Ashton 7; Carrington 6 (Moult 89), Harris 7, Hunt 6, Evans 6 (Clarke 82); Jennings 6, York 6 (Bishop 70). Substitutes: Coughlin, Clarke, Durrll. Moult, Bishop, Tomassen, White
Referee: S Hooper (Wiltshire)
Attendance: 19,423
Star man: Ireland
Match rating: 7
Reuse content