It is a Thursday early in the month, and the facilities that will host Sir Bobby Charlton and Sir Alex Ferguson, otherwise known as the Dion Dublin Lounge, are given over to a hearty lunch of sausage and mash followed by bingo. The diners are all elderly and grateful for the community reach of the club in their midst.
Some are fans but not all. Perhaps the visit of Manchester United will convert the uninitiated. Or maybe time spent around the table with the diehards will prove persuasive as Cambridge United continue to develop links in the locality.
Club chairman Dave Doggett ordinarily calls out the numbers. On this occasion the job has fallen to Colin Proctor, affectionately known as Col, the fans' elected representative on the board. Proctor is 75 and has been a fan since 1953 when Cambridge were still an amateur outfit. He has never lived more than two miles from the Abbey Stadium and has a fund of stories embroidering the history of a club that has struggled to gain traction in a town dominated by academia.
Proctor can (and does) talk all day about the history of this place, a narrative that embraces the likes of Big Ron (Atkinson), John Beck, and a young David Moyes, who turned up as a teenage defender from Celtic with little more than the shirt on his back. Ultimately, no tale eclipses the arrival of United, which tops a heady sequence of events.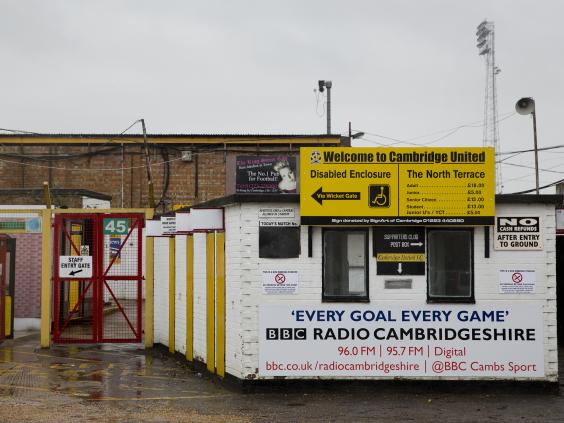 Three years ago the club were in free fall, struggling in the Conference, seeking new owners and desperate for cash. Were it not for the munificence and madness of a few cursed by their deep affection for the team, not to mention deep pockets, the Abbey Stadium might have been a supermarket or  housing development today.
Instead, they are warmed by the glow of successive trips to Wembley last spring that yielded the FA Trophy and a return to the Football League via the play-offs after nine years away. The club and the supporters thought life could not get any better and then United came out of the hat.
"We would not be sitting here if these guys did not put their money in. That's what runs this club," says Proctor pointing to director Terry Baker, who has handed over more than a quarter of a million quid and joins us around the table in the club's homespun social club. Baker demurs: "We have a solid supporter base, without that you can't survive. Attendances have doubled from last year. We had a bedrock of 2,000, now we are getting 4,000. Years ago we could have switched this game but now we are not allowed to do that. We have taken 20,000-odd to Wembley and could easily attract that for this game."
They could also have charged the earth, but there is no desire to milk the fans to make an opportunist buck. "It has captured the imagination," says chairman Doggett. "We've had actors, politicians and the like on for tickets. We could have more than doubled the prices but we did not want to. The big challenge is to make sure the tickets get into the hands of the right people, those who have been with us on this journey. We have 800 people wanting hospitality in a room that holds 60."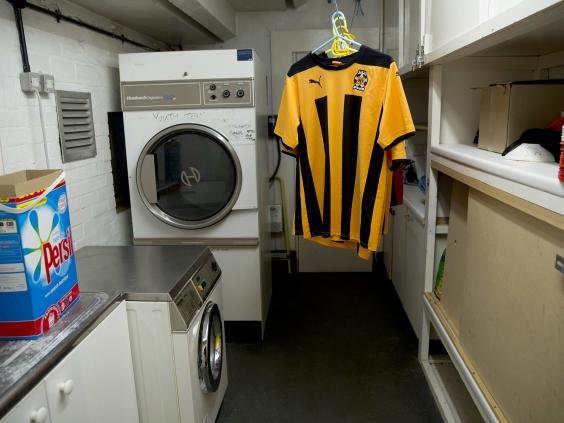 Col's mobile phone rings. It's Big Ron on the line from Spain. Work commitments prevent his attendance on Friday night, Atkinson explains. Shame, but it prompts another anecdote about the day he answered Proctor's charitable call and brought his Manchester United all-stars to town for a benefit match and much fun was had by all.
Proctor has been, among many things, an antique restorer by trade and has worked in the service of Prince Charles, Prince Andrew, Lord Snowdon and the Shah of Iran. "I did Charles' anteroom at Trinity, reupholstered his hotel room out in Saffron Walden," he says. "I had to sign the Official Secrets Act. My father-in-law was in the Guards and looked after the Queen and Princess Margaret. He was the only taxi driver in Cambridge who drove Charles to the pub at Chesterford."
Moyes was by a significant degree lower maintenance. "He flew in from Scotland with a pair of trousers and a shirt. That's all he had," says Proctor. "He stayed with me the first night and my wife says to him, 'Where's your bags?' He says, 'I haven't got any bags.' I had to nip over to Alan Sharplin's, the local golf shop in Histon, to kit him out.
"I said, 'Alan we have a terrific Celtic player joining.' I didn't tell him who it was because he was only 17. He gave me two pairs of golf trousers and two jumpers that had been thrown about. David was here two and a half years before John Beck signed him for Preston and the rest  is history."
Earlier on the morning of my visit, on the playing fields of Clare College, Richard Money's squad stepped out across the sodden surface. Three days had passed since the fourth-round FA Cup draw. Though Money was preparing for two important league matches, both subsequently won, the atmosphere around the camp was suffused with a sense of occasion.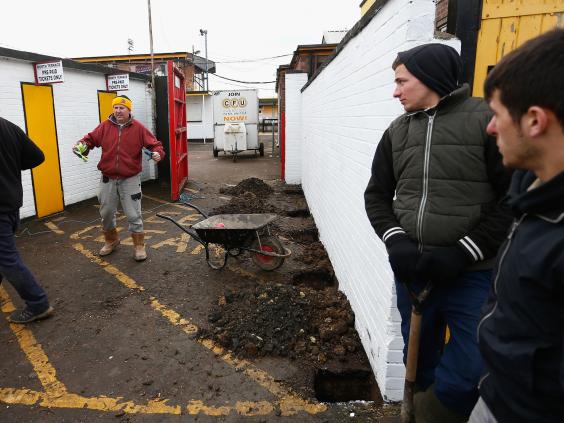 "I would be lying if I said you don't sit back in your quiet moments and think about it, try to plan ahead," Money says. "It was a big deal for the club to beat Luton [in the third round]. The significance of that win is evident now.
"This will be another full house. The TV money is serious. People might complain at the Friday timing but, to be honest, we would play at breakfast any day of the week for £144K. The two trips to Wembley last year helped put the club in a pretty stable position. What this will do is maybe allow us to progress a bit quicker."
It will also shine a light on a manager who, like so many in the game, has served his time as a player and coach without attracting the attention talent and experience merit. Money had a taste of the high life at Liverpool. The defender was on the bench for the 1981 European Cup final against Real Madrid, then a chap called Mark Lawrenson arrived.
"I've been lucky to experience some big games," he says. "I wouldn't want people to feel sorry for me. When I look back at my career at Liverpool you might ask why would I want to leave. But this was in the days when salaries were not colossal and playing was the major part of the mindset."
Money has built an impressive CV in a tracksuit, if not ridden the management carousel as noisily as others. "I have had some big coaching jobs at Forest, Villa and Man City. I've headed up academies at Coventry and Newcastle, managed the biggest club in Scandinavia [AIK, Sweden], managed in Australia. In this country my career has not panned out as it might have done. Maybe people get pigeonholed.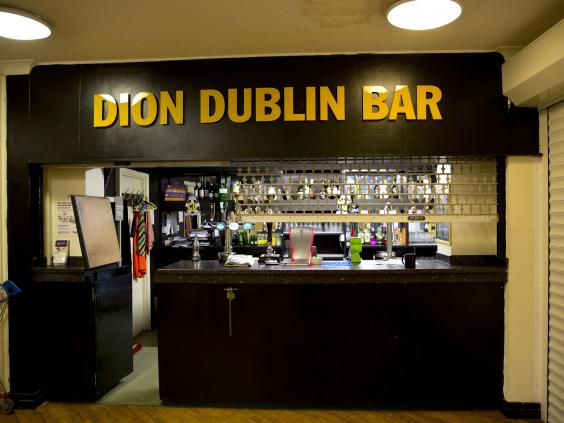 "I came back from Australia and took Walsall into League One and now Cambridge back into the Football League. I'm 59. You do think things have passed you by. Who'd take a 59-year-old manager? There is a fashion for younger managers and coaches that I don't get. There have been times in the past when I've wondered why I haven't had a big opportunity. All that said, I'm delighted to be here and there is a big job to do."
Indeed. The players still use wheelie bins as ice baths – "they cost £35 a throw and twice that to fill them," the chairman adds. Over in the office, a newly installed cabin that opens into the club shop, the phones are manned by volunteers. "Two and a half years ago we nearly closed the club down," says Doggett, insisting he have his picture taken in front of the new premises, better reflecting the club's direction of travel rather than the fading grandeur of the Abbey's troubled past.
"It is unbelievable where we have got to. We were losing 25K a month. We sat in the boardroom and said, 'How are we going to get out of this hole and get back into the Football League?' The love of it kept us going. I've been coming since 1957, Col even longer, Terry, too. We didn't want to throw money at it. We did not buy our way out of the  Conference. We wanted to do it honestly.
"Our player budget was a third of some other clubs, but we have a team, led by  Richard, who certainly understand the culture and want to be part of it. We developed the youth section and glued it all together."
A win would tick a lot of boxes. "A draw would be even better, then get the job done at Old Trafford. Can you imagine?" Doggett says, smiling at the suggestion. Good things happen to good people, and it costs nothing to dream.
Reuse content