Forgotten Flamini stars
It would have been forgivable to have forgotten before this match that Mathieu Flamini still played for Arsenal. Having drifted out of contention last season, Arsenal tried to find a buyer for the veteran midfielder this summer but could not. He has only made one Premier League bench this season, against Liverpool, and did not come on.
Yet here he made his first start for more than seven months, and scored Arsenal's two goals. He may still struggle with the pace of opponents but he still had the nous to break into the box, anticipating Michel Vorm's fumble, and stick the rebound into the roof of the net. His second, thumped on the volley, never having to break stride, was a beautiful hit. Flamini  is unlikely to play too many more times for Arsenal, but there are worse memories to leave with than this.
Sanchez struggling, but still a game-changer
This has been a strange season for Alexis Sanchez, who has struggled for rhythm after returning from his curtailed summer, in which he won the Copa America for Chile. He does not look anywhere near the player who ripped through the Premier League in the first half of last season. And yet, he is certainly from a different bracket than Joel Campbell.
When Sanchez replaced Campbell in the second half, the tide of this game turned. It had been all Tottenham after their equaliser, until Sanchez gave Arsenal more belief, strength, and a plausible attacking outlet. It was his intervention which set up Flamini's brilliant winner. When his form returns he will be even better.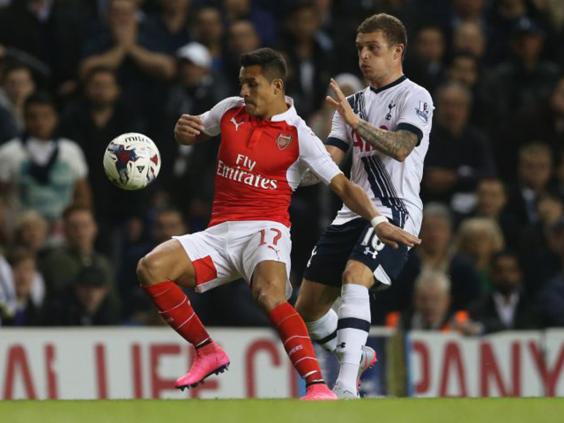 Spurs decent despite defeat
Despite the obvious disappointment of a derby defeat, this was not a particularly bad Tottenham performance. They were the more dangerous side for much of the evening, growing into the game and smothering their visitors before Flamini's brilliant winner.
This was Christian Eriksen's first start for six weeks, and he provided an intelligence to complement Spurs' more industrious players. As Pochettino often says, Spurs are still in a learning process, and this was a display with more promise than flaws. Although it will not hurt any less for it.
Oxlade-Chamberlain should keep his place
Arsene Wenger said before the game that Alex Oxlade-Chamberlain needed to play with more faith in his own ability if he was to make the most of his talent, and he will have been impressed by the bravery that Oxlade-Chamberlain showed, initially on the left wing and then on the right. He ran at his full-backs, displaying that power and finesse he has it his best.
Not everything came off – one clipped finish in the first half stands out – but the execution will come with more games. Oxlade-Chamberlain did enough to deserve to keep his place, to say the least.
Pochettino ditches the suit
Regular Tottenham watchers know that for the biggest games, Mauricio Pochettino tends to wear his club suit. He first wore it when he first took Tottenham to the Emirates, at the start of last season, and he wore it at Wembley when Spurs lost the Capital One Cup final to Chelsea.
Here, though, even against Arsenal, he was back in the tracksuit. Why? Because he had worn his one club suit on Sunday, when Spurs beat Crystal Palace 1-0. His parents, Hector and Amalia, were impressed, and told him he looked slimmer. But that suit is now at the dry-cleaners, and the tracksuit was on.
Reuse content