If this was the night when Tottenham Hotspur's schedule caught up with them, when they found their well-trained legs tiring, they still just about kept their long season on course.
Their manager, Mauricio Pochettino, will have wanted far more than this narrow lead to take to Bramall Lane for the second leg of this Capital One Cup semi-final tie. Spurs wanted to kill the contest here, to impose themselves on their League One opponents and ensure they could spend the next few days making their arrangements for the Wembley final on 1 March.
As it happened, though, their victory was a relief, almost a surprise, after they were given a game just as competitive as the one Sheffield United had promised. Nigel Clough's side were late arriving at White Hart Lane but they played the whole match as if they were making up for lost time.
United matched Spurs run for run, tackle for tackle. For all of the hard physical work Pochettino has put into these players, they looked more tired than they had done all season. This was their sixth game this month, and they have another three left. It is starting to show.
These are the games, in midweek, in the cups, against lesser opposition, when Pochettino knows that he needs to rotate his squad. He brought Emmanuel Adebayor in for his first start since November, after a long absence owing to physical and personal issues. Adebayor rewarded Pochettino with one yellow card and one missed chance in 64 disappointing minutes.
His replacement, Roberto Soldado, was warmly received, more involved and helped to win the penalty, which Andros Townsend scored.
It was far less than Tottenham wanted out of this evening but probably more than they deserved. Sheffield United, competitive, compact and courageous, arguably made the better chances in open play. They will, of course, have to win the second leg at home next week but if they play this well again that is far from inconceivable.
 Spurs had been warned in advance that the Premier League was too "matey matey", that Sheffield United would kick them and that they would not like it. This was not empty talk as the visitors, even after their long delay in reaching White Hart Lane due to being stuck in traffic, began with a ferocious onslaught on their prestigious hosts.
Pochettino is associated with brisk, direct, pressing football but his side, for the first 20 minutes, were outrun by the League One side. Sheffield United chased every ball, snapped into tackles and made Spurs look almost effete by comparison.
Tottenham might have hoped for Adebayor to impose himself on the opposition after Pochettino  entrusted him with the captaincy, but he struggled to set any sort of standard on the pitch
Having barely touched the ball for the first 20 minutes, Adebayor was challenging for it with the 17-year-old midfielder Louis Reed, pushed Reed's face with his forearm and was punished with a yellow card.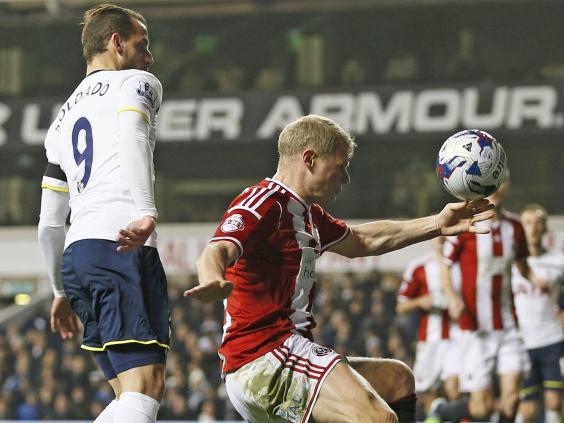 Tottenham were labouring and it took a free-kick for them to produce one of their two first-half chances. Townsend whipped the ball in from the right and Eric Dier had a free header but he could not direct it sufficiently far away from Mark Howard in the opposition goal.
Spurs' only first-half chance in open play fell to Adebayor, but he looked like a player whose last goal had come in October. Christian Eriksen, moved out to the left wing by Adebayor's presence in the team, came inside and chipped a ball over the top to him, running between the Sheffield United centre-backs. He took a touch but then delayed, Jay McEveley did enough and Adebayor shot over.
It was Sheffield United, in fact, who had the better openings of an even but poor first half. Jamal Campbell-Ryce flashed one cross across the face of goal before, having lost possession, Reed found Stefan Scougall, whose shot from 20 yards flew just wide. Spurs had been told, if they did not know already, that they could not be so casual in the second half.
Tottenham restarted the game with a marginally better tempo, trying, with varying success, to get in behind their troublesome visitors from two tiers below them. Townsend began to test defender Robert Harris but the United players were proving just as indefatigable as their thousands of travelling fans, unwilling to let their early spirit and passion fade out in the cold night.
Spurs' starters – this was close to their best team – were just not working. Eriksen ballooned a cross from the left towards the top tier of the opposite stand and, one minute later, Mousa Dembélé and Soldado were thrown on. Adebayor received smatterings of boos as he departed, having done little in his 64 minutes of football to suggest that Pochettino ought to have picked him more often.
Soldado has, despite everything, retained the support of most of the home fans, and he applied himself from the start, chasing the ball down with more vigour than Adebayor had.
It was not exactly what he was bought for – Soldado is meant to be a ruthless finisher – but it was that hard work that opened the game for Tottenham. Jan Vertonghen clipped a ball into the channel which Soldado ran down. McEveley, perfect until then, panicked and stuck his hand out. The referee Neil Swarbrick awarded the penalty and Townsend put it into the bottom corner.
Some lower league sides might have dropped at that point, exhausted and down-hearted, but Sheffield United stuck to their task knowing that a one-goal deficit certainly keeps this tie more than open. Spurs brought Paulinho on, hoping to exploit space, but there was none for him and his main involvement was a defensive header from a corner. United continued to push, Jose Baxter nearly reached a cross to the far post and the travelling fans were far louder at the final whistle. This defeat was no disgrace to the visitors and there is still the prospect of reachable glory next week.
Man of the match Campbell-Ryce.
Match rating 5/10.
Referee N Swarbrick (Lancashire).
Attendance 35,323.
Reuse content