There are many ways in which Arsene Wenger's Arsenal have expressed their supremacy over their neighbours Tottenham Hotspur in the modern era, but it is hard to recall any as uniquely cruel or unusual as beating them solely with goals scored by Mathieu Flamini.
This Capital One Cup third round tie was won by two goals from a 31-year-old Frenchman who, until kick-off at White Hart Lane had not played at all this season following a summer in which the club had tried to move him on but discovered, without being impolite, that they could not give him away. In the last year of his contract, in his second spell at the club, Flamini's goals gave a mediocre cup tie a pub quiz status.
That Flamini scored once was remarkable enough. That he added the second with a volley hit first time on the run with Spurs in the ascendancy and Arsene Wenger's team struggling to mount a serious attack of their own was one of those rub-your-eyes moments. Yes, that really was Flamini running arms aloft to the Arsenal supporters in the corner to whom he would later chuck his match-shirt as if he did this kind of thing every week.
For Spurs, it was an evening that went badly wrong in a split second, bringing to an end their three-match winning run resurgence. Manchester City await at the weekend, and there will be questions about how they let this cup tie go.
Both line-ups were heavy on the peripherals, the squad players and the understudies – a Mikel Arteta here, a Kevin Wimmer there. For Arsenal, Wenger selected Aaron Ramsey and Alex Oxlade-Chamberlain who would both make ordinarily make his first XI but otherwise it was very much a team drawn from the second-choices.
Mauricio Pochettino selected Harry Kane, Christian Eriksen and Eric Dier among his side, one that drew slightly more heavily on his first team regulars. The early quality of the game reflected it. There was not much in this cup tie until Arsenal took the lead on 25 minutes. Hardly a chance was created until Oxlade-Chamberlain took advantage of a poor attempt at a tackle from Dier and hit a low right-foot shot at goal.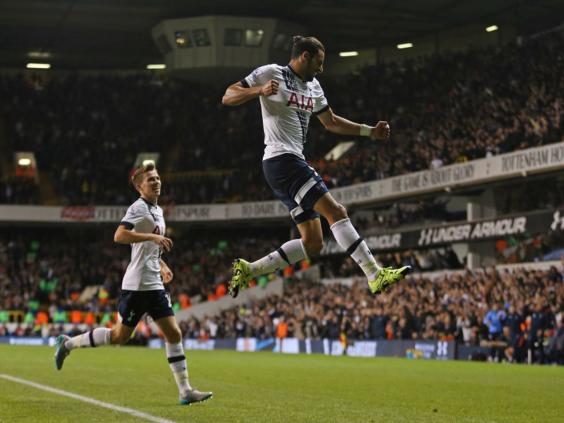 Michel Vorm got down to save the ball but only pushed it in front of him. In came Flamini, a man who is ordinarily prolific only when it comes to yellow cards, to score. He celebrated in front of the Paxton Road end with predictable results and at last we had a decent cup tie. Spurs committed some numbers to attack and had the best results down Arsenal's right where Mathieu Debuchy had a dreadful first half that ended with a booking for a foul on Danny Rose.
Pochettino got the necessary improvement from his Spurs team in the opening stages of the second half and for long periods of that half, after their equaliser, it looked like they might just go on to win the tie. Arsenal's energy seemed to wane, and they conceded within ten minutes.
Nacer Chadli picked the ball up on the right wing, collecting an overhit cross from Andros Townsend and driving toward the byline on the left side. He hit a left shot in front of David Ospina and, in a moment, of uncertainty, Calum Chambers lunged in to help his goalkeeper and clipped the ball past him and in.
Resurgent, Spurs should have put the game away. In midfield, Tom Carroll was the neat, astute passer alongside Dier's hard-running. Kane hit a volley first time at the far post which Kieran Gibbs stooped down to clear off the line. Pochettino made the first move from the substitutes bench, brining on Heung-Min Son to raise the energy of his team again.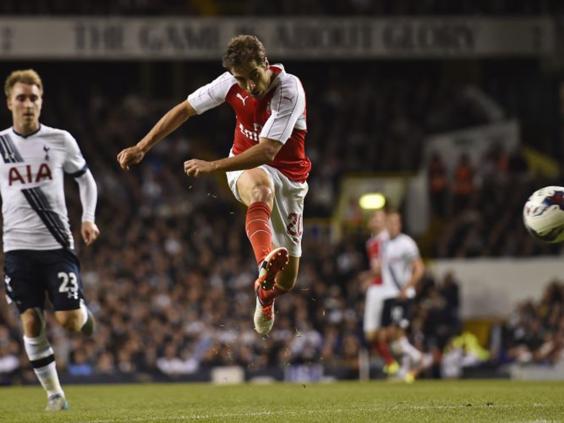 As for Arsenal, Olivier Giroud was doing his best in attack and, as is often the case, finding that his best just was not good enough. Wenger matched the Son substitution by sending on Alexis Sanchez. The Chilean was pulled down by Wimmer as he attacked a cross on 73 minutes in what looked like a very good chance of a penalty. One minute later and Arsenal had retaken the lead.
That man again. A Sanchez pass flicked up off the boot of Federico Fazio, dropped steeply and running onto it with his right boot was Flamini who caught the ball true and sent a low shot past Vorm and into the corner. This was a remarkable comeback for the midfielder - a Flamini from the flames – and this was undoubtedly his night.
Tottenham (4-2-3-1): Vorm; Trippier, Wimmer, Fazio, Rose; Dier (Njie 84), Carroll; Townsend (Son 66), Eriksen, Chadli (Alli 73); Kane.
Arsenal (4-2-3-1): Ospina; Debuchy, Chambers, Mertesacker, Gibbs; Arteta, Flamini; Campbell (Sanchez 66), Ramsey, Oxlade-Chamberlain; Giroud.
Booked:
Tottenham Alli
Arsenal Arteta, Flamini, Debuchy
Referee: A Marriner
Man of the match: Flamini
Rating: 6
Reuse content