All football clubs are local but some are more local than others. Few have quite the same family attachment to their home as Millwall do to their corner of south-east London. It was the wrenching threat of uprooting to Kent, more than anything else, that rallied appalled fans into keeping them at The Den.
So there is a special currency in being one of their own, in getting it, and it is no coincidence that almost half of Neil Harris' team at White Hart Lane on Sunday will be drawn from the same communities as the club itself.
The star of this new local legion is Fred Onyedinma, the shy nimble 20-year-old winger from round the corner. Onyedinma joined the club at 12 after being spotted playing for Blackheath District by former Millwall player Andy Massey. He grew up in Greenwich and Woolwich, he went to school in Kidbrooke, he lives in Plumstead. He could not be more perfectly placed.
Onyedinma developed at the academy playing with Aiden O'Brien, another local boy, and Ben Thompson, a Millwall fan from birth. Neil Harris, who understands what it means to play for Millwall better than anyone else alive, kept an eye on this cohort as under-21 manager, caretaker manager, and finally now in the top job.
This club needs players who understand its values, which is why so much time and trust has been put in Onyedinma and his peers. "The young lads who have come through, it's not like we have just come into the first team," Onyedinma says, in this his first major newspaper interview, at the club's training ground in Bromley. "We have been here for years. We know what it is like to be a Millwall player, we know we always have to work hard."
Nothing matters more at Millwall than that. This is why Harris has no interest in taking highly-paid boys on loan from the top Premier League academies, who have earned their first million before getting into the first team. Plenty of League One teams do that, but not Millwall. Harris would always rather take a chance on one of his own, rather than recruiting over their heads.
When Millwall do sign players, they come from suitably modest beginnings. Mahlon Romeo was signed from Gillingham, and thrown into the team when Shaun Cummings got injured last season. Or Harry Smith, signed from Folkestone Invicta, after a brilliant season all the way down in the Ryman League Division One South. "If he trusts you, he'll play you," says Onyedinma. "You always want to do to the best you can for him. Like when Mahlon took his chance."
Onyedinma is proud of the fact that he has grown up here, playing men's football every week, on bad pitches, under pressure from fans and opponents. Not every youngster gets to grow up that fast. "Other places don't give their young players as much of a chance as here," Onyedinma says. "They may just be comfortable where they are, or lack motivation because they may not be getting a chance. Here there is loads of motivation, because you could actually play if you perform well."
That has been the drive ever since Onyedinma was first picked up by Millwall at the age of 12. He was playing for Blackheath District along with childhood friends Kasey Palmer and Joe Gomez. They both went to Charlton Athletic, and are now at Chelsea and Liverpool respectively.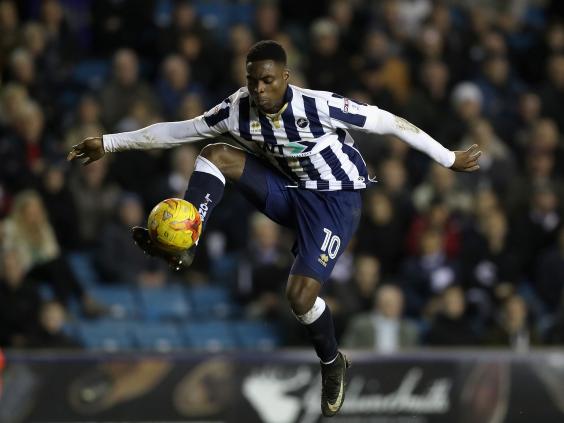 Onyedinma was a promising 100 meter runner and triple-jumper as a boy and Millwall knew they had a talented young athlete with good technical skills. Onyedinma is still the fittest player at the club, with a remarkably low five per cent body fat.
The Millwall coaches started off playing him at centre-back, but he did not like it and asked the coaches if they would consider moving him. So Onyedinma switched to right-back and from there into holding midfield. But he is an attacking player, not a defensive one, and after playing higher up the pitch he has recently found his best position out wide, beating opponents and running towards goal.
Onyedinma speaks very highly of coaches Massey and Larry McAvoy, academy head Scott Fitzgerald and Harris himself, the men who showed him the way over the years. "Scott and Neil supported me," he says. "Because of the way I play, I just have to enjoy it. Every time I played, Neil would tell me to go out there and express myself." The development of Onyedinma's generation is a credit to their coaches, especially given how Millwall's old academy was downgraded to a centre of excellence back in 2008, before regaining its academy status under EPPP.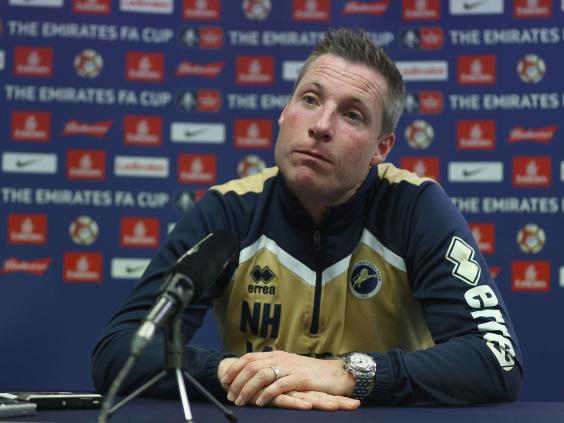 In January 2014 Harris and Fitzgerald were in caretaker charge of the club, between the reigns of Steve Lomas and Ian Holloway. They had an FA Cup third round tie at Southend United. In the second half at 3-0 down they threw on a 17-year-old Onyedinma for his debut. "It just happened so quickly, I didn't take it in properly," Onyedinma remembers. "It was disappointing, but I'm grateful Neil gave me the chance."
In the three years since, Onyedinma has continued to find his voice as a footballer. He has been inspired by his peers. "There was a period when Aiden [O'Brien] made his debut, I made mine, and Sid [Nelson], and Ben [Thompson]," he says. "You think that the players you trained with at under-16s are making their debuts, and it helps you."
Then there has been a helping hand from the senior players, especially Tony Craig, Shaun Williams, and Steve Morison. Craig, the captain, another Millwall fan, has always told Onyedinma to "be his own man", on and off the pitch, making decisions for himself. Onyedinma only turned 20 last November but he has already made 74 league appearances for Millwall, 44 from the start, with another 25 on loan at Wycombe Wanderers too. He has a grounding that few youngsters his age get.
This gives Onyedinma a maturity to face some difficult decisions over the next stage of his career. His contract at Millwall expires this summer and he is not currently expected to sign a new one. His talent is no secret to Premier League teams, nor is the fact that, like Dele Alli and Ademola Lookman, he has learned the game in men's football, rather than the kid-glove Under-23 leagues. If he were to leave, Millwall would receive roughly £1million in training compensation.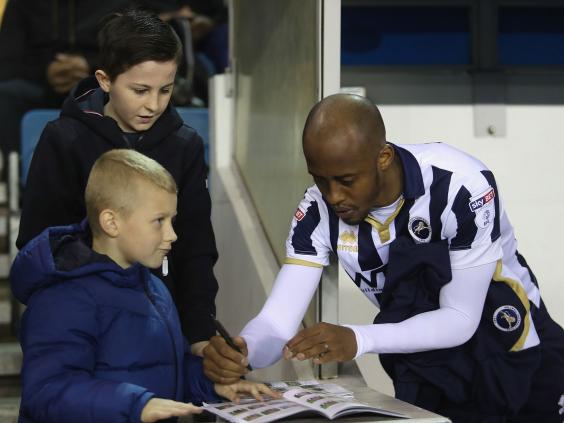 Onyedinma says that his only focus is success with Millwall and personal development. "I just want to get better and better every year," he says. "When you are young you dream to play at the highest level, that's the aim. Right now I am just focused on getting the team promoted. It is a team sport, and we are all focused on that."
Beyond that there is the possibility of an international future with Nigeria. Onyedinma was born in Lagos but only has "very vague memories" of living there. When he was three his parents moved him, his brother and two sisters to London. Onyedinma's close friend Alex Iwobi, with whom he played for Blackheath, chose Nigeria over England as a senior international. Onyedinma, Iwobi, Joe Gomez and Kasey Palmer play football together over the summer. He knows where to get advice if he wants it.
But all that is far away into the future and this weekend Onyedinma only has one priority, which is beating Tottenham and reaching the semi-finals of the FA Cup. It would be an amazing achievement but this fearless bunch have already knocked Bournemouth, Watford and Leicester City out of this year's competition. 
"We have played three Premier League teams now and beaten them all," Onyedinma smiles. "We are just trying to keep the run going, go there and cause an upset. On Sunday we are going to try the best we can. If that does not work we will focus on the league."
Reuse content