Did you hear about the intellectually challenged pundit who thought hyperbole was like the Super Bowl, except, you know, bigger?
Of course you didn't, he never existed. Because there is not a pundit alive who doesn't understand the importance of hyperbole. It is the elixir of life; it renders mere comment into something which sounds important. Some would say it's the most important component of a studio sofa-dweller's arsenal – ever.
Sorry, got a bit excited there. But after Saturday's edition of Match of the Day, it is all too easy to get carried away. For a start, it highlighted the genius of schedulers at both BBC and BT Sport, who had chosen what turned out to be two 0-0 draws to be shown live: Manchester United at Cambridge and Liverpool v Bolton, thus making MotD essential viewing. Marvellous.
Then we were side-swiped by the fact that the regular line-up was missing. No Lineker! No Shearer! No, erm, Savage! What were we to do? Could we cope without these stalwarts of Saturday night, especially given the wonderful day of football they would have dissected?
Of course we could. In Gary Lineker's stead we had Gabby Logan, while Jermaine Jenas and Robbie Fowler were in place ready to fill in for the two ex-players. And we had a bumper round of FA Cup upsets to digest.
Before we get into how they tackled MotD's match of the day (Chelsea v Bradford) can we ask what possessed the Beeb to put Cambridge 0 Manchester United 0 at No 2 in the running order, given the quality of material from Saturday it had at its disposal? Anyone...? Hello?
Fowler and Jenas's first job was to analyse how Bradford had pulled off a shock. The latter was insightful and intelligent, but the authority of his comments was undermined slightly by the fact the man still looks 15.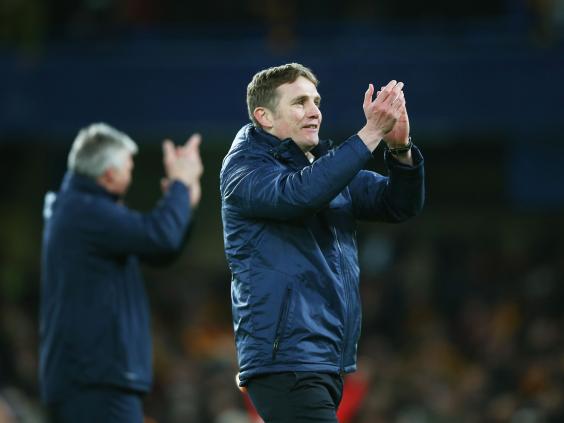 Fowler, on the other hand, was well-versed in the art of saying "for me" at the beginning of sentences, as if it gave him more gravitas. As he was in repeating whatever was said previously. Like his thoughts on the Chelsea manager, Jose Mourinho, calling his side's loss to Bradford a disgrace. "For me, it's a disgrace him saying it is a disgrace," Fowler mused, as we scratched our collective heads.
Then there was his penchant for hyperbole. Logan floated the question of where Bradford's win ranked in the history of FA Cup shocks and Fowler took the bait whole. "For me, this is the biggest shock," he intoned, having a minute previously implied that the 1988 final, when Liverpool were beaten by Wimbledon, was the largest seismic jolt in the competition's history. Jenas agreed, but to his credit backed up the claim with analysis ("the fact that Bradford came from behind, away to Chelsea...").
Either way, the discussion was redundant and it made us yearn for a broadcaster who seldom needed to fall back on hyperbole. Someone like Adrian Chiles. He wouldn't have stood for such puffery on his watch. He was far too jaded, far too much like us to rely on embellishing events. Best broadcaster ever? Well no, but he will be missed.
Reuse content