It was 10.17pm and this tie was more than half way through its fourth hour when Angelo Ogbonna finally won it for West Ham United. His towering header from Dimitri Payet's free kick beat Simon Mignolet, ending an FA Cup tie that was seconds away from being decided by penalty kicks.
The noise that greeted the goal, and the final whistle, made it sound as if the team had won far more than just the fifth round tie with Blackburn Rovers at Ewood Park. Because this was a true FA Cup epic, and there may not be many left at this ground. When Slaven Bilic said afterwards that this game would be remembered in West Ham history, it did not sound silly.
There are only seven Premier League games left at the Boleyn Ground. That alone explains the attendance crowd and the constant noise on a night that could easily have been forgotten. These West Ham fans never want to say goodbye. Ogbonna's header was not just one of the great Upton Park moments of the season, but if it can give them one more game here, that would be more than enough.
Up to that point, this had been one of the many West Ham home performances this season in which the team were less than the sum of their parts. They were largely outplayed by Jurgen Klopp's Liverpool, who had made 10 changes from their past game. Only Christian Benteke's profligate finishing kept the tie going as long as it did. On a better night he could have scored six times, three in normal time, three in extra time.
Yet despite that, there were still some positives for Klopp even after such a draining defeat. Philippe Coutinho and Daniel Sturridge each played for 60 minutes, although the original plan was for Sturridge to play half of that. But after one month out for COutinho, and two months out for Sturridge, they both did far more than could be expected.
Coutinho was Liverpool's best player for his hour, just as Sturridge was for his. Liverpool began the match on top, dominating possession, creating chances which Coutinho and Benteke should have taken.
West Ham had looked very disjointed, as they often do at the start of games under Bilic. But they grew into the first half, speeding up their play, and starting to cause Liverpool problems. When Jordon Ibe pushed Cheikhou Kouyate in the back on the edge of the box, it took the far post to keep Dimitri Payet's free-kick out of the net.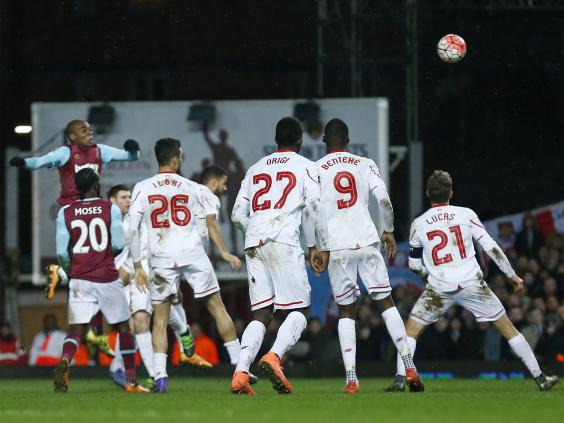 The crowd came alive and West Ham were empowered. With final attack of the first half, they scored the first goal. Payet planned in Enner Valencia, who reached the byline and crossed far too easily. Antonio, at the far post, jumped and volleyed the ball right-footed into the net.
Liverpool began the second half with a sense of grievance at themselves for being so sloppy. The got the ball forward and Pedro Obiang fouled Benteke one the edge of the box. From the same position, minutes earlier, Payet hit the post. This time Coutinho went on better. Knowing that the West Ham wall would jump, he drove the ball underneath them, into the exposed section of the goal away from the powerless Randolph.
There rest of the second half, and all of extra time before the winner, followed a similar pattern. West Ham and Liverpool both threw on forwards, bypassed midfield, and created chances which they could not take. Bilic's hand was rather forced, though, as Winston Reid, Kouyate and O'Brien all limped off.
Benteke should have been the most dangerous player on the pitch but he could not convert any of his real chances. In the first half of extra time he had three, but could simply never convert.
First he drove wide when in far too much space in the box. Then, he spun Collins, ran in behind, only to be blocked by the on-rushing Randolph, who earned a standing ovation from the home fans. When Benteke headed over from Origi's clever cross, he looked like a man who might have to wait a few games for his next chance.
Sturridge was Liverpool's best player in the second half of extra time, always wanting the ball and trying to take it away from opponents. His best shot went high and over the bar, but he had one clever backheel blocked with just two minutes of extra-time remaining. That felt like the last chance before penalties, but Lucas Leiva fouled Enner Valencia, Payet took the free-kick and the rest, as Bilic said, is history.
Man of the match Antonio. 
Match rating 7/10.
Referee R East (Wiltshire). 
Attendance 34,433.
FA Cup revised fifth round draw
(all 3pm unless stated)
Saturday 20 February
Arsenal v Hull; 12.45pm, BT Sport 2
Reading v West Bromwich/Peterborough 
Watford v Leeds 
Bournemouth v Everton; 5.15pm, BBC One
Sunday 21 February
Blackburn v West Ham; 2pm, BT Sport 2
Tottenham v Crystal Palace 
Chelsea v Manchester City; 4pm, BBC One
Monday 22 February 
Shrewsbury v Manchester Utd; 7.45pm, BT Sport 2
Reuse content