Manager Gary Johnson joked about Sunday's visit to Huish Park of Manchester United and how they might cope with the downsized strictures like having only one toilet in the dressing room. I have news for Wayne, Angel, Robin, Radamel and co: that closet door is without a lock. There is, however, one urinal for those with lesser needs and the club has installed a new boiler so what showers they do have will at least be warm.
For many of these United A-listers – Rooney, for example, and the South American contingent – exposed brickwork in the changing room is a flashback to formative years when money was scarce and to kick a ball was all that mattered. They might even luxuriate in the nostalgia of fighting over a peg on which to hang their logoed clobber.
The coming together of power and wealth and the dog-eared reality of lower-tier football encapsulates what lingering charm still attaches to the FA Cup. It might not extend much beyond the third round, but for one glorious January weekend at least the old pot retains the capacity to rouse the soul.
For Yeovil Town, rooted at the base of League One, the occasion is a welcome narcotic, a mind-altering trip far removed from the miserable grind of relegation toil. The 3-0 defeat at home to Leyton Orient on Monday was their third on the spin. A shock  4-0 win at Oldham and victory in the second round replay against Accrington Stanley were the only successes of December.   
Joe Edwards is the heartbeat of this Yeovil side, a United nut from Gloucester who assumed the captaincy following the summer departures of skipper Jamie McAllister and vice-captain Luke Ayling. His migration from full-back to midfield under Johnson makes him a kind of West Country Philipp Lahm – well, he did operate under Didi Hamann in a loan spell at Stockport, substantiating the Teutonic link.
At 24 Edwards is growing into himself as a footballer, enjoying the responsibility of leadership and looking to make the next step. A season in the Championship last year met with the disappointment of relegation. This term is no better, with Yeovil locked in another mighty struggle in the drop zone. The arrival of United is both balm and opportunity, removed from the dogfight and a shot to nothing in snooker terms.
"The FA Cup gives players who are not necessarily in the spotlight that platform game. I've grown up watching the FA Cup. The Giggsy goal against Arsenal is my all-time FA Cup favourite. To have the chance to go up against these guys is almost dreamworld for us," Edwards says.
"You watch them on Match of the Day every week and the World Cup never really believing that you'll play against them one day. To have that opportunity now is so exciting. We have nothing to lose. I can go out there and see how it pans out, give it my best and see what happens."
Manchester United injury list
Manchester United injury list
1/5 Wayne Rooney

There is uncertainty over the extent of the Manchester United captain's injury, with fears he may have suffered ligament damage to his knee during the 3-0 defeat to Everton. Unlikely to feature against West Brom and could miss the rest of the season.

GETTY IMAGES

2/5 Michael Carrick

Having limped off in the 4-2 derby victory over Manchester City, it's uncertain if the England midfielder will fit for this weekend. Was unable to even make the bench for the defeat to Everton.

GETTY IMAGES

3/5 Rafael

The right-back's return to action has suffered a set-back. After making a short appearance in the 3-0 win over Tottenham in March, the Brazilian has been pushing for full fitness. However he suffered a blow to the ribs in an Under-21 match against Leicester and could miss the rest of the season.

GETTY IMAGES

4/5 Marcos Rojo

Having missed the games against Chelsea and Everton due to a groin injury, the Argentina international is pushing for a return and could feature this weekend.

GETTY IMAGES

5/5 Phil Jones

Fellow defender Phil Jones also missed the defeats to Chelsea and Evertton but the England international has returned to training after a foot complaint and could play at against West Brom.
Edwards is part of the great United diaspora universally belittled for their long-distance love of the red shirt. He is unrepentant. "My parents both supported United. My dad was born up that way and his family are from North Wales, just across the border, so it was drilled into me from an early age that Man U is the team. Luckily they were the team then, so it made it a lot easier.
"The class of '92 were my era. Giggs and Beckham were the two. Obviously Beckham because of who he was, but Giggs was the main man, at United all his life.
"I saw the Man U ball from the start and when there was only six teams left in the draw I thought we had to have a chance. When our ball came out first I was saying, 'come on, 25, 25, 25'. When it came out I was ecstatic. 
"There will be a lot of people rooting for us. People like Yeovil. And neutrals like to see the likes of United coming to places like this and seeing how they deal with it. To beat them would be unbelievable but if we could get a replay and get to play at Old Trafford that would be amazing."
Edwards is a poster boy for the lower leagues, committed, hard-working, well adjusted and well groomed. If he ever gets the break his attitude and approach deserves, here is a Brylcreem Boy waiting to happen.
"When you grow up dreaming of being a professional footballer you dream about that United lifestyle. You never dream of being a Yeovil Town player or a Division One footballer. I haven't a complaint in the world about being a professional footballer but it's not the height of fame, and all that comes with being a United player.
"Sometimes it makes it easier [being in the lower leagues]. You don't get caught up in it all. You just get on with your life and work  hard to stay in the job. People will say you're still a professional footballer and you do get certain things. It is good but not quite Man United good."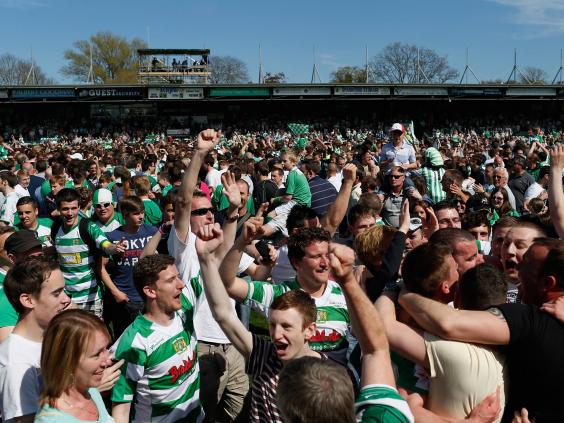 Good is a C-Class Mercedes 250 leased through the PFA scheme, the kind of motor Wayne Rooney might buy Kai as a birthday present when he turns 17. Edwards smiles when Luke Shaw's name crops up and his renting arrangements in the Manchester footballer belt.
"He's a good player obviously and was doing well last year but I bet even  he is pinching himself sitting in Cristiano Ronaldo's house paying £7k a month rent. Not going too badly, is it?
"We get a good car deal, so things like that help. It is also the little things, like the recognition you get outside your friends and family. It is nice to get those kinds of comments. It builds you up a little bit."
The dream of the uber footballing life endures in the lower divisions no matter how long the shot. To pull United out of the hat is thus a window on another world.
"I think about getting up there to the next level most days. I always want to improve. At 24 I'm still relatively young. I believe I can keep going and climb higher," Edwards says.
"It's down to hard work and luck, getting the right move here and there. I played in the Championship last year, felt like I held my own in that league. If I get that opportunity again you never know what might happen.
"You look at the likes of Adam Lallana and Rickie Lambert, how they made it through the leagues with Southampton. You can make yourself a better player. You have to be a good pro on and off the pitch. You see pictures of Ronaldo when he first turned up at United and he's like a little boy. Now you look at him and you see he has worked hard every single day to get where he is."
Yeovil have had more than 100 media applications to cover this match, including one each from Australia and Germany, two from Holland and even the mighty New York Times. To facilitate the interest the club has augmented wi-fi delivery and hired a marquee to house the journalists.
"The press box is a dump. We can't get 20 in there," says club spokesman Jim. Pitchside arrangements for United's army of coaching and backroom staff are more of a challenge. "We're old school down here," Jim adds. "We might have to bring some chairs from upstairs and line them up at the side of the dugout."
Happy days.
Reuse content