Kieffer Roberto Francisco Moore. Remember the name if you want, but sadly you don't have to. Two years ago he was playing for Dorchester Town. On Sunday afternoon in the fading light he saw the moment of his greatness flicker – and he fell over his feet on the penalty spot and rolled the ball into the grateful hands of the world's  outstanding goalkeeper.
Moore could have put Yeovil Town a goal up against Manchester United with half an hour to play, and they'd have deserved it too, but they lost 2-0.
"It was important that the club put on this event so that everybody's happy," the Yeovil manager, Gary Johnson, said afterwards in a marquee erected to house TV cameras from around the world. "We're proud of our club and the show we've put on today," he managed to add, before he was silenced by the sound of Sir Alex Ferguson departing by helicopter.
"The boys, when they get home, they'll realise what they've done. But they're professional, and they're a bit upset at the moment," Johnson said.
"I was proud of the boys and we gave them a fright. We had that first chance before they scored. That high pressing game, you have to have a lot of energy to do it, against a top team like Man United."
And for his part, United's manager, Louis van Gaal, was impressed. "I must give my highest respect to the manager and the players of Yeovil Town," he said. "Everybody thinks, 'Oh these players are from Manchester United. €100m against €5,000.' But it is not like that. When you can organise your team, like the manager of Yeovil Town has done, and they believe in it, then you can do a lot."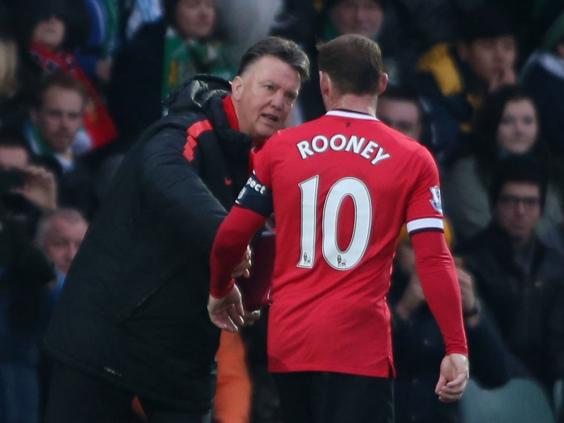 It took the introduction of a United galactico to bring Yeovil back to earth. The second Angel Di Maria took to the pitch for the first time in almost a month a dull contest burned suddenly bright.
It was just after the hour mark, and he had been on for barely four minutes when the ball fell to Ander Herrera 30 yards out. The Spaniard was still rotating to face the goal as he struck a quite exceptional volley high over goalkeeper Jed Steer, the pink ball crashing into the green net.
Until then it had been anyone's game. But with Yeovil chasing an equaliser a near perfect pass from Wayne Rooney in stoppage time allowed Di Maria to run beyond the last defender. The Argentine winger took his time but scooped it over Steer with the type of assurance his team has been lacking in his absence.
Yeovil will take some bittersweet pleasure from the manner of the goal that it took to break them down but it really did not have to be that way.
Ten minutes had gone in the second half when the ball rolled to the feet of Moore inside the penalty area. But it was not to be.
The Yeovil captain, Joe Edwards, a United fan, had a powerful header that would have made it 1-1 cleared off the line on 71 minutes by Di Maria.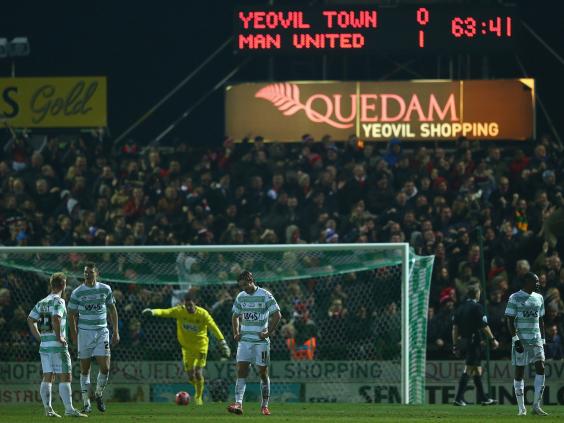 "We're disappointed, but we're extremely proud," Edwards said. "Before the game I told them, 'Have no regrets', and I don't think we have."
Moore, though, surely will, even if he was his side's outstanding player. "Kieffer's been brilliant for us," his captain added. "We will rally round him." Save for Di Maria's late cameo, Moore was the best player on the pitch all afternoon.
Often these occasions are an opportunity for a half-forgotten corner of the country to redress whatever misconceptions the wider nation might hold of it. Here in Somerset, they had erected a temporary cider tent in the corner of Huish Park – right next to the Thatcher's Gold Cider Stand – and one or two fans waited on the freezing Gerry Lock Avenue for the United team bus in shorts and sandals.
Van Gaal meant business, too, far more so than he had done on a now infamous night in Milton Keynes in the Capital One Cup back in August. Rooney, Radamel Falcao, Herrera and Luke Shaw all started the match.
Moore had taken the trouble of introducing himself to David de Gea very early on, not withdrawing early as he might have done from an aerial challenge the United keeper had clearly already claimed. It was the sort of commitment for which he was to pay a price. A clash of heads with young United defender Paddy McNair on 20 minutes had them both lying down requiring  treatment in the visitors' penalty area, both required bandaging.
United's introduction of Jonny Evans and Juan Mata at half-time for Shaw and Rafael da Silva, both of whom had picked up injuries, left them with four central defenders at the back and a diamond in midfield, all but closing down the possibility of playing with any real width until Di Maria's arrival 15 minutes later changed all that.
Being drawn out of the hat next to the mighty Manchester United has meant a £500,000 windfall for the small League One club – half their annual budget. As for what had been emerging over the last few weeks into some kind of million-dollar question – are United back in the big time? No. But they're still on their way to Wembley, and that's what counts for now.
Reuse content