New Blackpool signing Andrea Orlandi looks set to make his debut for the Seasiders against Nottingham Forest today after finally sealing a move to join Jose Riga's side.
The club has been blanketed in turmoil this summer after Riga arrived in the North West to find a dilapidated training ground and only six professional footballers on the books.
The former Charlton Athletic manager now has seventeen players to choose from, with Orlandi being the the twelfth signing in as many days.
The opening day clash against Stuart Pearce's Forest, however, could bring them back down to earth.
Orlandi is eligible for the tie at the City Ground after narrowly beating the registration deadline.
"I'm really pleased to finally get it done, I have a good feeling about Blackpool and the manager," he told the Blackpool Gazette.
"I've been very impressed with the training.
"The manager has his methodology which is all about thinking and it makes things interesting. I think it will really help us to develop as a team and in one or two months we'll see Blackpool playing really good football.
"We want to play quicker and I've been very impressed.
"It's been important that the group of lads were good as it's not been easy.
"But there are no egos here, everyone is humble and we are starting to build a really good squad here.
"The manager wants us to keep the ball on the floor and play football, his main target is to make us play."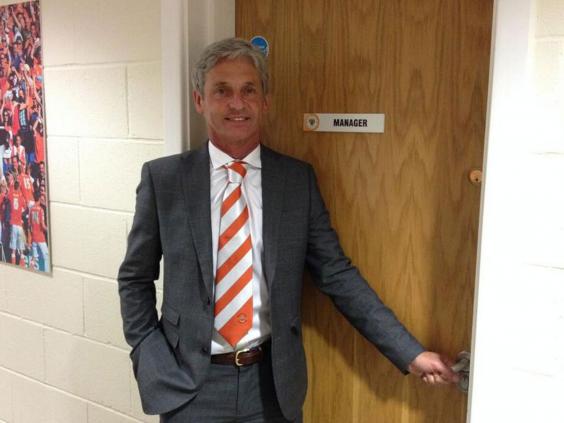 Medical staff at Bloomfield Road were initially worried about the former Swansea City star's long-standing knee injury but those fears have since eased.
"I have no problems with my knee now, none at all. I didn't fail a medical or anything like that, I played 20 games after my injury last season.
"I had it checked out in the summer over in Spain and I'm ready to play a big part for Blackpool this season. I can't wait now."
With a lot of time on his hands, waiting for the deal to be completed, the 30-year-old playmaker has had the chance to settle in the region.
"To be honest I've spent most of my time here training and resting," he said.
"But I've managed to get up to Lytham which is really nice and eaten at a few restaurants. So far I really like the place.
"Everyone seems very supportive and we are going to need that. I can't wait to pay the support back and get this club playing the way it should."
Reuse content