The impresario Barry Hearn, who last week sold Leyton Orient, the only loss-making arm of his sporting empire, to an Italian billionaire, believes it is a further step towards the total domination of English football clubs by foreign owners.
"I really can envisage a day in the not-too-distant future when all 92 clubs here, from the Premier League downwards, are under overseas control," he said.
"It is well on the way. Look at how many now have foreign owners. There are plenty of mega-rich moguls and businessmen from all over the world who see Premier League and Football League clubs as trophy assets. Certainly far more than in this country, where few now seem to want to take the risk, or can afford to do so.
"I have always been opposed to foreign players and foreign owners because I'm a Little Englander, but I now realise I have been restricted in my vision. Things are changing and business is business.
"The good thing and the bad thing about any football club is that it is totally about money. You could buy a non-League club, put in a hundred million quid and virtually guarantee that you would be a Premier League side in a certain amount of time. It is just a question of how much, and it is only the foreigners who have that sort of money."
Already over half of the top-two divisions' clubs are all or partly owned by foreign interests. Hearn's sale of Orient to Italian billionaire Francesco Becchetti heralds a breakthrough into League One.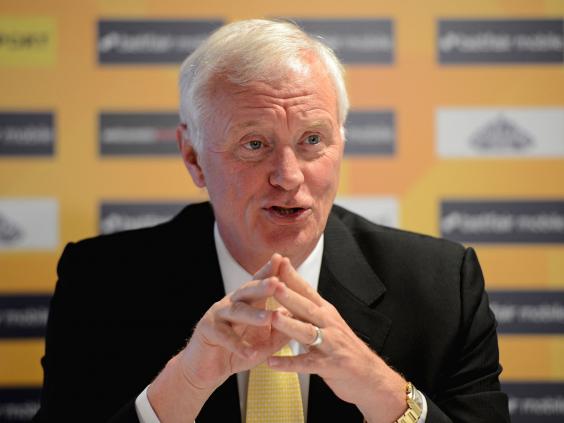 The ubiquitous Hearn, whose interests range from bowls to boxing via snooker, darts, pool and poker (it was once said he could not pass a pie without sticking his finger into it) unloaded Orient, "my only financial failure", because he found someone he believes has the resources to take the east London outfit up after they were pipped on penalties by Rotherham for promotion to the Championship.
So the little club he bought for a fiver in 1995 and into which he ploughed millions is now in the hands of one of Italy's wealthiest men. And Hearn says he couldn't be happier.
Relaxing at the £3.5 million Matchroom mansion in the Essex countryside where promoter son Eddie was hosting a summer barbecue for his growing stable of boxers, Hearn insisted: "To me it has never been about money. Running a football club is the worst business in the world but also the most exciting.
"I have some wonderful memories of Orient but I'm 66 now. I still work all the hours God sends and love every second of it. I'm not slowing up but Orient has taken up a lot of my time. It's also a weight off my mind. When I drove to work this morning it dawned on me that I could actually go and enjoy a game. You never do when you are an owner. You are perpetually anxious, wondering what is going to hit you next.
"Football is getting harder. The whole industry is fraught with problems. Also, I'm not stupid with my money. I am never going to risk my family's finances for a football club. It has been losing a million and a bit every year. I could afford that, but it doesn't mean the club is going to go forward in that situation.
"I have said consistently over the last five or six years that the day I found someone who could take the club further than I could, I'm out. But I was never going to sell the club down the river.
"Now I believe I have found the perfect new owner. Mr Becchetti is a hugely successful businessman. He ticks a lot of boxes. He is moving his family to London and has bought an amazing house in Chelsea. He flies in on his private jet.
"I'm not saying he's going to spend a lot immediately but he's got a lot to spend. I know exactly how much he's worth. I noticed in his eyes at our first meeting a sparkle that I liked. He is very Italian."
Becchetti, 47, who heads a renewable energy and waste-management company, says he chose to buy Orient over Reading or Birmingham City because of its lack of debt and London location.
"I like the man, I like what I hear and I believe in the next few months Orient fans are going to like what they see," added Hearn. "This man will invest to achieve. He has passion and substance… If I were West Ham [Orient's near neighbours] I'd be very jittery about this fella."
The sale price hasn't been  revealed, and Hearn is also coy about how much running the club has cost him personally, though he does not demur when somewhere between £10m and £20m is suggested. "I don't like to think about it. I wouldn't want to put the actual figure in the paper because if my missus read it she'd go mental."
Hearn, who becomes Orient president, retains a 10 per cent interest in the club, ownership of the ground and has been given boardroom  facilities for life.
"I came in as a fan and I'm leaving as a fan. I've run a tight ship, I've been mean and stingy but I've run within the rules. I've done my job, but when I looked in the mirror I realised I had reached my sell-by date."
Reuse content