Billy McKinlay has been replaced at Watford by Slavisa Jokanovic, meaning the high-flying Championship side are now onto their fourth manager this season.
McKinlay was only appointed eight days ago, but despite picking up four points from his two games in charge, he has been replaced.
A statement on the club's website read: "Slavisa Jokanovic has been appointed as Head Coach at Watford FC, replacing Billy McKinlay with immediate effect."
Jokanovic spent two-years as a Chelsea player in the early 2000s and during his managerial career led Partizan Belgrade to an unprecedented 'double double' in the Serbian League - the SuperLiga and Serbian Cup - two seasons in succession, 2007/08 and 2008/09.
The former Yugoslavia and Serbia & Montenegro international has also managed Levski Sofia and Thai team Muangthong United. His most recent role was at Spanish side Hercules, who play in the third tier.
The shortest managerial reigns in football
The shortest managerial reigns in football
1/25 Oscar Garcia (Watford) 27 days, 2014

Less than two weeks into his new job at Watford, Garcia was taken to hospital with chest pains. Less than a month after his appointment at Vicarage Road, Watford announced that Garcia had been forced to resign.

Getty Images

2/25 Michael Appleton (Blackburn) 15 games, 67 days, 2013

Appleton left his previous job at Blackpool after only 65 days, and was to last just two days longer at Blackburn.

Getty Images

3/25 Alex McLeish (Nottingham Forest) 7 games, 41 days, 2012

It is thought the reason behind McLeish's decision to leave Forest was interference from the club's Kuwaiti owners, the Al-Hasawi family, in team affairs. The Scot was left frustrated after missing out on several targets during the transfer window - most notably Peterborough winger George Boyd whose move to the east midlands was scuppered by a failed eye test

Getty Images

4/25 Henning Berg (Blackburn) 10 games, 57 days, 2012

After replacing Steve Kean (a manager many said had been given too much time) Berg managed to win just one game of his 10 in charge before being shown the door.

GETTY IMAGES

5/25 Gian Piero Gasperini (Inter Milan) 5 games 2010

In charge for three months and three league games, Gasperini was fired after a slow start to the season, joining the ever growing list of departees from Inter Milan.

GETTY IMAGES

6/25 Dave Penney (Bristol Rovers) 13 matches 2011

Dave Penney could record just two wins during his 13 game reign. Not even two months into the job, he was out the door.

GETTY IMAGES

7/25 Leroy Rosenior (Torquay) 10 minutes 2007

The former Merthyr boss had just been given the job at Plainmoor, but the club was in the process of being taken over. Before the ink was dry, a local consortium completed the purchase and Paul Buckle was appointed manager. 'It was something that I knew was going to happen but I didn't think it was going to happen after 10 minutes,' Rosenior was quoted as saying at the time.

GETTY IMAGES

8/25 Bill Lambton (Scunthorpe) 3 days 1959

In December 1958, Lambton became Leeds manager but left after four months. That, however, seems an age when compared to his next job at Scunthorpe.

GETTY IMAGES

9/25 Dave Bassett (Crystal Palace) 4 days, 1984

Though Bassett never actually signed his contract, he was still referred to as Palace boss before having a change of heart and returning to Wimbledon.

GETTY IMAGES

10/25 Jorg Berger (Armenia Bielefled) 5 days, 2009

Berger was brought in for one game to try and save Arminia Bielefeld from relegation to the German Bundesliga 2. When the 64-year-old was unable to work his magic, he was shown the door.

GETTY IMAGES

11/25 Jack Crompton (Luton) 7 days 1962

Goalkeeper for Manchester United between 1944 and 1956. When he retired, he became a trainer at United. Gave managing a go with Luton Town, but the experiment only lasted a week, Crompton deciding that his heart lay with United.

GETTY IMAGES

12/25 Kevin Cullis (Swansea) 7 days, 1996

Cullis had arrived at the Vetch (pictured) with little fanfare and a reputation as a good PE teacher. His reign lasted two games in which the Swans conceded five goals.

GETTY IMAGES

13/25 Martin Ling - (Cambridge United) 9 days, 2009

The former Wrexham boss was taken on by Cambridge United in the summer of 2009. Before a ball had been kicked, however, he had headed for the exit, citing irreconcilable differences with the chairman. But then a curious twist: 16 days later, Ling returned and remained manager until 2011. Not so irreconcilable, then.

GETTY IMAGES

14/25 Bryan Gunn (Norwich) 2 matches 2010

Former Norwich goalkeeping legend Bryan Gunn was sacked after just two games in charge. Given the job on a full time basis in the summer, a 7-1 opening day defeat didn't help his cause. A few days later Norwich won 4-0 in the Carling Cup. But, for some reason, it wasn't enough to save him.

GETTY IMAGES

15/25 Micky Adams (Swansea) 13 days, 1997

Swansea's second feature in the top ten. Adams walked out after saying he had not been told the truth about his transfer kitty.

GETTY IMAGES

16/25 Luigi del Neri - (Porto) 15 days, 2004

Appointed to replace Jose Mourinho at Porto. Didn't even get a chance to drink from the poison chalice before he was offloaded. The official reason given by the club was 'poor time-keeping'.

GETTY IMAGES

17/25 Jimy McIlroy (Bolton) 18 Days, 1970

A Burnley legend, McIlroy went on to manage Oldham for two years when his playing career had finished. It was on the back of that experience that he became Bolton manager for two and a half weeks. The experience must have been rather harrowing: after Bolton, McIlroy decided to retire from football altogether.

GETTY IMAGES

18/25 Jose Antonio Camacho (Real Madrid) 23 days, 1998

Former Real full-back Camacho barely had time to get comfy in the office of Los Merengues when he fell out with the then president Lorenzo Sanz.

GETTY IMAGES

19/25 Tommy Docherty (QPR) 28 days 1968

An illustrious managerial career - won the FA Cup with Manchester United, the League Cup with Chelsea - also contained a few duds. After a successful spell at Chelsea, Docherty joined QPR in 1968 but lasted only 28 days. Docherty has the dubious honour of being able to be included in this list twice: he was appointed QPR manager again in 1979, sacked almost immediately and then reinstated after just nine days away.

GETTY IMAGES

20/25 Paul Hart (QPR) 5 matches 2010

Hart walked before he was pushed under the crazy reign of Bernie Ecclestone and Flavio Briatore at Loftus Road. It was his second departure of the season, having left Portsmouth after a short stint at the helm on the south coast.

GETTY IMAGES

21/25 teve Coppell (Manchester City) 33 days, 1996

Took the job with Manchester City after success in his first managerial post at Crystal Palace, but resigned just over a month later, citing as his reason stress caused by the job: 'I'm not ashamed to admit that I have suffered for some time from huge pressure I have imposed upon myself'. Coppell's resignation means his stay at the club is the shortest of any City manager to date.

GETTY IMAGES

22/25 Paul Gascoigne (Kettering Town) 39 days 2005

Amid much fanfare, the troubled England legend was unveiled as manager of Kettering Town. Yet just a few weeks later, the 'sooted' Gazza was dismissed, with the board blaming his alcohol problems - something Gascoigne refutes. Gazza appeared to make a return to management in 2010 with Garforth Town, although he never actually attended any matches. A mix-up with the announcement of his appointment was blamed for the confusion.

GETTY IMAGES

23/25 Les Reed (Charlton) 41 days, 2006

In the great Charlton crash from Premiership regulars to League football fodder, Reed's appointment was the most bizarre. Even though he had been working at the FA, he had never been a number one, and it showed. Reed was forced to depart on Christmas Eve with the club seven points adrift of safety.

GETTY IMAGES

24/25 Brian Clough - (Leeds) 44 days, 1974

The most infamous of short managerial reigns, immortalised in a hit book and film. Clough turned up and nobody liked him - not such a surprise as he spent most of his time at Derby criticising Leeds. The players demanded he went and Clough found himself out on his ear.

GETTY IMAGES

25/25 Jock Stein - (Leeds) 44 days 1978

A glittering managerial career: the first British manager to win the European Cup, nine league championships with Celtic, Guided Scotland to two World Cups. Yet still room for a blip. Stein joined Leeds in 1978 after 13 successful years at Celtic. Lasted only 44 days before resigning to become Scotland manager.

GETTY IMAGES
Watford are currently third in the Championship but have endured a torrid time off the pitch.
Giuseppe Sannino was in charge at the start of the season but resigned on August 31 amid reports of dressing room unrest. The Italian said he had taken the club "as far as I can". He was in charge a total of nine months.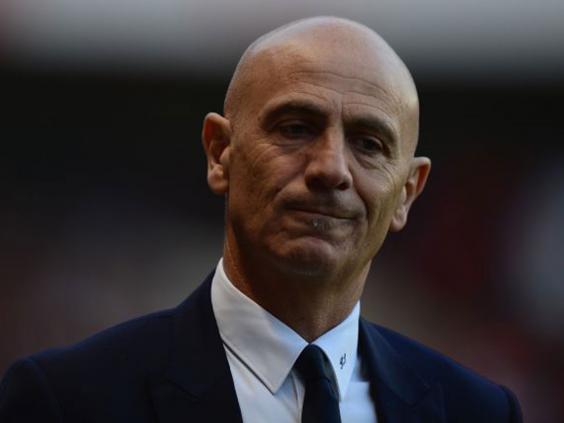 Former Brighton manager Oscar Garcia replaced Sannino but due to health problems, was forced to resign his post at Vicarage Road.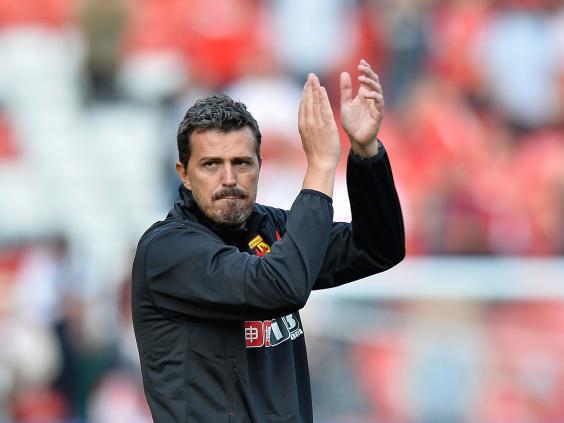 McKinlay had been hired as a first-team coach a week prior to Garcia's departure, and when it was confirmed another change was need, was given the top job. At the time of his appointment on 29 September, Watford chief executive, Scott Duxbury, said: "In Billy McKinlay, we have someone with the qualities and significant experience to build further on the foundations already laid for a successful season ahead."
Eight days after his appointment, the building process is over.
In his two games in charge, McKinlay oversaw a 2-1 win against Brentford before a 1-1 draw at Brighton at the weekend.
Explaining the decision to hire 46-year-old Jokanovic, Hornets owner Gino Pozzo said in a statement published on the club's official website: "Our job is always to act in the best long-term interests of this football club. There can be no compromise on this - whatever the circumstances.
"I fully support and endorse the view from our technical staff that, given the talented squad which has been assembled and our position in the league, an experienced head coach with a winning pedigree is of primary importance to help ensure the success we are all striving for.
"The supporters of Watford have always been very understanding towards our project here and I am certain they will continue to do everything they can to support the new coach and his squad."
Reuse content